Emmys 2018 Nominations: The Biggest Snubs From This Year's List
With fall on the horizon, the 70th annual Primetime Emmy Awards is scheduled to return September 17. Nominees for television's biggest night were unveiled Thursday, featuring many veteran nods alongside some surprises.
Grey's Anatomy alum Sandra Oh received a nomination for Outstanding Lead Actress in a Drama for her work in Killing Eve, making her the first-ever Asian woman to do so. The late Anthony Bourdain was nominated for six awards for CNN's Anthony Bourdain: Parts Unknown. Unsurprisingly, voters stuck to guns when recognizing staples like William H. Macy for Shameless, as well as Black-ish stars Anthony Anderson and Tracee Ellis Ross. There were, however, some actors and shows who failed to grab the attention of voters.
Here's a list of snubs from this years Emmy Awards nominations list: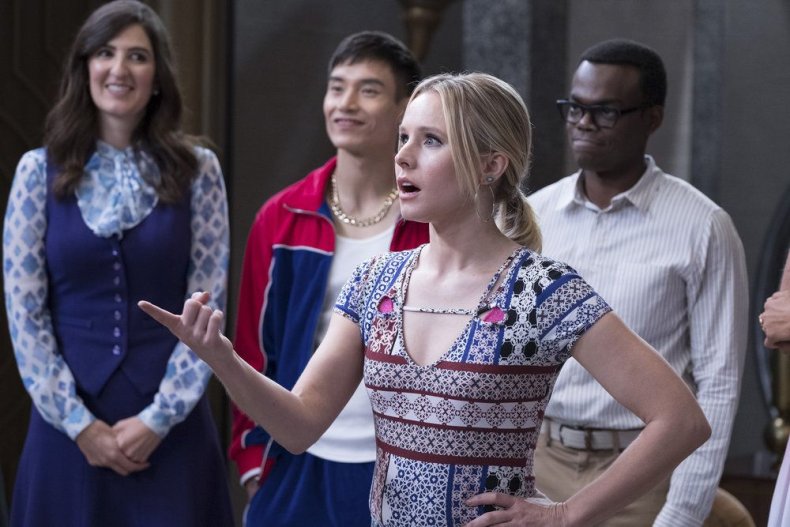 Kristen Bell — The Good Place
NBC scoring a well-deserved Outstanding Comedy Series nomination for this critically acclaimed series was slim. The Emmys, however, should've at the very least recognized its ever-so-charming star, Kristen Bell. Despite being a television veteran, she's failed to capture attention from voters for her efforts. Ted Danson's nod will do for now.
Alison Brie and Marc Maron — GLOW
GLOW proved to be a hit for Netflix for a variety of reasons. Watching the characters hit the ring each episode and become more of a community—both on and off camera—is almost envious, but the acting talents of Alison Brie and Marc Maron weren't enough for Emmys voters this go round. Betty Gilpin, luckily, was recognized as a Best Supporting Actress.
Freddie Highmore — The Good Doctor
Freddie Highmore's ability to skillfully and tastefully portray a young doctor with autism should've been an obvious choice for voters. While his efforts were recognized by the Golden Globes in January, the Emmy's didn't jump on board. He carried the ratings hit for ABC with ease, making him the perfect contender.
Twin Peaks: The Return
To the surprise of many, Twin Peaks wasn't nominated in any of the show's major categories. To a degree, it's understandable that the twisty show may not have hit well with voters, but star Kyle MacLachlan should've received a nomination.
Eric McCormack, Debra Messing and Sean Hayes — Will & Grace
No one was necessarily begging for a Will & Grace revival, but fans got it anyway. The show proved to maintain what made it fresh in its initial run by tackling today's most controversial issues, including President Donald Trump. Like with Highmore, Eric McCormack earned a Golden Globes nod for his portrayal but zero attention with the Emmy's. This is surprising because it was an Emmys darling in its earlier run. Megan Mullally, however, received a nod for Best Supporting Actress.
Orange Is the New Black
Orange Is the New Black has never shied away from controversial subject matter related to prison life, and Season 5 was no exception to this. The show's latest season managed to follow the Litchfield women over the course of three days as they continued to fight for their rights, which—spoiler alert!—resulted in their being removed from the facility. The most likely reason for the Netflix show's snub is that it has grown stale among voters.
Mandy Moore — This Is Us
Sterling K. Brown has shown audiences time and time again how skillful he is an actor in This Is Us, and he was rightfully recognized for it. Milo Ventimiglia scored a nod for his efforts as well. Mandy Moore, on the other hand, wasn't so lucky, despite succeeding in delivering some of the shows more memorable scene-stealing moments in its sophomore season.
Modern Family
Thanks to the Emmy's, Modern Family's nominations streak has officially been broken. Many likely won't be upset by this one, especially considering the show left its peak golden era.
Neil Patrick Harris — A Series of Unfortunate Events
In Season 2 of the Netflix series, Neil Patrick Harris once again showed his strengths as a character actor with his portrayal of the highly disturbing Count Olaf. While the show did score two nominations for Outstanding Children's Program and Outstanding Fantasy/Sci-Fi Costumes, Harris is unmistakably missing from this year's nominees list.
John Goodman — Roseanne
John Goodman had been nominated for his Roseanne role before, but scoring recognition this go-round was slim. While he had a shot following the ABC revival's initial success this past spring, actress Roseanne Barr's racist tweet about Valerie Jarrett likely ruined all possibility of Goodman—or the show—getting attention.
Sutton Foster — Younger
Younger is steadily growing a fan base, so maybe viewers can chalk up Sutton Foster's snub to voters failure to watch the show. In its four-season run, Foster's Liza Miller has dealt with the repercussions for what some may consider a mid-life crisis: her decision to re-enter the workforce in her early 40s by pretending to be in her late 20s. Foster succeeds in not acting her age, and her Emmy's nod for doing so is long overdue.