Jennifer Aniston Putting Out Fire During 2020 Emmys Is the Birth of a Meme
As if 2020 hadn't already been a dumpster fire of a year, the set of the 72nd annual Primetime quite literally nearly ignited on national television. Luckily, Jennifer Aniston was there to save the day.
The show kicked off to an interesting start on Sunday night. Instead of the usual, heavily-attended, star-studded event, this year's Emmys host Jimmy Kimmel found himself opening the show on an empty stage in front of an empty audience—aside from a few celebrity cardboard cutouts and a random Jason Bateman sighting.
Kimmel did get some help in the human form when it came time to announce the name of the first big winner of the night—the Emmy Award for Best Lead Comedy Actress. Aniston joined him in the very small studio where they proceeded to announce the name of the award's rightful winner, but not before Kimmel sanitized the envelope because, you know, coronavirus.
After spraying the award down wit Lysol, Kimmel attempted to burn off any extra germs by lighting the envelope. As it burned in a trash can, Aniston, fire extinguisher in hand, attempted to put the fire out. And like a perfect metaphor for the moment in time we're living in, the fire simply would not go out. But Aniston did not give up. The actor, who is up for an Emmy for the Best Lead Drama Actress, continued spraying and spraying the fire with the fire extinguisher until the flames finally fanned out.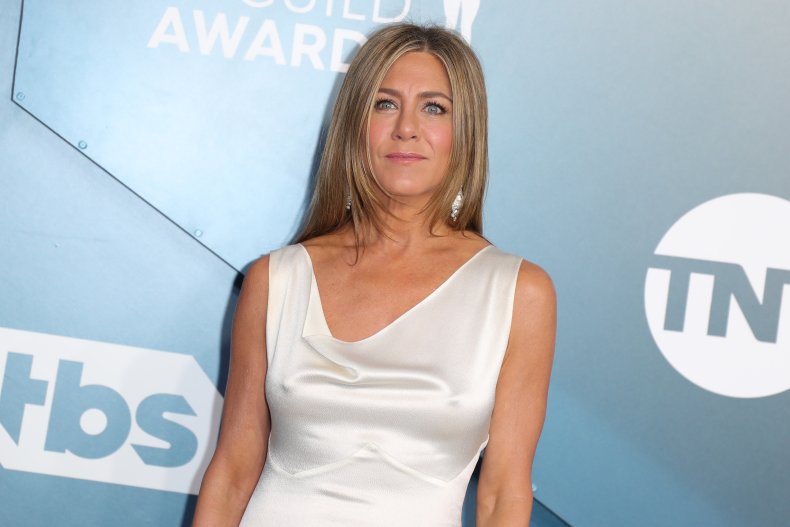 The hilarious and obviously unplanned moment sparked the first meme of the night on social media as viewers couldn't help but share the clip over and over again almost immediately.
"THANK GOD FOR JENNIFER ANISTON! #Emmys," read a tweet from the Jimmy Kimmel Live! Twitter account.
Others couldn't get over how ironic of a moment the scene was considering everything that has taken place so far in 2020 from the coronavirus pandemic to social justice protests and the upcoming election.
"Jennifer Aniston putting out a fire that won't knock down on live TV is the best thing I've seen this year," one person tweeted.
"Jennifer Aniston is all of us trying to stop 2020 from being worse. #Emmys," another person wrote.
Aniston likely never imagined that she'd be putting out a fire when she was preparing to leave her quarantine sanctuary and announce the first Emmy winner of the night. In the hours leading up to the show, Aniston shared an Instagram photo of her prep process, which included pajamas and a face mask—and not the face mask that most people have been wearing as of late.
"Emmys prep...in my OTHER mask," she wrote.