Emmy Awards 2020 Streaming: How to Watch Online Live
The Emmy Awards 2020 have rolled around again, with TV shows like Watchmen, Succession and Schitt's Creek battling it out for the top prizes. Jimmy Kimmel will host this year's at home Emmys, which are set to air on ABC on Sunday, September 20 from 8 p.m. ET / 5 p.m. PT and last for around three hours.
While previous years have seen the ceremony streamed live for free online, according to Entertainment Weekly this will not be the case this year—though ABC may still allow viewers to watch the ceremony on their website after the ceremony airs for free on the on-demand section of the ABC wedding and app.
However, there are ways to watch the Primetime Emmys this year online for free. The ceremony will stream on both Hulu + Live TV and YouTubeTV via their ABC channel. Though these services are both costly ($54.99 for the former, $64.99 for the latter), they both also offer free trials that will allow viewers to watch the ceremony.
Both Hulu + Live TV and YouTubeTV offer users free trials, giving viewers plenty of time to watch the Emmys then catch-up on some of the major shows nominated for free.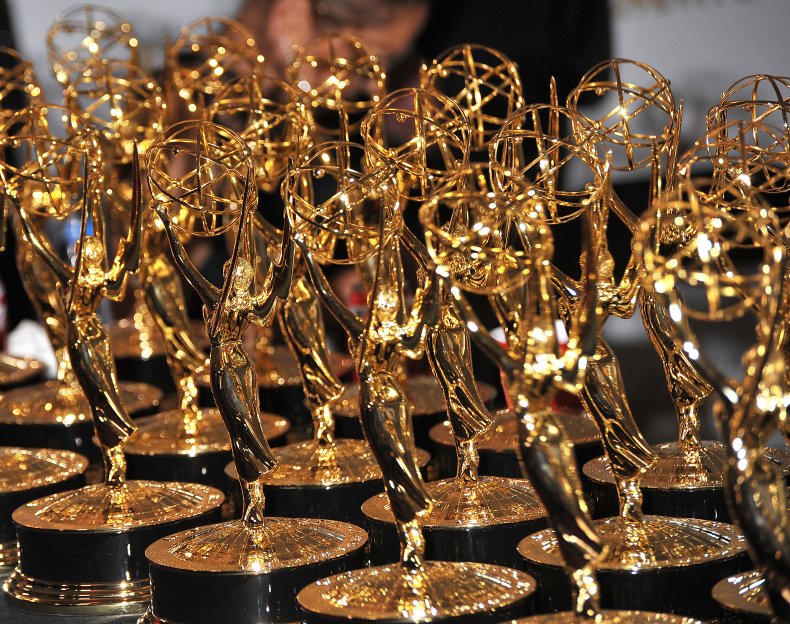 Unlike Emmys past, this year's ceremony will be a virtual one, meaning there will be no proper red carpet as the actors and other celebrities enter the venue.
That has not stopped, however, People Magazine and Entertainment Weekly from running a live stream titled PEOPLE and Entertainment Weekly Red Carpet Live: At Home! This free-to-watch stream will see the teams from those publications interview nominees from their homes, as well as host Jimmy Kimmel as he prepares for the first virtual Emmys. This pre-Emmys broadcast will stream on EW.com, People.com and the magazine's Facebook and Twitter pages from 7 p.m. ET / 4 p.m. ET.
As for what fans can expect from this year's ceremony, expect some big changes from the ceremony. Though Kimmel will be hosting from a stage within Los Angeles' Staples Center (without an audience), the nominees will be in their homes, where camera teams will be there to record their reactions as they win (or lose) live.
Among the other presenters on the night set to give out awards Oprah Winfrey, Anthony Anderson, America Ferrera, Issa Rae, Gabrielle Union, J.J. Watt and Lena Waithe, though it is not known whether they will join Kimmel on stage or from their homes.
When the full Emmy nominations were announced earlier this year, it proved a big year for HBO, with Watchmen leading the nominations with 26 and Succession in joint third with 18. The Marvelous Mrs. Maisel on Amazon, meanwhile, got 20 nominations while Ozark also got 18.
The Primetime Emmys 2020 air from Sunday, September 20 at 8 p.m. ET / 5 p.m. PT on ABC.