Emmys Accused of Sexism After Sofia Vergara Pedestal Gaffe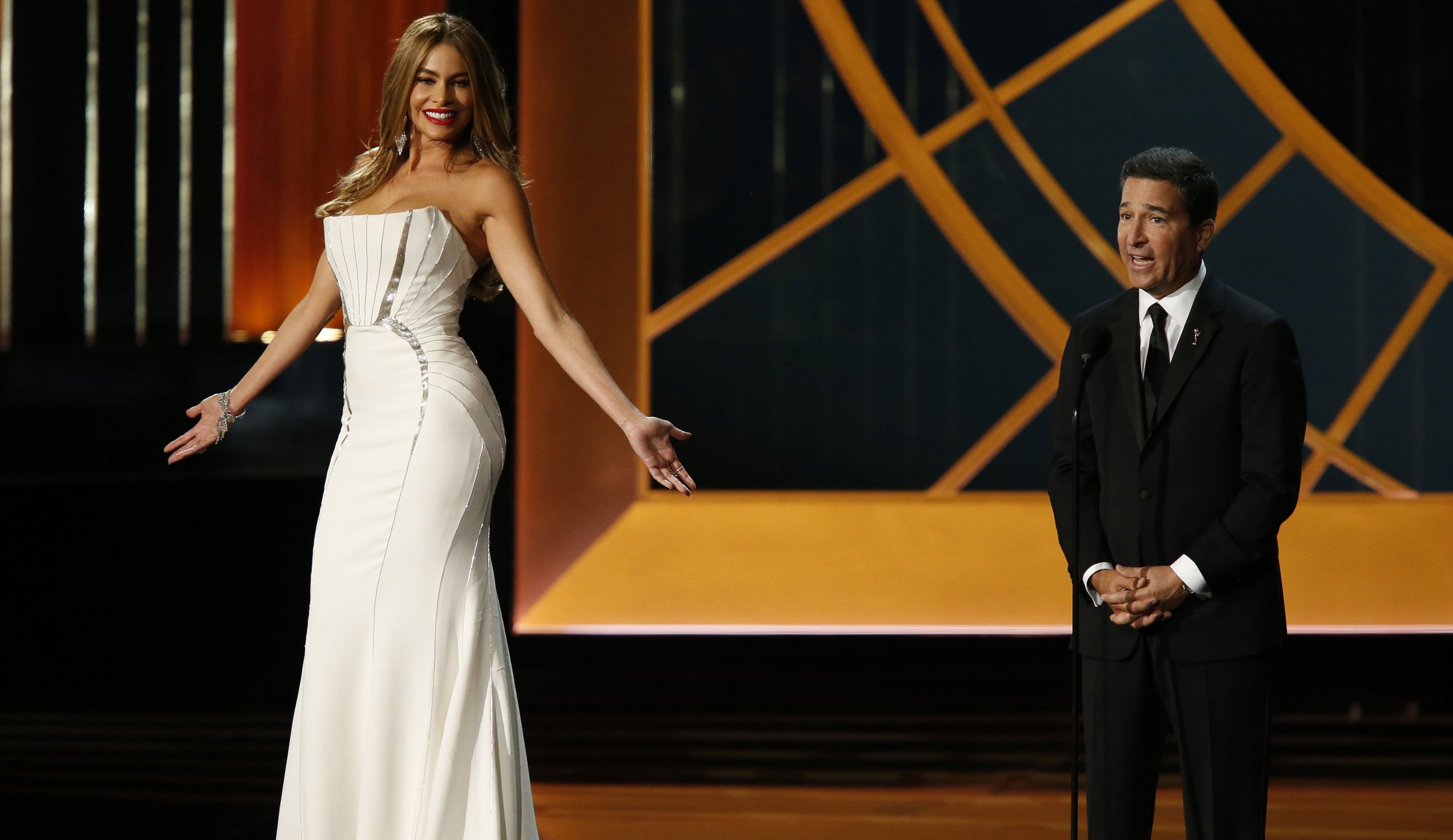 Producers of the 2014 Emmys have been accused of objectifying Modern Family star Sofia Vergara, during the awards ceremony after getting her to pose on a revolving pedestal during a speech.
Vergara introduced the CEO and chairman of the Television Academy, Bruce Rosenblum, after saying it had always been her dream to come to America and be on stage, only to be asked to stand on a revolving pedestal during his speech as a joke about engaging audiences.
Rosenblum said that the academy is "more diverse than ever before… innovating and evolving to inspire a 21st century audience" while the Colombian actress spun and posed to giggles from the audience. "What truly matters is that we never forget that our success is based on always giving the viewer something compelling to watch," he concluded as Vergara descended from the elevated platform.
Some took to Twitter to express their anger over the satirical stunt:
Meanwhile, Playboy's Twitter account expressed approval:
Vergara addressed the incident in the press room after the show, branding the controversy "ridiculous" and calling for critics to "lighten up a little bit". Vergara is the highest paid actress on TV, and has been nominated for four Emmy awards for her role as Gloria Pritchett in the ABC series, but is yet to take one home.
The Good Wife star Julianna Margulies referenced the abundance of roles for women in television in her acceptance speech for Best Actress in a Drama Series, which has since been ironically paired with a gif of Vergara on the revolving pedestal. Moments earlier, accepting the award for best variety series for The Colbert Report, Stephen Colbert joked about the gender gap, thanking his writing staff: "I'm so proud of those guys — and one woman. Sorry for that, for some reason," he added.
Family Guy creator Seth Macfarlane was accused of sexism after hosting the Oscars in 2013, coming under particular fire for his song We Saw Your Boobs, which chronicled the onscreen nudity of a number of leading actresses and award nominees. He also made light of a domestic violence incident between rapper Chris Brown and Rihanna, and mocked the heavy accents of several Latina actresses.
Hit AMC drama Breaking Bad dominated the ceremony, taking home the most coveted award of the night - Best Drama series - along with four other wins in individual acting and writing categories, including Best Actor for Bryan Cranston. Modern Family won Best Comedy Series for the fifth consecutive year while British export Sherlock dominated the movie and miniseries categories with Benedict Cumberbatch winning the Lead Actor award and Martin Freeman the Supporting Actor award, though neither attended the ceremony in person.