Sean Spicer, Roger Ailes and the Trump Emmys: The Power of Television Laid Bare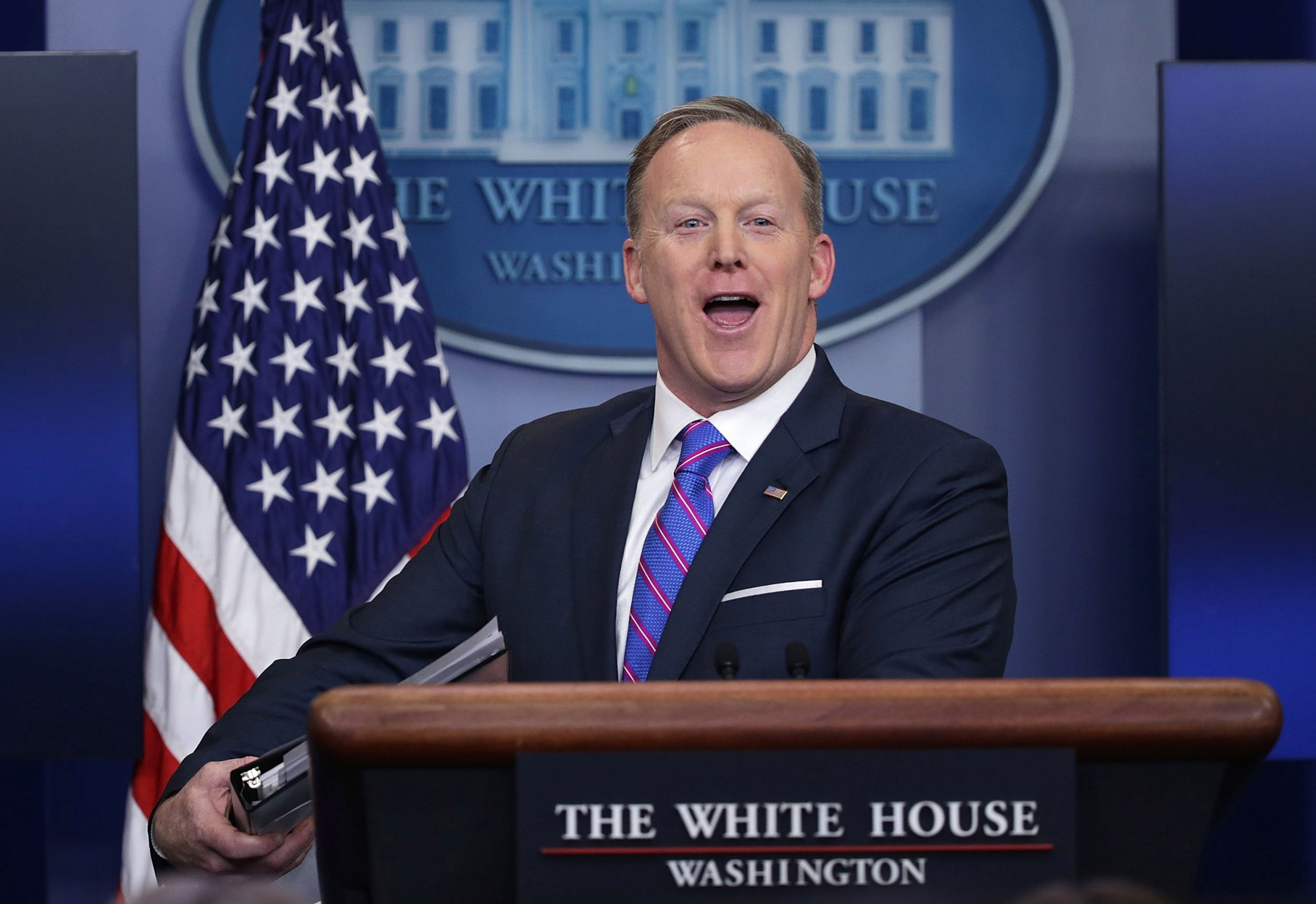 "None of this is normal," went the popular refrain in the early days of the Donald Trump presidency. Appended to tweets about the emoluments clause and collusion with Russia, the phrase was intended to serve as a bracing reminder that the subsequent four years were to be lived in a state of vigilance and resistance, the Constitution always close at hand.
But the 69th Primetime Emmy Awards, which aired on CBS on Sunday night, were a reminder that, exactly eight months in, the Trump presidency has become very much the new normal. And no, Jane Fonda and Lily Tomlin's unsubtle allusion to "a sexist, egotistical, lying, hypocritical bigot" doesn't change that. If anything, Sunday night's relentless, mostly unoriginal jabs at the president were evidence that, for better or worse, the nation has grown comfortable with Trump, whether as a head of state or a convenient punchline.
It is only fitting that an awards program about television was, in large part, informed by Trump. New York's tabloids made him famous, but television made him president, first by rehabilitating his image as a corporate titan on The Apprentice (NBC), then by giving his ugly birtherism lie about President Obama ample airtime (Fox News) and finally by treating his candidacy more seriously than he seemed to treat it himself (CNN, along with all the rest).
CBS chief Les Moonves was remarkably frank on this point, admitting in early 2016 on Trump's political rise: "It may not be good for America, but it's damn good for CBS." Moonves should have personally handed Trump a prize on Sunday night, both for his performance in the Oval Office and for the immense bonanza that performance has proved for television—from Saturday Night Live to the evening news. Millions now watch the daily White House press briefings. Dozens may have tuned in to those briefings during the age of Barack Obama, he of the no-drama administration. Trump is all drama, all the time: Will the republic survive? Tune in to find out!
Trump wasn't at the Microsoft Theater in Los Angeles on Sunday night, but one of his most famous former employees was. In the midst of his opening monologue, host Stephen Colbert summonsed former White House spokesman Sean Spicer to adjudicate the size of the audience. Spicer rolled onto the stage on a podium, imitating SNL's Melissa McCarthy imitating him.
Colbert's reference, of course, was to Spicer's public debut at 1600 Pennsylvania Avenue, when he brazenly lied about the number of people who attended and watched Trump's inauguration the day before. Spicer spent the next sixth months either telling untruths or saying nothing at all, frequently declining to hold on-camera briefings, at one point hiding in the bushes from the press.
Spicer resigned in July. There was a rumor that he was heading to Dancing with the Stars. It didn't happen, unfortunately, but the mere suggestion does neatly capture what motivates Spicer, as well as many others who work for Trump. Instead of performing the cha-cha, Spicer elected to sign with the Worldwide Speakers Group, a high-profile speaking agency. If you want to hear his riveting story of public service, it won't come cheaply: Spicer reportedly scoffed at the customary $30,000 speaking fee for someone of his stature, deeming himself "a much bigger deal than the others," as his agent told Axios. "His name I.D. is massive—he's obsessed with that." More recently, Spicer was named a politics fellow at Harvard, presumably because of the dignity he sacrificed in the service of his nation.
Spicer's appearance at the Emmys was a bid to spit-shine his reputation with people who aren't Harvard students or in the position to pay thousands for an hour of his wisdom. As such, the cameo was masterful stuff, if also plenty troubling for the program's uncritical acceptance of Spicer as part of the in crowd. Because, wait, wasn't Spicer responsible for helping to create the very morass he was now mocking? Had he achieved sufficient moral distance from the Trump administration to joke so fulsomely at its aberrations?
"Sorry to be a spoilsport," tweeted political reporter Aaron Blake of The Washington Post, "but I don't think it's funny that Spicer is tacitly admitting to his falsehoods and using it for image rehab." Others echoed that sentiment on social media, but as the election showed, Twitter's blue checkmark is nothing compared to the power of television.
Nobody knew that power better than Roger Ailes, the Fox News chairman who died earlier this year, after being forced from the network amidst a bevy of sexual misconduct allegations. On Sunday night, Ailes was one of those honored during the "in memoriam" segment of the Emmys, despite having been accused by more than a dozen women. The acknowledgement was brief—just an image of Ailes inside a picture frame—but there it was, for millions to see. The comedian Dick Gregory was not similarly honored. Nor was actor Frank Vincent. Then again, this was the same institution that, in 2003, gave Bill Cosby a humanitarian award.
"Beyond shocked Emmy's would honor Ailes in memoriam," wrote Gabriel Sherman, an Ailes biographer. "What message does it send to women (and men)?" Well, it probably sends the same message as the election of Trump, who has even more women accusing him than Ailes did (15, by one count). You'll be shocked to learn that Trump defended Ailes against the very credible accusations levelled against him, calling Ailes "a very, very good person" in the summer of 2016. As for Trump's own views on sexual harassment, he best expressed those in the notorious Access Hollywood tape: "When you're a star, they let you do it."
They sure do. Trump was the star on Sunday night, the subject of many an acceptance speech. The stars were speaking truth to power as Spicer was taking pictures in the green room. It's only fitting that Alec Baldwin won for his imitation of Trump on SNL. "I suppose I should say at long last Mr. President, here is your Emmy," Baldwin said, a reference to the prize that had always eluded Trump during his Apprentice years. Colbert similarly joked that if Trump "had won an Emmy" for The Apprentice "he wouldn't have run for president. So in a way this is all your fault."
Sure, but let's not cast blame. This was a night for celebrating television, or as Oprah Winfrey called it, "the great survivor." She didn't say of what, exactly. She didn't need to. They can take our lives, but they can never take our prime time programming.