Emory Students Explain Why 'Trump 2016' Chalk Messages Triggered Protest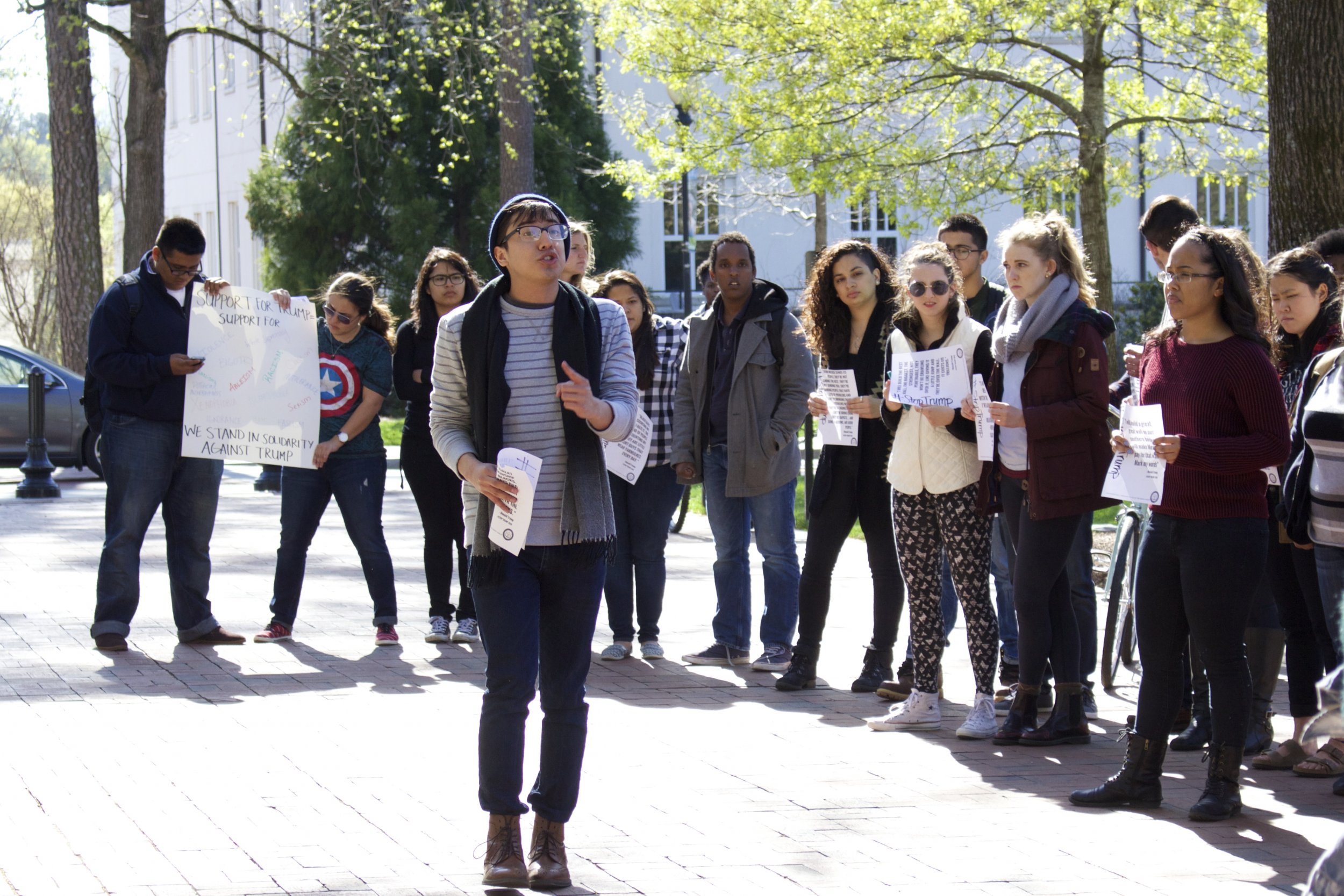 When the words "Trump 2016" and other chalked messages supporting the Republican presidential front-runner appeared Monday around the Emory University campus in Atlanta, students say they immediately felt threatened. Within hours, they launched a protest.
"We are in pain," one student said at a rally, according to The Emory Wheel, a student newspaper. "I don't deserve to feel afraid at my school," a second student reportedly said.
Photographs of the chalkings show the words "Trump," "Trump 2016" and "Vote Trump." Student government leaders said in a statement that "Accept the inevitable, Trump 2016" and "Build the Wall" also appeared in chalk. But photographs of those messages do not appear to have surfaced online, and people involved in the protests were unable to provide them to Newsweek.
Nowmee Shehab, an Emory senior and a co-leader of Freedom at Emory University, a student coalition that was involved in the protests, says students on Monday used the group texting app GroupMe to organize a rally. They met outside of an administration building.
One student involved in the protest tells Newsweek that during the rally, a university administration staff member invited protesters inside to meet with university President James Wagner. Shehab was present at the meeting and says it lasted for about an hour and a half. "President Wagner was very receptive. He listened very carefully," she says.
"The students shared with me their concern that these messages were meant to intimidate rather than merely to advocate for a particular candidate," Wagner said in a statement released Tuesday. "During our conversation, they voiced their genuine concern and pain in the face of this perceived intimidation.... I cannot dismiss their expression of feelings and concern as motivated only by political preference or over-sensitivity."
He said the school would be "taking a number of significant steps" to respond to students' concerns, including refining school policy and creating opportunities for dialogue.
The Wheel reported that Wagner also told students during the meeting that the university would review security camera footage and that the person or people who wrote the chalk messages could face conduct violations or trespassing charges.
In a statement to Newsweek on Thursday, a university spokeswoman clarified that "no follow-up action is planned related to the incident." She says the chalkings "did not follow guidelines" for where and how students can write chalk messages, but that the content did not violate policy.
"I don't think I've ever seen campus this divided," says Alyssa Weinstein, a senior and president of the Emory College Council. "Everything is really tense right now."
Alexius Marcano, president of the Young Democrats of Emory, says an informal group of students organized Monday's efforts and that several campus organizations, including his, plan to release a joint letter about the chalkings this week.
The Washington Post obtained what Marcano tells Newsweek is an incomplete draft of the letter. In the draft, the students refer to the chalkings as "the vandalization and hateful promotion of Donald Trump across campus" and call Trump "a candidate for president who is the figurehead of hate, racism, xenophobia and sexism in America."
The draft says that those who wrote the chalk messages "attacked minority and marginalized communities at Emory, creating an environment in which many students no longer feel safe and welcome…. For some students, simply seeing the word 'Trump' plastered across campus brings to mind his many offensive quotes and hateful actions."
"I legitimately feared for my life," a freshman who identifies as Latino told The Daily Beast. Another student told the publication, "Some of us were expecting shootings. We feared walking alone."
The response off-campus has not been kind. Critics of the students say that feeling "attacked" by seeing the name of a presidential candidate, and the university's response, are examples of "the coddling of the American mind." Even memes have surfaced, poking fun at the student protesters.
But while speaking with Newsweek, several Emory students involved in the protests said the chalk messaging is only the latest incident on campus that seems to target underrepresented students. They also point out that many of the chalk messages appeared on or near the Centro Latino, a campus space for Latino students. The university spokeswoman says photographs show the chalk near that center but adds that the Centro Latino is in the main student activities center, which houses many student groups. The Emory Black Student Union space is also located there.
"We aren't afraid of chalk," says a student involved in the protests, who declined to give her name because she said people have been receiving threats. "We're afraid of people who are willing to put ridiculous messages as an intimidation tactic, as a scare tactic, against students who go to this school. The marks on the campus matter because they're a symbol of the continued marginalization of students."
Shehab, of Freedom at Emory, says the students' concerns are "not just about Trump or just about the chalking themselves…. We never said that we don't want people campaigning for Trump or expressing their political opinion."
Those students say this week's protests are a continuation of earlier ones at Emory and elsewhere. And students who attended the meeting with Wagner on Monday or had knowledge of it say the chalk incident was only a brief part of the conversation.
"This didn't happen in a vacuum," says Maria Svart, national director of the Democratic Socialists of America, whose Emory chapter is listed as a signatory on the draft of the joint letter. "The context is that students at Emory have been protesting for months because they feel that the administration and the institution, it is basically creating a hostile environment for students of color."
Last year, black students at Emory released a list of demands, as students at other colleges have done. "During the daily life of black students, we experience micro- and macro-aggressions," their document said. The demands included counseling for black students and an increase in the number of black staff, faculty and administrators.
Responding to Svart's comments, the university spokeswoman says by email, "Emory has done unprecedented work on issues of racial justice on campus. The university responded to students' concerns and list of demands...by partnering with black and other student leaders to plan a transparent and widely coordinated response." That effort included a Racial Justice Retreat in February and the formation of working groups to develop plans for implementing the demands.
As racial and social justice movements build on American college campuses, free-speech advocates have expressed concern that students are asking administrators to ban speech in a way that violates the First Amendment.
"The people limiting free speech are the administrators who give in to student calls for censorship," says Samantha Harris, director of policy research at the Foundation for Individual Rights in Education, who blogged about the chalking incident. "There's often a big desire to maintain order on college campuses, and I think a lot of time administrators act on that motivation by quickly acting to appease any protesters on campus."
Administrators should act, Harris says, when speech is actually threatening. "'Trump 2016,' people may find it vaguely threatening, because to many people, Trump stands for anti-minority and anti-immigrant sentiments," she says. "But it's very different for somebody to say 'I support Donald Trump' than to come up to a student on campus and say 'I'm going to harm you...if you don't vote for Donald Trump.'"
People at Emory and elsewhere have also said a contradiction exists in which students are using their free-speech rights to police certain speech.
According to a recent study, 80.6 percent of college freshmen surveyed said they have "tolerance of others with different beliefs," and 63.7 percent said they were open "to having my own views challenged." Yet 43.2 percent also said colleges should ban "extreme speakers," and 70.9 percent said "colleges should prohibit racist/sexist speech."
Zak Hudak, editor-in-chief of The Emory Wheel, wrote on Wednesday, "The very idea that allowed students to speak up...is under siege by those very same student protesters." He added, "Freedom of speech works both ways."
Emory has previously dealt with what students called hateful vandalism. In 2014, swastikas appeared on or near the houses of fraternities, including Alpha Epsilon Pi, a traditionally Jewish fraternity.
In February, after a display by Emory Students for Justice in Palestine was defaced, a university committee investigated the incident and determined that the "acts infringed upon the open expression rights of ESJP and its members while hindering legitimate speech and debate among the broader Emory community."
Those protesting this week's chalking incident note that several months ago, the university washed away chalk messages that members of the Black Lives Matter movement had written. The university spokeswoman says a campus worker saw the markings "and thought they were not supposed to be on the grounds and washed them away by mistake."
The spokeswoman says the university has not identified the individuals responsible for this week's chalk messages.