'Emotional Damage': Woman Chronicles Lash Extension 'Fail' In Viral Clips
Eyelash extensions have been a popular beauty trend, but one woman shared the results of her appointment in videos that have since gone viral on TikTok, calling it a "fail."
Dakota Treacy showed what the extensions looked like and explained the backstory in several videos she posted to her account @deeeeeee60. Viewers were shocked by the results and many shared their sympathy for Treacy.
A piece published with Healthline noted that eyelash extensions can enhance the look of natural lashes when a licensed and trained professional properly applies them, which may take several hours.
But, extensions that are improperly applied may lead to pain and discomfort.
The American Academy of Ophthalmology reported that some of the most common risks associated with lash extensions include infection of the cornea or the eyelid, swelling of the eyelid and permanent or temporary eyelash loss.
Treacy's first video, which was viewed more than 100,000 times, shows the inspiration photos of what she hoped her lashes would look like. The video then cut to show the results of the appointment.
A thick band of closely-clustered lashes lined the lash line.
"#fail #eyelashextensions," her video caption read.
She shared a second video, which was viewed more than 800,000 times, and gave viewers a closer look at the extensions.
"If you actually look in closer under my eye, all these remnants of glue, she obviously used so much glue," Treacy said. "On my eyes, it literally feels like she used superglue."
She said that she's had eyelash extensions before but has never experienced the pain that was caused by the current extensions.
"They feel hard," she said as she continued to show viewers the extensions.
Commenters rushed to express their thoughts on the outcome of Treacy's, and some offered a bit of advice.
"As someone who does lash extensions...Oh my God remove those immediately," a viewer wrote.
Another viewer who also said they work as a lash technician advised Treacy should avoid tugging on the extensions.
"Go get them taken off with a removal solution," they wrote. "So sorry this [happened]."
"Emotional damage," one TikTok user declared.
Treacy was not alone in her experience—one viewer said the same happened to them and urged her to remove the extensions.
In a third video, Treacy said she had the extensions removed, which took about 45 minutes, by a different lash technician.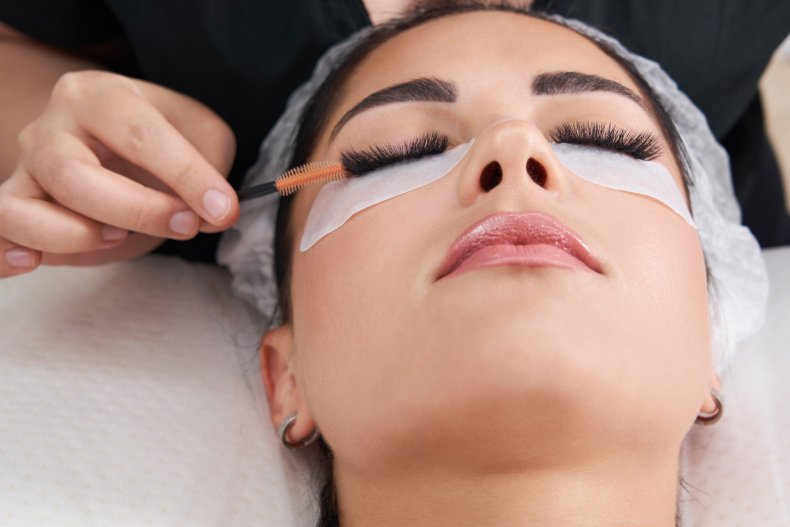 Her own eyelashes were not damaged and she got a different set of lashes applied.
Treacy also noted that she reached out to the original lash technician but was blocked.
"Please do your research before going to get your lashes done because the last few days of my life have been hell, and I don't wish anyone to go through what I just went through," she said.
Newsweek reached out to Dakota Treacy for further comment but did not hear back in time for publication.
People have shared insight into beauty routines and trends on social media, but not all of them have been successful.
One woman shared what her eyebrows looked like after they were laminated on TikTok, while another viral video revealed an at-home eyebrow tint that went wrong.
Other videos have shed a light on just how much some beauty treatments cost, including one video in which a woman broke down how much she pays for beauty treatments, groceries and fitness fees.