'Empire' Actor Jussie Smollett Hospitalized For Possible Hate Crime with 'Unknown Chemical Substance': Report
Empire actor Jussie Smollett was hospitalized Monday in Chicago after being attacked by two men who allegedly screamed praise to President Donald Trump. The attack comes just a week after Smollett received a racist threat via mail sent to Fox Studios, according to TMZ.
The Chicago Police Department confirmed a member of the Empire cast was assaulted on Monday in a statement published by People. They said the unnamed 36-year-old actor was attacked in what could be a "racially-charged assault." The statement revealed the attack was being investigated as a hate crime.
According to the police statement a noose was placed around Smollett's neck and an "unknown chemical substance" was poured on Smollett. The offenders reportedly heckled Smollett, yelling homophobic slurs. After the attackers left, Smollett transported himself to the hospital, seemingly without calling 911.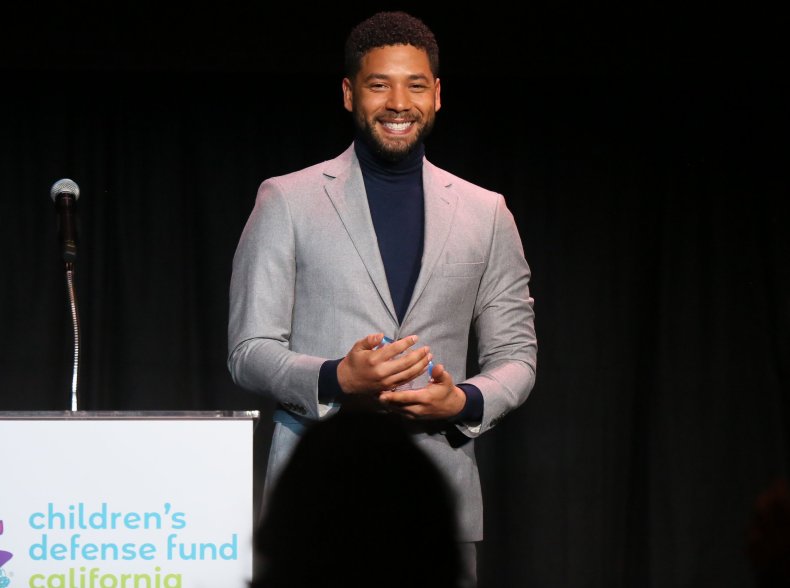 The letter allegedly sent to Fox Studios targeted both Smollett's race and sexuality. It's unclear if Smollett, who is African American and gay, personally received the hateful letter which read "You will die black f**," according to TMZ. The words were cut from magazine clippings, and the envelope was addressed with large, scribbled handwriting according to photos posted by the celebrity-fueled source.
Since news of the attack surfaced on Tuesday, celebrities and fans have expressed love and support for Smollett online. "Prayers up for Jussie Smollett- this man is so generous of time, talent & treasure to SO many people fighting for freedom & Black Liberation," wrote activist Leslie Mac on Twitter Tuesday. "I'm stunned. Our LGBTQIA family deserves more than our shock when they are harmed tho. We need to be there ALL THE TIME."
Much of the online conversation surrounds the possibility of the "Make America Great Again" appearing in the altercation. It's unconfirmed that Trump-endorsed hats or sayings were used.
Smollett has been open about his sexuality since 2015, though he shared on the Ellen Degeneres Show that he's never considered himself to be "in the closet." The actor starred on Empire from 2015 to 2018. He is also known for his work in The Mighty Ducks and Alien: Covenant.
Unconfirmed accounts claim the men who attacked Smollett were wearing ski masks and yelled "This is MAGA [Make America Great Again] country]" as they attacked the actor, according to TMZ and The Blast. Smollett was admitted to Northwestern Hospital and released on Tuesday morning.