Empire Awards 2016: 'Star Wars: The Force Awakens' Dominates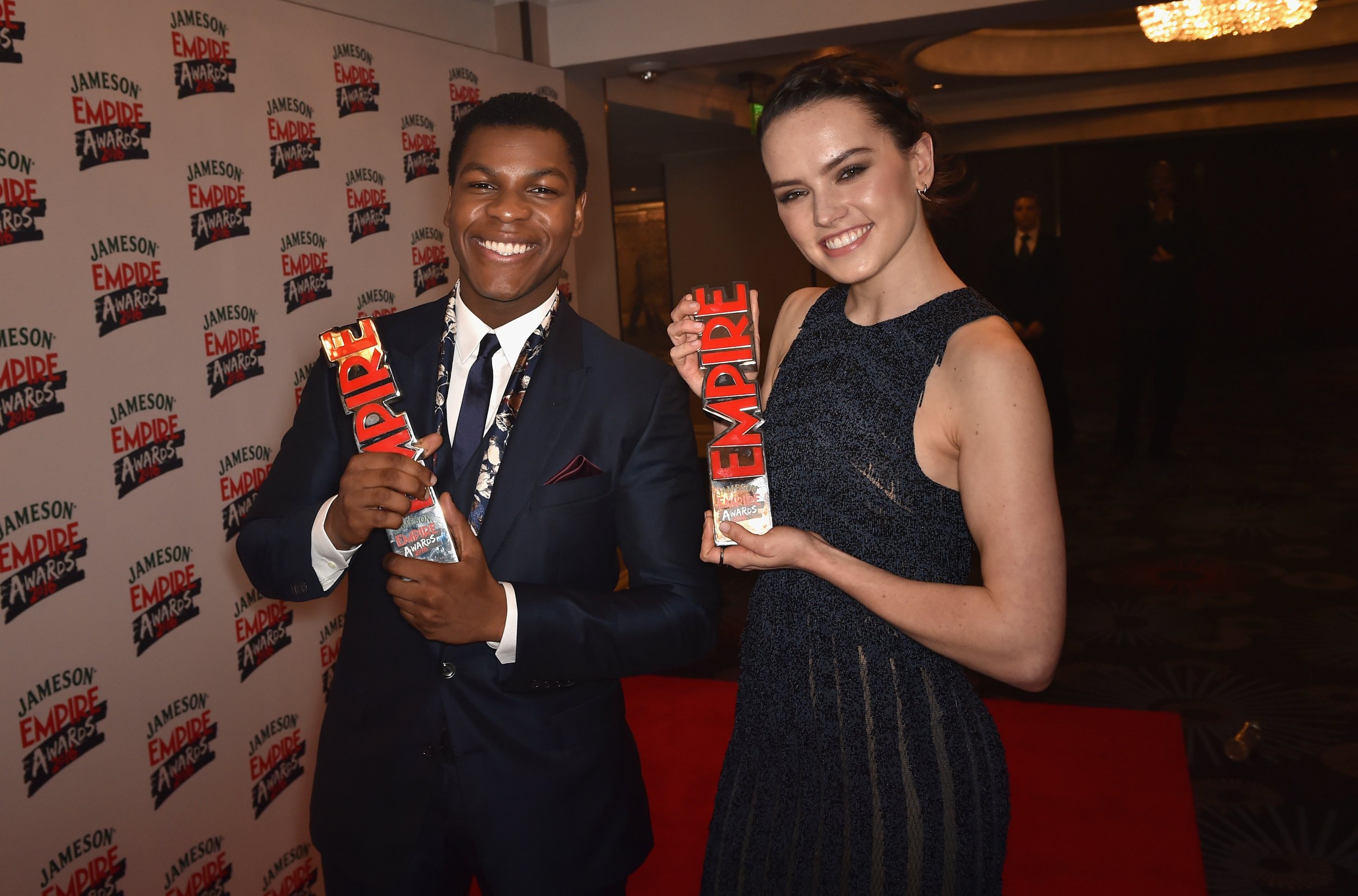 Star Wars: The Force Awakens emerged as the big winner at the Empire Awards in London on Sunday, taking home five trophies.
The spotlight was on the franchise's newest stars Daisy Ridley and John Boyega, who collected the Best Female and Male Newcomer awards respectively. J.J. Abrams was awarded Best Director, while the film also earned Best Visual Effects and Best Sci-Fi/Fantasy Film.
Boyega, Ridley and C-3PO actor Anthony Daniels were all on hand at the event. London-born Boyega, 24, playfully ribbed director Abrams in his speech, telling him not to put him through a grueling seven-month filmmaking process again.
Best Film went to The Revenant, while Best British Film was awarded to SPECTRE. Director Sam Mendes collected the award for the 24th adventure in the long-running James Bond franchise.
The Martian 's Matt Damon and The Danish Girl's Alicia Vikander won Best Actor and Best Actress respectively.
But the night's top honors went to the late Alan Rickman, who was posthumously awarded the Empire Legend award following his death at the age of 69 in January.
The Hunger Games' Stanley Tucci, meanwhile, was awarded the Empire Hero award. He used much of his speech to honor his friend Rickman, saying he "changed all of our lives."
The Empire Awards was hosted by comedian David Walliams.
Empire Awards — selected winners:
Empire Hero: Stanley Tucci
Empire Inspiration: Paddy Considine
Empire Legend: Alan Rickman
Best Film: The Revenant
Best British Film: SPECTRE
Best Actor: Matt Damon , The Martian
Best Actress: Alicia Vikander, The Danish Girl
Best Director: J.J. Abrams, Star Wars: The Force Awakens
Best Male Newcomer: John Boyega, Star Wars: The Force Awakens
Best Female Newcomer, Daisy Ridley, Star Wars: The Force Awakens
Best Documentary: Amy
Best Animated Film: Inside Out
Best Sci-Fi/Fantasy Film: Star Wars: The Force Awakens
Best Comedy: Spy
Best Visual Effects: Star Wars: The Force Awakens
Best TV Series: This is England '90