Employee Supported After Job Forces Him to Remove Pride Flag From His Desk
The internet has rallied to back an employee whose company demanded he remove a pride flag from his desk, according to a viral post on Tuesday.
Reddit user u/Robertwolfgang anonymously shared their colleague's story on the website's "Antiwork" forum, amassing over 19,000 votes in four hours.
"My job forced my coworker to remove his pride flag stating no flags were allowed," said the employee who specified that they worked in Michigan. "Even though other coworkers have football team flags at their desk."
The worker added that their management reached the decision after strife broke out among the other employees, one of whom claimed they wanted to hang a "straight flag," while another said, "I'm bringing a Nazi flag in then."
"As a spectator of the drama I've never seen so many people get so upset over something so small," said the onlooker.
Employers who inconsistently apply workplace policies are more likely to field and lose employment lawsuits, as attorneys and government agencies view different treatment as the "hallmark of discrimination," according to Employment Law Handbook.
For example, a company can consistently ban all religious items from being displayed at work, but not items representing one faith and not others. The Equal Employment Opportunity Commission (EEOC) explained that if an employer allows one worker to display a Bible while telling another to hide a Quran, their "differential treatment of similarly situated employees" would constitute religious discrimination, violating Title VII of the 1964 Civil Rights Act.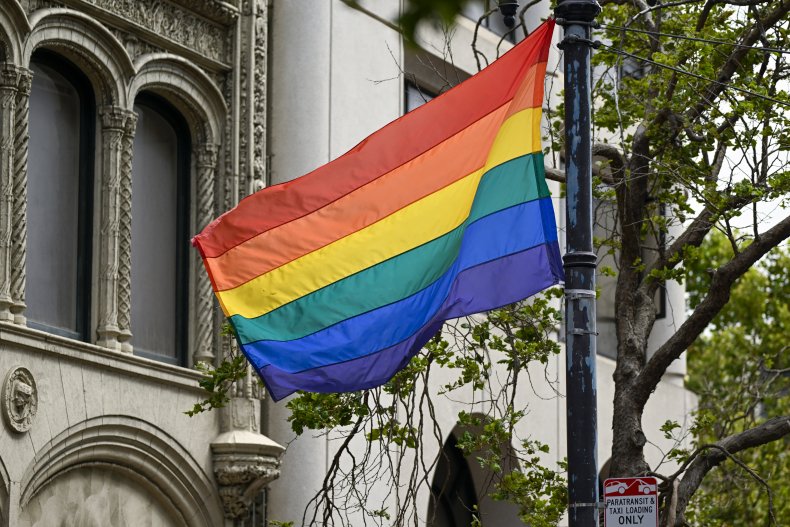 In 2017, a U.S. appeals court ruled for the first time that the Civil Rights Act protects lesbian, gay, bisexual and transgender employees from discrimination in the workplace.
Reddit readers flocked to support the pride flag owner and offered suggestions for their retaliation.
"Take a picture of the Pride flag and put it in a beautiful and large frame, should look great on your desk," offered one user.
Another proposed, "If they REALLY want to kick the hornets nest, just get one of those sports team's pride flag, and put it on their desk. If they're required to move THAT they could argue ALL the other sports flags should be removed too."
"I'd get a giant double-headed rainbow colored dildo, and call it an 'eraser,'" said another vengeful reader.
Earlier this year, the United States Department of Justice sued a town in southern Indiana over allegations that its police department illegally discriminated against an HIV-positive person seeking a job as an officer.
A former Amazon employee alleged in 2021 that she was unfairly discriminated against and forced out of her job at a fulfillment center in Vancouver based on her transgender identity and condition of cerebral palsy.
The post has since been deleted by the original poster.
Newsweek reached out to u/Robertwolfgang for comment.