Employees at Illinois' Largest Hospital Say They're Not Given Additional Sick Leave Amid Coronavirus Pandemic
A number of employees at Northwestern Memorial Hospital in Illinois were not given paid sick leave or workers compensation after contacting the novel coronavirus while at work, they say.
Lagwena Smith worked in Northwestern Memorial's Environmental Services Department (EVS) and became infected with the novel coronavirus in early March. The virus forced Smith to be out sick from work for nearly a month, but she told Newsweek that she was only given paid sick leave for her first two weeks.
"They gave me like 80 hours, which is like the first two weeks that I was real sick and couldn't leave the house," Smith said, adding that the hours were part of the hospital's COVID-19 pay for employees that contracted the virus while on the job. Smith continued to experience coronavirus symptoms and was out from work for another two weeks, but instead of taking sick days, Smith was forced to use her paid time off, which she accumulated during her time working at Northwestern.
Smith's use of her paid time off became a serious problem in late April, when her 10-year-old son became infected with the coronavirus, forcing her to take unpaid leave from work.
"I have no paid time off," Smith told Newsweek. "Right now, I will not receive any checks, I'm just off work."
Smith added that she was never given adequate personal protective equipment, like n95 masks, and that she never received any special training or guidelines on how to properly clean the rooms of patients being treated for COVID-19.
"It's almost like you're a non-factor in the hospital as an EVS worker and I see a lot of unfair things there," Smith said. "When the COVID-19 pandemic started, they were passing the n95 masks to nurses and stuff. All of the nurses got paper bags with their name on it and they got these masks and I do know that they gave them to them and not us."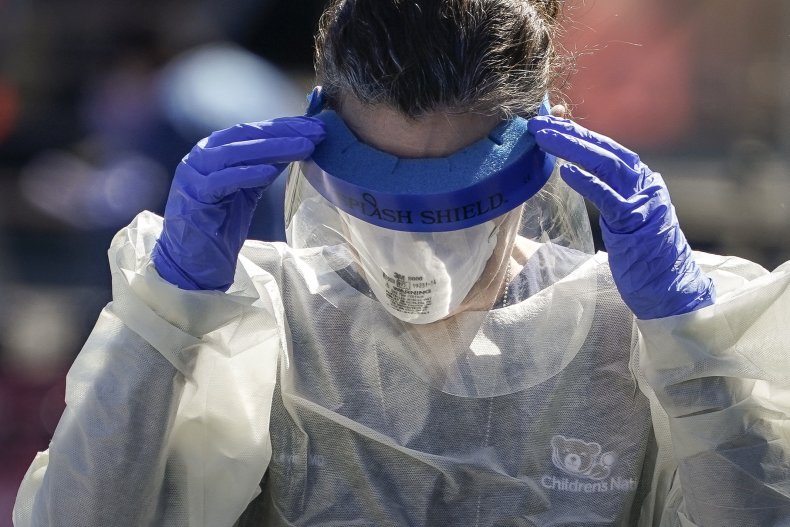 During a recent video press conference, several other Northwestern employees voiced their concern for how they have been treated by the hospital.
"After the 80 hours, this week, I haven't received nothing. I have no income. I can't pay my bills, I'm empty-handed right now and I'm trying to figure out how to go about it," said Candice Martinez, an EVS worker at Northwestern. "I can't pay my rent, I can't pay my son's tuition, I can't pay my phone bill. I don't know what else to do at this point."
Everett Oliver, a patient care technician at Northwestern spoke about the lack of PPE given to workers.
"I've been assigned to do EKG's (electrocardiography) throughout the hospital, so wherever the EKG is needed I go. On some of these COVID floors, and recently because they are constantly changing the PPE protocol, unless it's aerosol-generating they want you to go in there with just a surgical mask and I refuse to go in there unless they give me an n95," Oliver said during the video press conference. "[For] COVID positive patients, they said you're still okay to wear a surgical mask as long as they're not dong aerosol-generating procedures, such as breathing treatments and I refuse to go in there without an n95."
Oliver also confirmed that whenever nurses or doctors go into these rooms they would wear n95 masks and not surgical masks like the ones he was instructed to use.
This is not the first time Northwestern Memorial has faced criticism from its employees during the novel coronavirus pandemic. In March, a number of employees held a press conference outside of the hospital calling for extended paid sick leave.
Anne Igoe, vice president for hospitals with the Service Employees International Union Healthcare Illinois, told Newsweek about some of the issues Northwestern employees are facing with paid sick leave during the coronavirus pandemic.
"Northwestern is the number one hospital in Illinois, it has revenues in the billions, it has more than enough to take care of their employees and the patients in this period," Igoe said. "Since March, we have been reaching out to them about the need for hazard pay, the need to protect employees' paid time off when they've been exposed or have tested positive and despite agreements that have been made between the union and the employer, they continue to go back on these."
In an email, a spokesperson for Northwestern said that the hospital "cannot comment on a specific employee's health status," but the spokesperson assured Newsweek that "the health and safety of our patients, physicians and employees is our highest priority."
"We have implemented resources to support our employees including daily screenings for COVID-19 symptoms, a COVID hotline for employees to speak with a health care professional, and access to testing when appropriate," the statement continued. "In the event an employee acquires COVID-19 in the workplace, we provide health, wellness and financial support."
Igoe told Newsweek that during the early stages of the pandemic, Northwestern assured its employees that they would be compensated if they became infected with the virus, but they have continued to move back on that assurance, denying workers compensation for a number of infected employees.
Igoe also pointed to the executive order issued by Illinois Governor J.B. Pritzker which guaranteed workers compensation for all essential employees during the pandemic. While the order was overturned in court, Igoe suggested that Northwestern didn't need guidance or assistance from the federal or state governments to compensate its employees.
"Unfortunately, we have millions of dollars coming to the state of Illinois, that's supposed to go to providers who are dealing with this crisis but how it was distributed in the first CARES act, was very little oversight," Igoe said. "There was no requirement to use it for hazard pay, for PPE (personal protective equipment). It was just any general corona-related reasons, including loss of revenue."
"We have a place like Northwestern that is doing everything in its power to not pay the hazard pay. Hospitals can do this, they do not need the federal government to tell them to pay hazard pay, they don't need the general assembly to tell them to pay hazard pay and it's a shame it took Northwestern this long and now they're doing everything in their power to ensure certain folks don't receive this hazard pay," Igoe added.
In its statement, Northwestern said that the human resources department "thoroughly reviews all claims to be certain of the origin of the initial COVID-19 contact."
"To date, no workers compensation claim has been denied," the statement said.