Local Animal Services Seek Owner of Lost Emu Found Wandering Suburbs
If you happened to have misplaced your emu and live in the San Francisco Bay area, animal services would like to speak with you.
Police in Pleasanton, a city about 25 miles east of Oakland, received an unusual call Friday afternoon. The report said an emu was wandering around a resident's front yard in the quiet suburb, and the authorities responded with Animal Services Officer Frankie Ayers and CSO Amy Martin. They were able to take the emu into custody after lassoing it. And, no, it's not in custody in a holding cell at the police department. It's at Alameda County Animal Shelter.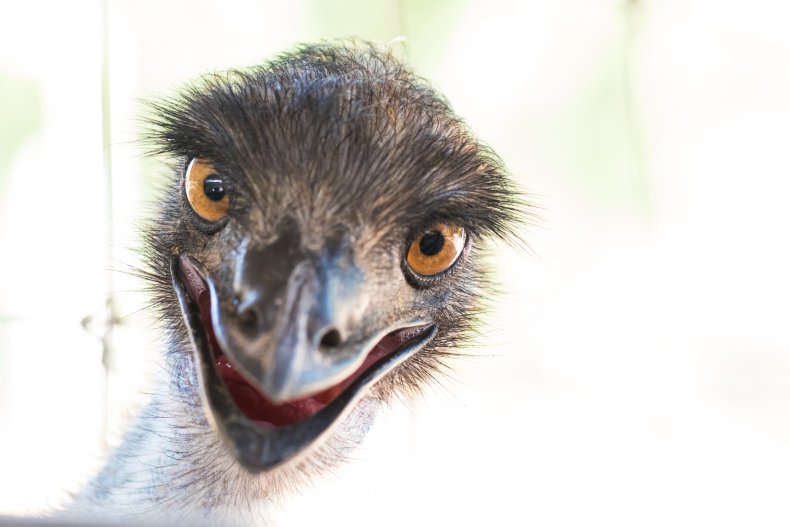 The Pleasanton Police Department's official Twitter and Facebook pages had a post about the incident, where they described Ayers and Martin as "the perfect candidates to handle the call! Since they both grew up on farms."
The emu is said to be okay, and the police are hoping to find its rightful owner soon.
Oakland's KTVU news station, a local Fox affiliate, covered the breaking news and posted about it on Twitter, in hopes the owner may step forward and retrieve their lost emu.
Of course, this led to some incredulous responses. More than one person wondered if it was the same emu made famous in the Liberty Mutual insurance commercials--LiMu Emu (who partners with nondescript Doug):
All over Twitter, people seemed to also relish the distraction from the more anxiety-causing news on TV and social media.
Yes, some Twitter users saw it as yet another example of the weird occurrences the year has brought upon us.
Here is Pleasanton Police Department's post about the capture of the feathered suspect, which shows the lassoing:
Of course, some commenters had fun making bad puns about the "arrest."
While it's not uncommon to hear about animals such as deer, bears, and even coyotes making their way out onto the city streets, emus are a few more unusual sight. They are much more commonly seen outside of zoos in farms in mainland Australia, where they are native.
Emus are the second-largest living bird by height after its close relative the ostrich. While flightless, the birds are capable of sprinting at around 30 mph. One might also think the goofy-looking animal is harmless, but they have been known to attack humans (though fatalities are rare). They can deliver vicious kicks with their large three-toed feet, which they use to eviscerate other animals.
Anyone who has information leading to the owner of this particular emu should contact Alameda County Animal Shelter or Pleasanton Police Department.