'Encanto' Release Date, Cast, Trailer, Plot: All You Need to Know about Disney's 'Encanto'
Encanto is the latest animation film coming to movie theaters later this year. Brooklyn Nine-Nine's Stephanie Beatriz leads the cast and the film even features songs from Hamilton's Lin-Manuel Miranda.
Newsweek has everything you need to know about Encanto including release date, cast, trailer, plot, and more.
When Is 'Encanto' Out in Theaters?
After more than four years of waiting, Encanto finally has a release date.
Encanto will be released in theaters in the U.S. on Wednesday, November 24, 2021.
Who Stars in Encanto?
Stephanie Beatriz voices Encanto's main character Mirabel, who is portrayed as a normal 15-year-old girl who is struggling to find a place in her magical family
"Mirabel is a really funny, loving character who also deeply yearns for something more. he's also not afraid to stand up for what she knows is right—something I love and relate to very much," said Beatriz in the press release.
"I'm Colombian on my father's side, and playing this role fills me with immense pride," she added.
Joining Beatriz are NCIS star Wilmer Valderrama and Diane Guerrero from Orange Is the New Black.
Colombian actress Angie Cepeda will also appear alongside Marvel's Runaways' Rhenzy Feliz and Narcos star Carolina Gaitán.
María Cecilia Botero also appears in Encanto alongside Jessica Darrow and Mauro Castillo.
What Is 'Encanto' About?
Encanto follows the story of an incredible family, the Madrigals, who live in the mountains of Colombia in a magical house.
The family home is situated in a vibrant town, known as Encanto, which has blessed every child in the area with a unique power.
Many of the children have been given the powers of super strength or the ability to heal, all except one—Mirabel.
When the town of Encanto falls into danger, a vulnerable Mirabel decides she may the only one who can save her Encanto and her family.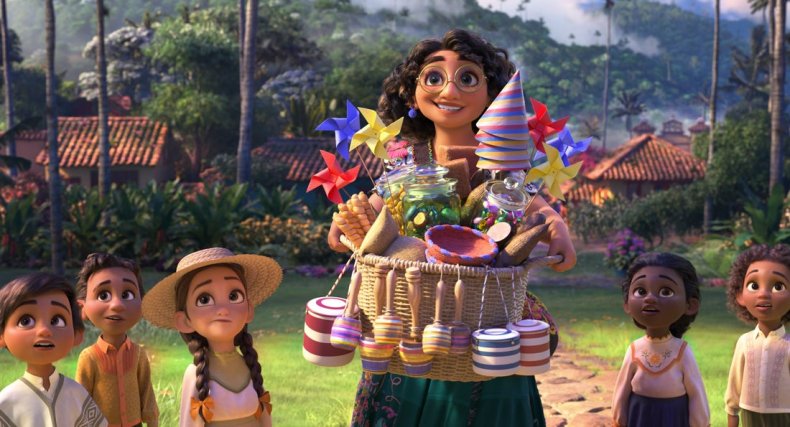 The movie also includes a new original song, "Colombia, Mi Encanto," performed by 17-time Grammy and Latin Grammy winner, singer-songwriter, and actor Carlos Vives.
Vives, whose hometown is Santa Marta, Colombia, said: "This song is a celebration of the magical diversity of Colombia.
"I can't wait to see how the music will blend with the images and the characters inspired by the 'encanto' of Colombians."
The film also features new songs by Lin-Manuel Miranda, who has worked with Disney before on the 2016 film Moana.
Speaking with io9, Miranda explained: "So often when you get into story mode, it turns into the hero and the quest—and you lose characters, then you lose complexity because everything becomes the quest.
"And I think what's been thrilling about this is, since that's been our mission statement, it's been really fun to sort of write, you know, musical family dynamics in a really fun and complicated way. I'm really excited for the world to finally see it."
Is There a Trailer for 'Encanto'?
Yes, there is a colorful trailer for Encanto out now.
The trailer introduces the film's characters without any dialogue as they happily dance around the town of Encanto.
Towards the end of the trailer, viewers meet Mirabel, who receives a special delivery.
A man jokes: "I gave you the special since you are the only kid with no gift. I call it the not special-special since you have no gift!"
The trailer teases: "Welcome to Casa Madrigal. Where all the exceptional, fantastical, magical except Mirabel."
Encanto is released in theaters on Wednesday, November 24, 2021.