Enclave CineHome PRO Review: Excellent Wireless Surround Sound
Enclave Audio aims to prove you can have it all when it comes to a wireless home theater surround sound system. It wants to offer engulfing 5.1 sound with the convenience of a wireless setup. Enclave Audio makes two versions of its 5.1 system, the CineHome II and the CineHome PRO. While the II lacks some audio enhancements of the PRO, like being THX certified, the main difference, in the most practical sense, is in the physical size. The II features smaller speakers than the PRO.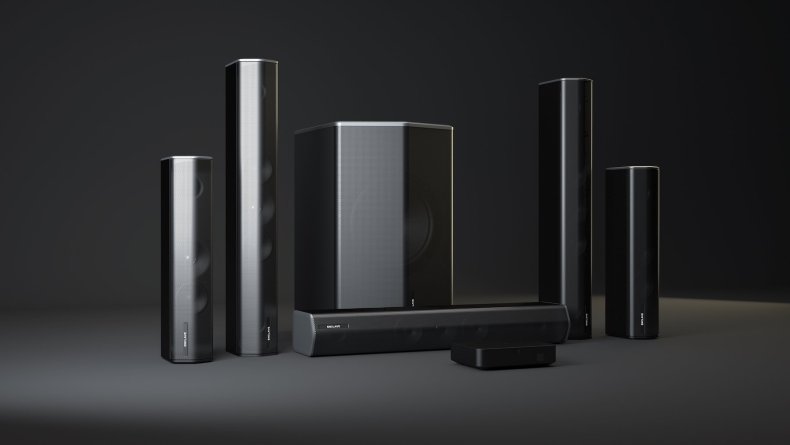 The CineHome II starts around $1,000 while the CineHome PRO goes up to around $1,600. Since the price of admission does not come cheap, for a potential dream setup, it's worth seeing if the speakers are as remarkable as they appear to be.
Overall, the CineHome PRO is an excellent home theater audio system. Its sound is detailed and accurate while also capable of getting as loud as you want it to. The wireless functionality is seamless but not entirely invisible. As good as the Enclave Audio CineHome PRO is, it does have a few aspects that should be considered before spending the money.
Setup and Design
The most noticeable thing about the CineHome PRO speakers is the overall size. This aspect shows up right at your door in a box weighing about 75 pounds. It's no joke. The shortest of the speakers are the rear ones, which are 16.4-inches long. The front left and right speakers come in at 24.1-inches long. The five speakers and the sub are all substantial in size, meaning this is probably not a bedroom system. Even in my average-sized living room, the speakers encroached on being too big for the space.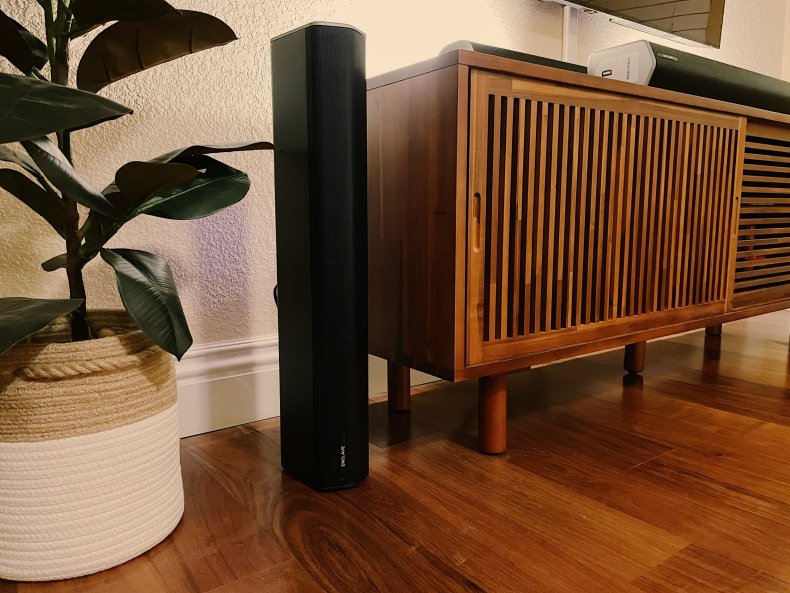 Physical size should be noted, mostly because they are slightly larger than I was expecting from looking at them online. The speakers include wall mounting hooks on the back that may help with placement around a room.
Setting up the speakers was literally as easy as plugging them into an electrical outlet. In this regard, the CineHome PRO really does deliver on its ease-of-use promise. Plug the speakers and hub box into power and turn them on. That's it. They connect to each other wirelessly and automatically. The hardest part of connecting the CineHome PRO was finding six outlets for each of the components.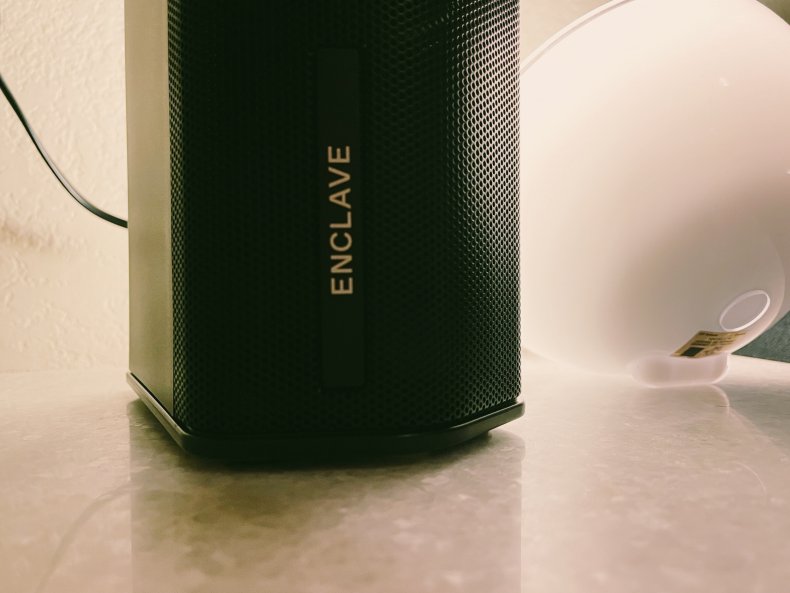 The speakers may send their signal wirelessly, but they still need power. It could be a deal-breaker for some people who don't have power available in all the needed spots. Overall, once it is dealt with, the annoyance of finding six electrical plugs should be over.
In terms of the look and design, the speakers don't stand out as attractive, but by no means are they unattractive. The black color is neutral enough for most decors, if not a little masculine.
Features and Specs
Enclave's advertised specs of the CineHome PRO:
6 full-range drivers with 3 tweeters in front speakers
11 Class-D digital amplifiers
A full range 3-inch driver and 1-inch tweeter in each rear speaker
10-inch subwoofer
Sound profiles: Dolby Digital Plus; Dolby Digital; DTS Digital Surround; PCM
Connections: HDMI eARC/ ARC; Optical; S/PDIF; TOSLINK; AUX 3.5mm Stereo; Bluetooth 5.0
Performance
The reason people invest in high-end speakers is to make movie watching as convincing as possible. These speakers were very convincing. Really good speakers can disappear, and the CineHome PRO mostly did that. Though several times while watching movies, the sounds of street noise or whispering flames were so realistic that I did glance around to make sure the sounds were actually coming from the speakers and not somewhere else.
Star Wars: The Force Awakens is one of my favorite movies to test speakers with. It's a movie with all the modern advancements cinema sound has to offer, plus the worlds that are traveled to offer a variety of soundscapes and atmospheres to experience. There's even a direct contrast of human voices and Kylo Ren's mask voice that is fun to compare. The Enclave audio system provided excellent performance throughout The Force Awakens. Explosions were booming, lasers were vibrating and jumps to hyperspeed were accelerated.
One aspect that was especially noticeable using the CineHome and its 5.1 surround sound was how much more audio separation is possible with physical speakers over a soundbar. This is not particularly unique to Enclave Audio, but it's easy to forget as the convenience of soundbars take over home theater setups. The front left, right and center channels were able to provide a much wider front soundstage than even the best soundbars are capable of.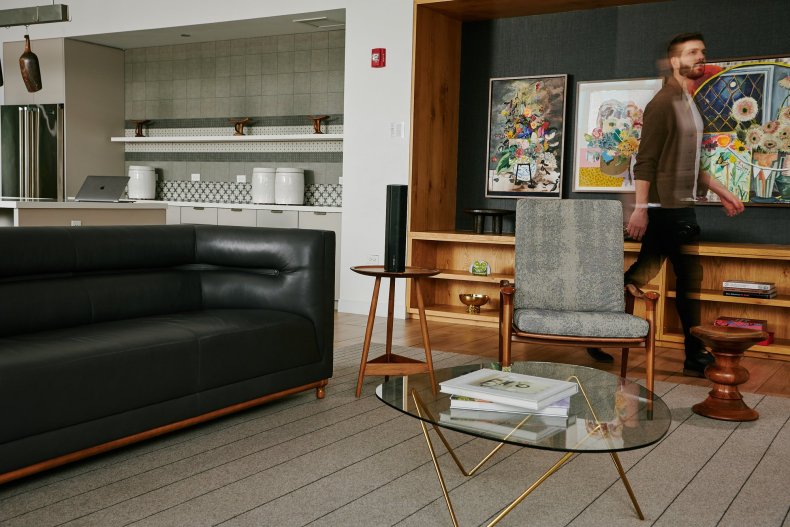 Cartoons, sitcoms and non-action movies all performed equally as well too. The system was able to adapt to the content as you would expect, and it handled content from all streaming platforms just fine.
The Enclave Audio mobile app is a bit rough in terms of aesthetics and could really benefit from a proper redesign, but it did work just fine. I was able to connect to the hub with Bluetooth, update it and navigate its settings without issue. The system comes with a remote for changing settings and volumes if you don't want to use the app on a daily basis.
In terms of music listening, there is a mode in the app that changes for music. The app can also change the speakers to stereo mode instead of 5.1. I mostly listened to music through Apple TV's Music app. The bass was strong and added quite a bit while listening to pop and R&B.
Should You Buy the CineHome PRO?
The CineHome PRO absolutely provides a compelling home theater sound experience. Its wireless connection between the speakers simplifies some of the setup process and eliminates needing to hide long wire runs. The downside is that each speaker (and the hub) needs an outlet to plug into for power. The system very much still has cables tying it down in this regard.
If the number of outlets and available power isn't an issue, the CineHome PRO should do wonders to boost your TV's audio output. It's capable of voluminous sound. It's not just the audio output that demands this system be used in a bigger room. The speakers themselves do take up a fair amount of space. But with those few logistical questions being considered, there's very little downside for people looking at the PRO for a complete package.
Newsweek may earn a commission from links on this page, but we only recommend products we back. We participate in various affiliate marketing programs, which means we may get paid commissions on editorially chosen products purchased through our links to retailer sites.