The End of 'American Idol' (For Real This Time)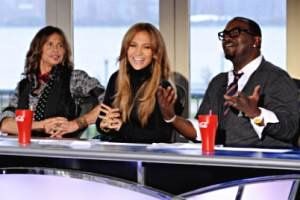 About 45 minutes into the new season of American Idol, I did something I've never done in 10 years of watching the show. I picked up the remote control and hit the "off" button. I couldn't stand the misery any longer, and neither should you. The Idol audition rounds are often painful to watch—a circus of losers parading in front of Simon Cowell. But now it's not just the contestants who seem weird. The entire franchise has gone to the land of Stepford, where everybody is so nice and sweet and happy and zippy, you feel a cavity coming on.
Speaking of which, have you met the new judges? Say hello to Jennifer Lopez and Steven Tyler. Then say goodbye, because Fox should dump them both, along with their zillion-dollar contracts. The role of an Idol judge is a fine tightrope walk. Paula Abdul was loopy. Simon Cowell was nasty. Randy Jackson was—well, the other guy. But as a team, they were exceptionally likable onscreen, and genuine. Because of their presence, Idol went on the become perhaps the greatest phenomenon in the history of television.
The Idol producers clearly hoped to re-create Abdul's magic with Lopez. She has the same fluffy hair, the same colorful wardrobe, the same big earrings. She even tilts her head and blinks in the same way, as if she's been studying old footage. But Abdul from the block she is not. The key difference is that Paula, even when she wasn't fully awake, was herself, an enthusiastic Auntie Mame who loved the kids who auditioned for the show with all her heart.
Lopez is a diva, and no matter how much she peppers the contestants with compliments ("You're so adorable!") she doesn't appear to care for them—good, bad, or ugly. One of the new shticks of the show is that Lopez has trouble saying no, but even this feels manufactured, an attempt to muster sympathy with the audience. Lopez lets one particularly tune-deaf girl through because she starts crying. She tells another girl that she remembers her from an audition in 2006, and it feels like a fib. Lopez doesn't seem as concerned with the Idol brand as much as her own. She's playing a character in a Jennifer Lopez romantic comedy.
As for Steve Tyler, the less said about him, the better. The front man of Aerosmith is about as critical as a fourth-grade music teacher. All the contestants sail through under his watch, rendering the entire exercise of auditioning pointless. What was once considered the meanest show on TV should change its mantra to "Everybody is a winner!"
Sensing a train wreck ahead, the Idol publicity team says that this season the show is about the contestants. Fat chance. If these kids don't have to struggle and squirm in front of the Cowell firing squad, what separates them from the millions of wannabe singers on YouTube? The former judges gave Idol its heart and soul, but also its credibility as a star-making machine. The new panel is so annoying, they even take away from the contestants who can actually sing.
I have a feeling that the No. 1 show on TV is about to forfeit that crown. "How did you do this for 10 years?" asks a flustered Lopez, making us wonder how long she'll actually stick around. "This is the big time," says Tyler. "For us and for them." He's wrong on both accounts, which doesn't say much about his credibility as a judge.
Ramin Setoodeh is a senior writer at NEWSWEEK who covers movies and pop culture. Follow him on Twitter.