Is This the End of Angela Merkel? Chancellor Will Not Stand for Party Leadership Re-Election After Poll Collapse
German Chancellor Angela Merkel has announced she will not run for re-election in her party's December leadership vote and step down as chancellor at the end of her current term in 2021.
Following the Christian Democratic Union's (CDU's) disappointing election performance on Sunday in the central state of Hesse, Merkel told a meeting of the party's executive committee that she would not contest the December election. That's according to Reuters, who attributed the information to a senior party source.
The chancellor later confirmed her decision at a press conference in Berlin. She told reporters she took full responsibility for her party's weak performances in recent elections, adding: "The time has come to open a new chapter."
Merkel—who became CDU chair in 2000—came to power as chancellor in 2005, and for almost 13 years has been one of the most significant figures on the global political stage. The 64-year-old has dominated German and European politics, and early reports of her decision sent the price of the euro plummeting.
Merkel intends to retain the chancellorship even without remaining leader of the CDU. German magazine Focus, however, noted that Merkel had previously insisted that the position of chancellor should be held by the leader of parliament's largest party.
Merkel's decision is not without precedent. Her predecessor, Gerhard Schröder, renounced leadership of the Social Democratic Party (SDP) in March 2004 but continued to serve as chancellor until November 2005.
A senior CDU source told Agence France Presse that Merkel did not want to secure a significant European Union role in Brussels when she stepped down as chancellor.
Hans Kundnani, a senior research fellow at the Chatham House think tank, told Newsweek that Merkel's "tactical maneuver" could keep her in office until 2021. "I don't think it's a priori impossible that she will hold on until 2021, especially given the paucity of alternatives," he explained.
The chancellor has spent much of the past year negotiating a way to shore up her ruling alliance, beset by conflicts within her coalition, most notably over the issue of mass migration to Europe from Africa and the Middle East since 2015.
A poor performance in last year's general election left Merkel scrambling to cobble together a ruling government. Although predictions of her fall from power have been made many times since then, Sunday's election results in Hesse seemed to have delivered the coup de grâce.
Both Merkel's CDU and coalition SDP partner saw their share of the vote fall by around 10 percent compared with the state's last election. The big winners were the Green Party, which won 19.5 percent of the vote—up from 11.1 percent in the last election—and the far-right Alternative for Germany, which secured 12 percent.
Though the CDU and SDP remained the two largest parties, with 27.9 and 19.9 percent of the vote, respectively, the huge loss of support set alarm bells ringing once more in both organizations.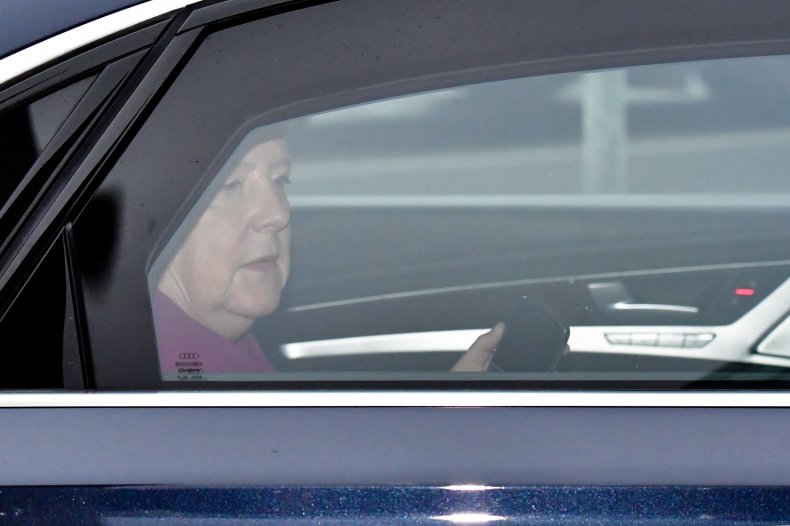 SDP leader Andrea Nahles quickly issued an ultimatum to the chancellor, giving the CDU until next year to improve election results under threat of withdrawing from Merkel's coalition.
Nahles proposed a mid-term review at the end of 2019, by which time the SDP "would be able to clearly see if this government is the right place for us." At the moment, she said: "The state of the government is unacceptable."
German politics could now be facing its most significant ideological battle since Merkel took office. The chancellor has overseen three grand coalition governments between the center-left and center-right, forging an approach that has been described as the Merkel consensus.
Kundnani pointed to Austria as an example of a new trend—especially in central Europe—in which center-right parties work with the far-right to secure power. Though Kundnani stressed it was not yet clear if this is happening in Germany, there will be elements within the CDU that wish for a new approach.
German tabloid newspaper Bild reported that 62-year-old Friedrich Merz—who served as head of the CDU/Christian Social Union parliamentary party in the Bundestag—was ready to run for party leadership.
Martin Greive, a reporter for the German newspaper Handelsblatt, suggested other front-runners were likely to include Merkel ally Annegret Kramp-Karrenbauer, Jens Spahn and Armin Laschet. Deutsche Welle reported that Christian Lindner is also part of the group, having already called on Merkel to step down as both CDU leader and chancellor.
"There's still not an obvious, very credible successor," Kundnani said, but warned the battle over CDU leadership could be the manifestation of larger ideological disputes wracking European politics.