Is This the End of Angela Merkel? Germany's Migration Deal Leaves Chancellor Exposed
Earlier this week, German Chancellor Angela Merkel agreed to a new deal on migration into the European Union to keep her governing coalition together, the latest twist in a tricky 12 months for one of the world's great political survivors.
Merkel's coalition government has been at a stalemate over continued migration from outside Europe, which has brought over a million new arrivals to Germany. Horst Seehofer, the leader of the Christian Social Union (CSU) and the government's interior minister, was pushing for greater restrictions along Germany's southern border with Austria and the unilateral expulsion of asylum seekers who had previously been registered in other EU countries.
The leaders eventually agreed to introduce transit processes in police centers where asylum seekers can be held and processed. The original deal called for migrant camps to be established close to the border, but negotiation with the third coalition partner—the liberal Social Democratic Party (SDP)—produced a softer agreement. Those refugees who have already registered in another EU country will be returned to that country if possible. If not, they will be sent back to Austria.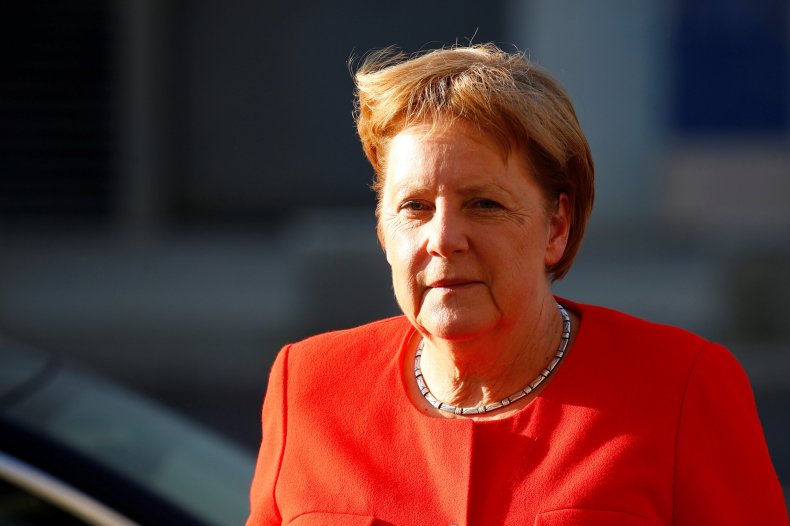 Merkel has denied that this is a U-turn on her pro-immigrant policies. Stefan Lehne, a visiting scholar at the Carnegie Europe think tank, agrees. "Merkel clearly won. She made sure that German action remains in conformity with European law and on the basis of agreements with EU partners," he said.
Merkel said both Spain and Greece have already agreed to take back refugees previously registered in their countries who are stopped at the Austrian border. But Italy—the main arrival point for migrants traveling through North Africa—still presents a problem. The new populist coalition there "is probably not ready for a bilateral agreement on taking back asylum seekers registered there," Lehne said.
Europe's trouble with migration
Driven by a combination of climate change, civil war and economic dislocation, hundreds of thousands of migrants began arriving on European shores in 2015. Cracks began to widen between EU member states as poorer southern nations absorbed the majority of the new arrivals, at least initially. Fences went up along borders—a concept anathema to the EU project.
As her fellow leaders looked to Berlin for assistance and direction, Merkel committed to taking in 1 million refugees and resettling more in fellow European nations, assuring Germany and Europe, "We can manage this."
Hans Kundnani, a senior research fellow at the Chatham House think tank, believes Merkel's grand immigration gesture has been overblown by both her supporters and critics. "The million asylum seekers that came in 2015—that wasn't a policy choice, that was just something that Germany couldn't prevent," he told Newsweek. More than a brave—or reckless—decision, Kundnani sees it as "an acceptance of reality."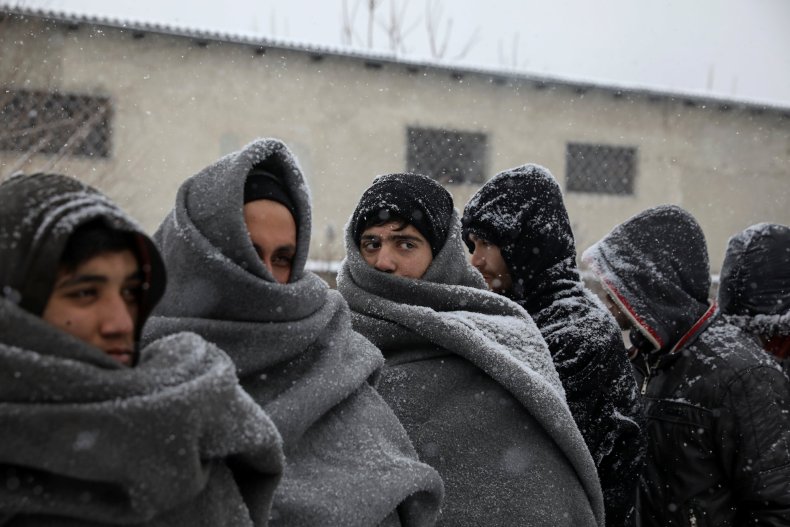 Right-wing movements across the continent were already gaining momentum, and the migrant crisis had a galvanizing effect. Though numbers of arrivals are falling, the subject is a major challenge for Europe. Merkel herself has warned that the migration question could be a "make or break" issue for the bloc.
Nationalist governments were already entrenched, in Hungary under Prime Minister Viktor Orbán and in Poland's Law and Justice party. Since 2015, right-wing populists have won control—in whole or as part of a coalition—of Austria and Italy, while long-standing eurosceptics set the U.K. on the path to Brexit.
But Kundnani suggested that the difference between the far-right and center-right is not as large as some believe. "This isn't liberal against illiberal," he said. After all, both Merkel and Orbán belong to the European People's Party—a conservative pan-European political party. "They're much closer together than people think. This is just the right that's doing this stuff," Kundnani argued.
Many EU countries have seen a shift to what Lehne calles the "fortress Europe" mindset. "The problem is that the migration challenge will remain with us for decades," he told Newsweek. "To manage migration responsibly requires common European solutions—better EU laws, stronger EU institutions and more solidarity among member states. But the increasingly nationalistic attitudes by many countries make such solutions very difficult to reach."
Fighting on the home front
Merkel faces an emboldened right wing at home too, as she struggles to convince the German voters and her Bundestag colleagues she is still the right woman for the job she has held since 2000.
In last year's federal elections, the far-right Alternative for Germany party became the third largest in parliament, sparking debates among voters well aware of the depths a far-right government can sink to.
Though Merkel's Christian Democratic Union-Christian Social Union (CDU-CSU) coalition was still the largest party by vote share, it suffered a swing of 8 percent against it. Merkel just about managed to secure the support of the Social Democratic Party (SDP) to hang on to power.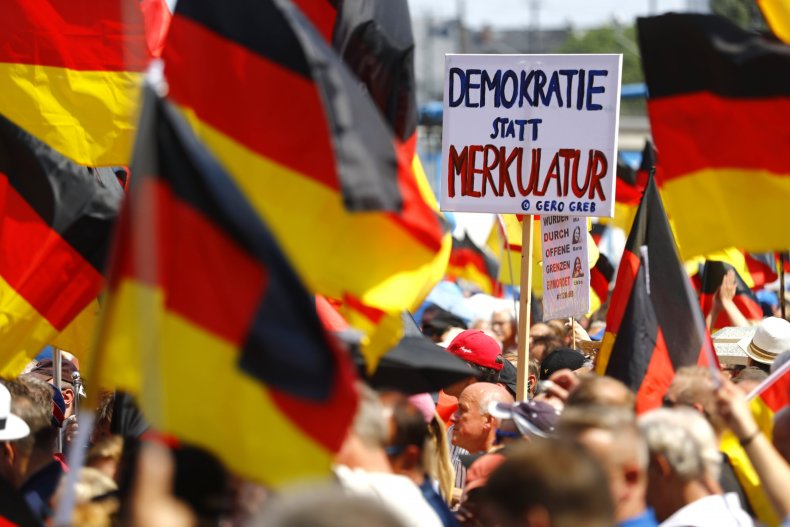 The chancellor has moved away from her pro-immigration policies in recent years and implemented more restrictive policies. But rather than a grand ideological reversal, "This shift that has taken place in German policy is her going with the flow of public opinion," Kundnani suggested. Nonetheless, her time at the top is looking short.
"She has clearly entered the twilight of her career," Lehne said. "But there is as yet no obvious successor in sight." He suggested Merkel "is likely to survive, as long as the migration figures remain as low as they currently are," though he noted that a "new surge of refugees would destabilise her."
Almut Möller, a senior policy fellow at the European Council on Foreign Relations, told Newsweek that despite good public approval ratings, "there is a Merkel fatigue in the conservative CSU, also a growing one within Merkel's own CDU.
"She is still powerful enough to rally her own party behind her—which she eventually managed last week—but she knows herself that this is her last chancellorship," Möller added. "The question is whether she will have a say in the battle over her successor or not in the coming years."
"She is likely to survive the next two years but will probably not stick it out until the next elections," Lehne added. Though the migrant deal has saved the government for now, Lehne believes it will "come back to haunt the coalition." And if the issue rears its head once more, "I wouldn't place my bets on this coalition to hold," Möller said.
This article has been updated to include comments from Almut Möller.