An end to the Deferred Action for Childhood Arrivals (DACA) program could send college students scrambling for a way to continue their education, even if they're able to remain in the country legally to study.
"If they lose their work authorizations they may no longer have a way to finance their education," Elora Mukherjee, director of Columbia Law School's Immigrants' Rights Clinic, told Newsweek.
On Tuesday, the Supreme Court heard oral arguments in a case challenging President Donald Trump's decision to end DACA. The program, created under former President Barack Obama, offered temporary deportation protection and work authorization to some people who were brought to the United States illegally as children. Supreme Court justices have until June to render a verdict in the case and a ruling that allows Trump to end the program could disrupt thousands of college students' education.
If DACA ends, recipients will lose their deportation protection presumably after their two-year reprieve expires, putting their ability to remain in classes at an American college at risk. Even if they are able to obtain a student visa allowing them to remain in the United States legally, which Mukherjee said could be difficult for given the requirement that the visa is secured before entering the country, they may be unable to finance their education.
"The Dreamers are the kids that did everything right. They stayed in school, they served in the military, they contributed to our economy, they don't have criminal records. The stakes for them couldn't be higher," Mukherjee said.
Undocumented students, including DACA recipients, are unable to receive federal financial aid and rely predominately on scholarships, state and university tuition assistance programs and their own wages to pay for the cost of college. Moving to an F-1 student visa would largely restrict them to working on-campus jobs and only 20 hours per week while school is in session.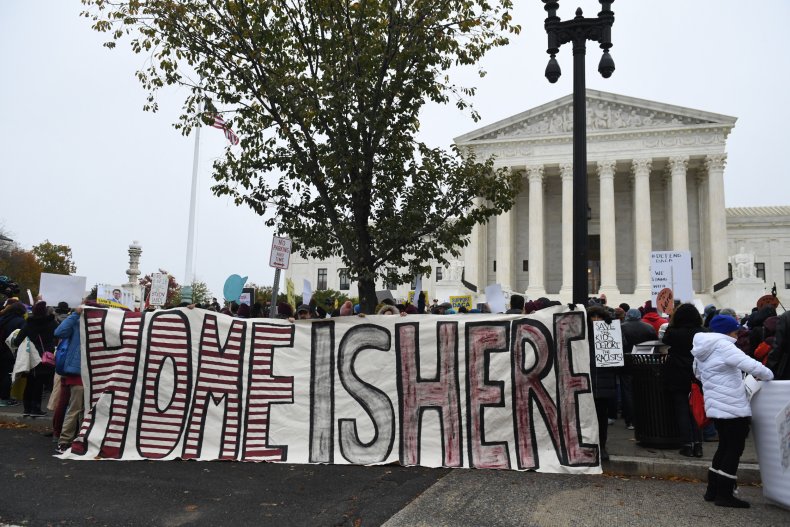 In 2012, then-Department of Homeland Security Secretary Janet Napolitano authorized DACA. She appeared in court on Tuesday as president of the University of California, which challenged Trump's decision to end the program. With 1,700 DACA recipients in the public California university system, Napolitano said the school is looking at ways to mitigate the financial burden if DACA is rescinded.
"They need to be able to work to afford to go to school," Napolitano said during a teleconference on Tuesday. "I think we would need to be able to raise private funds to help fill the gap financially for these students if they do lose their DACA status."
The University of California operates a student service center for undocumented students and offers those students free legal services, which Napolitano said will continue even if the Supreme Court rules with Trump.
On Tuesday, Trump posted on Twitter if the Supreme Court allowed DACA to be rescinded "a deal will be made with Dems for them to stay." However, the same tweet claimed some DACA recipients were "very tough, hardened criminals," which raised questions among some as to what a deal for recipients would entail.
In 2017, then–Acting Department of Homeland Security Secretary Elaine Duke announced that the administration intended to end DACA. The memorandum making the announcement pointed to then–Attorney General Jeff Sessions' conclusion that DACA was illegal and unconstitutional, a claim the administration reiterated in court on Tuesday.
A second memo, issued by then–Department of Homeland Security Secretary Kirstjen Nielsen in 2018 supported Duke's findings and added an additional rationale. Given the number of people who crossed the border illegally, Nielsen wrote DACA had to be ended to promote a message that "leaves no doubt" about the administration's enforcement of its immigration laws.
Solicitor General Noel J. Francisco, who represents the administration, also argued that the program was always intended to be a "stopgap measure," so reasonable people should have anticipated it would be rescinded at some point, according to The New York Times.
Theodore Olson, a lawyer for the DACA recipients in the case, argued in court that even if the Trump administration acted lawfully, the government failed to provide an "accurate, reasoned, rational and legally sound explanation," the Times reported.
While lawyers argued inside the Supreme Court, supporters of the program rallied outside. DACA recipients were among the reportedly thousands that gathered, who, at times, chanted "Sí, se puede" and "Yes, we can," according to NBC News.
The Supreme Court will now decide if the Trump administration acted properly in rescinding the program. Obama appointees, Justices Elena Kagan and Sonia Sotomayor, as well Justices Steven Breyer and Ruth Bader Ginsberg signaled they would side against the administration, according to NBC News. However, that doesn't necessarily mean a win for DACA, as it would require a fifth justice to side with them, as well.
Justices Neil Gorsuch and Brett Kavanaugh, both Trump appointees, Samuel Alito and Clarence Thomas appeared likely to vote that DACA was properly shut down, leaving Chief Justice John Roberts as possibly the deciding vote. Last term, he was the deciding vote that resulted in the court blocking the Trump administration from adding a citizenship question to the 2020 census form.
If the Supreme Court does rule in favor of Trump and DACA is rescinded, Mukherjee told Newsweek recipients will have to weigh their options. Obtaining legal status, she said, could prove problematic for DACA recipients. There are exceptions under Parole in Place, a program that allows people who came to the United States illegally to stay for a certain period of time, but to adjust to lawful status, a person's last entrance into the country must have been legal, Mukherjee said.
For some DACA recipients, Mukherjee said the best solution will be to remain in the United States, even if it means being undocumented and unable to work lawfully. Others may have to make the "very difficult choice" to leave America, the only country they may know as home.
"This is a time of grave uncertainty for Dreamers and their families and given the political discourse, for many Dreamers, it's a potentially devastating time," Mukherjee said.