'The End of the F***ing World' Recap: What Happened in the First Season of the Netflix Show?
The first season of The End of the F***ing World aired two years ago on Netflix, leaving some fans looking for a recap of the adventures of James (Alex Lawther) and Alyssa (Jessica Barden) before they watch the new season of the Channel 4 show.
In Season 1, we were introduced to James, who is pretty sure he is a psychopath after a childhood of killing animals, and Alyssa, a bored school friend of James' with a talent for annoying people.
In a desperate attempt to find some excitement, and to get away from an emotionally abusive stepfather, she befriends James, who allows them to start dating because he plans on killing her.
The two decide to leave their boring lives and go on a roadtrip, so they steal James' dad's (Steve Oram) car and hit the road. All the while, James is planning the murder of Alyssa
They quickly run out of money and think about just going home, but then Alyssa extorts a military veteran to give her his wallet after she catches him trying to perform a sex act with James.
Shortly after this, they find the house of author Clive Koch (Jonathan Aris) and decide to break in. Looking around the house, they discover that he has committed a series of rapes which he has taken Polaroids of. When he comes home and finds the two of them, he also tries to rape Alyssa.
To save her, James stabs Clive in the neck, thereby committing his first murder. Though he had thought he would enjoy killing, he hates it and instantly feels sick over the crime he has committed.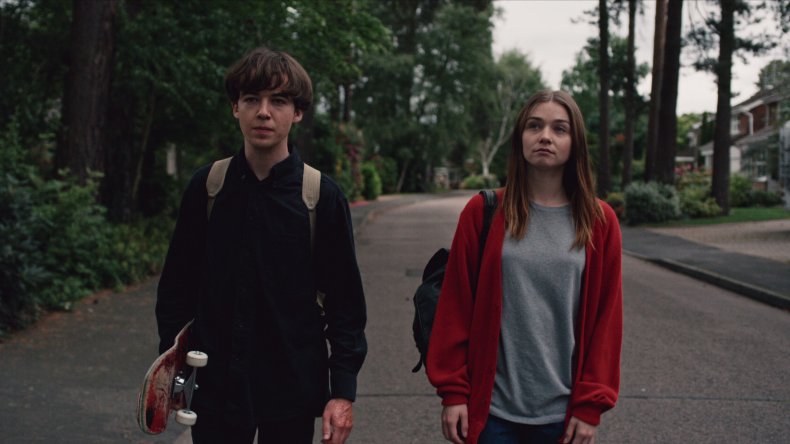 This crime is brought to the attention of police officers Teri Darego (Wunmi Mosaku) and Eunice Noon (Gemma Whelan) after Clive's mother discovers the body, hides the evidence of Clive's own crimes and reports the murder.
Meanwhile, James and Alyssa head to the house of the latter's biological father, but not before getting arrested for trying to rob a gas station with a fake gun. Alyssa's real father, however, calls the police on them and tries to get them to confess after finding out what they have done.
James lies and says that he alone was responsible for the crimes, but Noon does not believe him and tries to get both of them to confess to killing Clive. At this point, Alyssa knocks Noon unconscious and the pair try to flee on Alyssa's father's boat, but are unable to do so. With the police closing in on them, James knocks Alyssa out and tries to run, but in the closing moments of the episode a gun is fired.
Season 2 of The End of the F***ing World picks up two years after the events of the first season, meaning that although the questions that arise from the cliffhanger are solved, the new series will have a slightly different feel and a whole new set of characters.
The End of the F***ing World Seasons 1 and 2 are streaming now on Netflix