Is This the End of the Gandhi Dynasty in India?
This article first appeared on the American Enterprise Institute site.
Are political dynasties falling out of favor in South Asia?
In a recent Wall Street Journal column — read it here — I look at India's Nehru-Gandhis, probably the political family with the world's longest pedigree in national politics.
As 47-year-old Rahul Gandhi becomes the sixth member of his family to head the 132-year-old Congress Party, I argue that a combination of circumstances and personal qualities will make it hard for Gandhi to claw his way back to power.
Over the past seven years, battered by a series of electoral defeats, Mr. Gandhi has plunged in the public imagination from prime minister-in-waiting to shaky underdog. Each defeat amplifies questions about his inherited privilege, warmed-over policy agenda and lack of political skills.
In Prime Minister Narendra Modi and his well-oiled Bharatiya Janata Party, Mr. Gandhi faces a foe both popular and ruthless. As the 2019 general election approaches, Congress must grapple with arguably its greatest challenge since Indian independence seven decades ago. The big question about the party is no longer "will it reclaim power?" but "will it survive?" Mr. Modi makes no secret of his ambition to wipe Congress off India's map permanently.
Of course, South Asia isn't the only part of the world where political dynasties bloom. (Just ask Justin Trudeau or Shinzo Abe.) But until recently the region has provided a handful of families exceptionally hospitable conditions in which to pass down power like a family heirloom.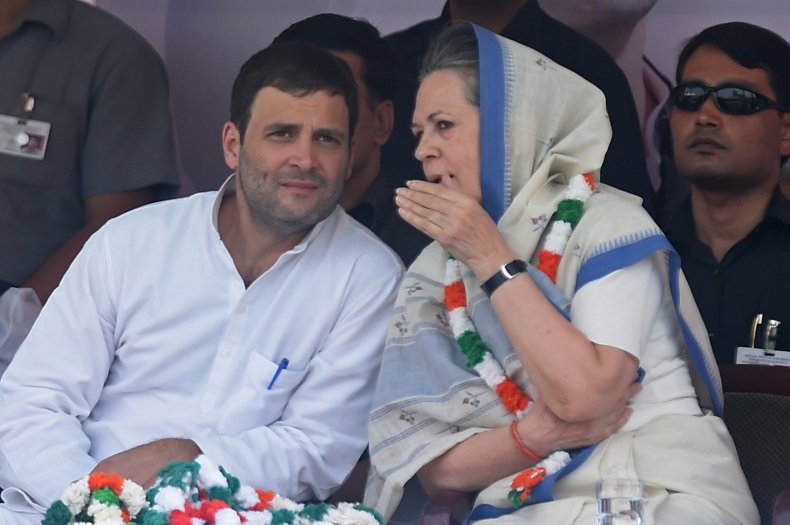 Should Rahul Gandhi ever become prime minister of India he will follow his father (Rajiv Gandhi), grandmother (Indira Gandhi) and great-grandfather (Jawaharlal Nehru) in the job.
Bangladesh electoral politics can more or less be summed up as a bitter — and at times unintentionally comic — feud between the battling begums: Prime Minister Sheikh Hasina (daughter of the country's founding father) and Begum Khaleda Zia (widow of the founder's chief rival). Both of them have offspring waiting in the wings to succeed them one day.
In Sri Lanka, Prime Minister Ranil Wickremesinghe is the nephew of former president Junius Jayewardene. The list of Pakistan's prime ministers includes Zulfiqar Ali Bhutto and his daughter Benazir Bhutto Zardari; Bhutto's widower Asif Ali Zardari served as president.
What is it about the Indian subcontinent that makes it so hospitable to political dynasties?
Perhaps it's simply a case of the usual benefits of a famous last name — familiarity to voters, access to networks, fundraising opportunities — amplified in only partially modernized societies.
Or perhaps it merely reflects the reality that in many countries there's nothing strange about judging someone by their family. In India, for instance, it's hardly uncommon for a stranger in a train to ask that all-important question: What does your father do?
Maybe South Asians looked to Western-educated, English-speaking figures like Nehru and Bhutto out of a desire to be represented by those who could command a modicum of respect from their former colonial masters.
Political dynasties may also boast the additional advantage of providing a sense of continuity and stability in a rapidly changing world, in this sense performing a role not dissimilar to that of a titular monarchy in places as far apart as the United Kingdom and Thailand.
These advantages notwithstanding, there's no question that South Asia's political dynasts have never had it tougher than today.
In Pakistan, opponents regularly mock Bilawal Bhutto Zardari for his anglicized Urdu accent and lack of grassroots street cred. His Pakistan People's Party has shrunk to a rump with little influence outside the family stronghold of Sindh province.
As for that other famous Pakistani political clan, the Sharifs, the New York Times summed up the next generation's dilemma by asking whether Maryam Nawaz Sharif, recently deposed Prime Minister Nawaz Sharif's daughter, is "on the edge of power, or prison."
For Rahul Gandhi the road to power has never looked steeper. For many Indians, the idea of being ruled by a single family seems increasingly anachronistic, and even degrading.
On Monday, Prime Minister Narendra Modi's Bharatiya Janata Party defeated Congress in elections in two states — the industrialized state of Gujarat in western India, and Himachal Pradesh in the north. This comes just nine months after the BJP cruised to a staggering four-fifths majority in Uttar Pradesh, the country's largest state.
It's too early to say for certain that the Nehru-Gandhis are on the verge of political extinction. In Gujarat, Gandhi ran a spirited campaign and put up a tougher fight than expected.
But as the Congress Party's string of electoral defeats lengthens, it's hardly too early to ask whether India has outgrown the idea of being ruled by a member of its most famous political dynasty.
Sadanand Dhume is a resident fellow at the American Enterprise Institute. He is also a South Asia columnist for the Wall Street Journal. He is the author of a book about the rise of radical Islam in Indonesia, My Friend the Fanatic: Travels with a Radical Islamist.