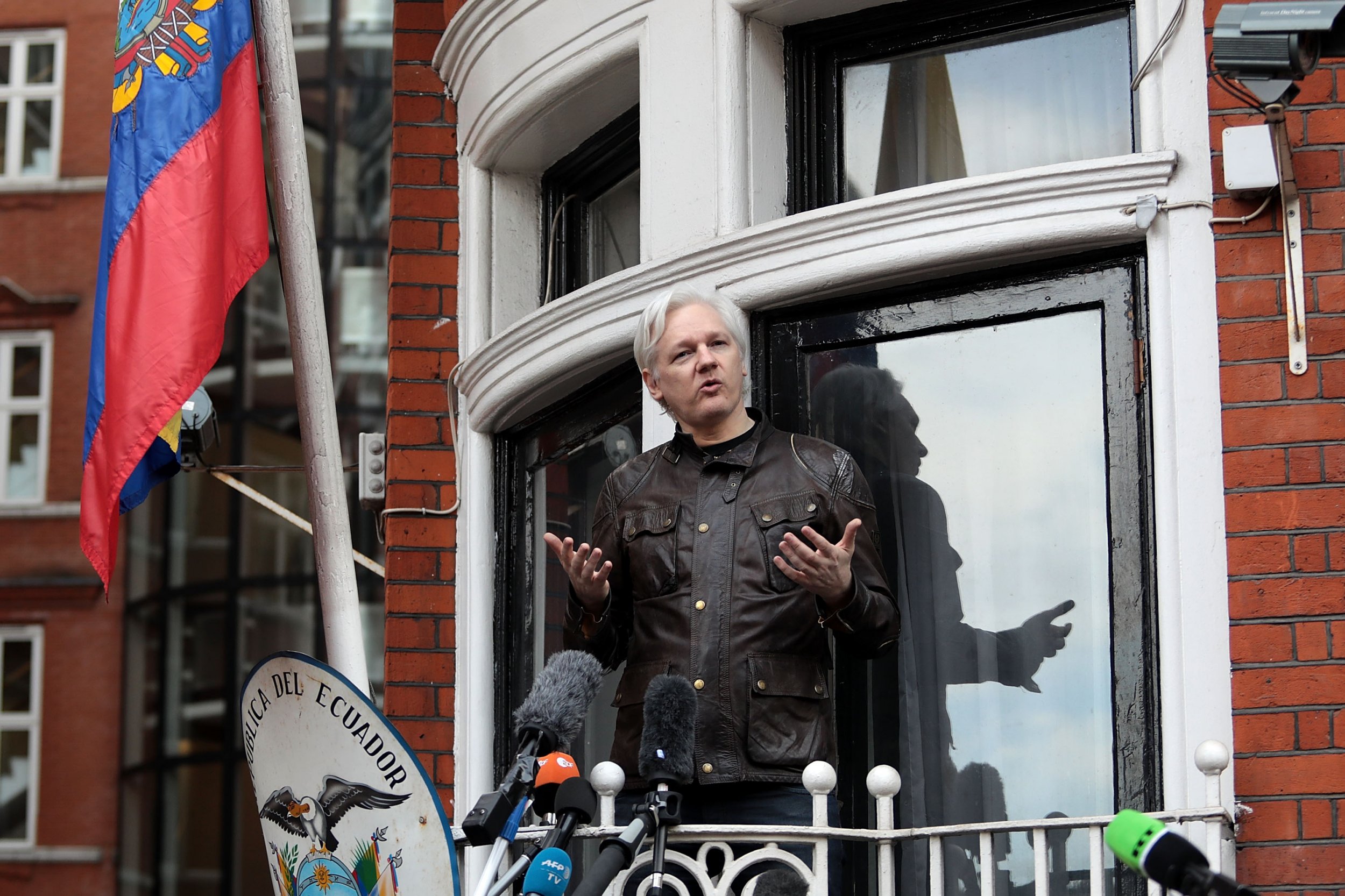 Updated | Ecuador says it has granted nationality to Julian Assange after the British government denied a request to grant the WikiLeaks founder diplomatic status.
Assange will face arrest for breaking his bail conditions if he leaves Ecuador's London Embassy, where he was granted asylum in 2012 to avoid extradition to Sweden over sexual assault allegations, which he has repeatedly denied.
Swedish prosecutors dropped their investigation into the allegations in May, but British police have said Assange would still be arrested for breaching bail conditions if he left the embassy.
Britain's Foreign Office has insisted Assange must "leave the embassy to face justice."
"The government of Ecuador recently requested diplomatic status for Mr Assange here in the UK," a spokesman for Britain's Foreign Office said, according to Reuters.
"The UK did not grant that request, nor are we in talks with Ecuador on this matter," he continued. "Ecuador knows that the way to resolve this issue is for Julian Assange to leave the embassy to face justice."
The appearance of Assange's name in an Ecuadorean government database of citizen identification numbers had prompted speculation that the former computer hacker may have been granted citizenship.
Now, Ecuador has confirmed that it has granted nationality to Assange, according to the Associated press.
It comes after the former computer hacker was recently reprimanded by Ecuador's newly elected President Lenin Moreno, who warned the WikiLeaks founder to refrain from commenting on the politics of Ecuador's allies.
Assange responded to the warnings by tweeting: "If President Moreno wants to gag my reporting of human rights abuses in Spain he should say so explicitly—together with the legal basis."
Read more: Julian Assange may be forced to leave Ecuador embassy after upsetting President
When he came into power in May 2017, Moreno appeared to have adopted the same stance as his predecessor Rafael Correa, who defended Assange.
"I respect the situation he is in, which calls for respect of his human rights, but we also ask that he respects the situation he is in," Moreno said in May.
Assange and his website, WikiLeaks, have leaked sensitive information from Guantanamo Bay, as well as private emails belonging to 2008 Republican vice presidential candidate Sarah Palin.
In 2016, the website also released thousands of emails from the Democratic National Committee, which critics used as evidence of bias against Bernie Sanders and in favor of Hillary Clinton.
Just a month before election day, the site also released a series of Clinton campaign emails, sparking fresh questions over her use of a private email server.
President Donald Trump appeared to celebrate WikiLeaks's election interference in October 2016, saying "I love WikiLeaks" during an appearance in Pennsylvania.
It was further revealed in November 2017 that Donald Trump Jr. had been in contact with WikiLeaks over Twitter during the campaign, according to multiple publications.
Still, that did not deter Attorney General Jeff Sessions from calling Assange's arrest "a priority" in April, telling reporters: "We are going to step up our effort and already are stepping up our efforts on all leaks."
This headline and story were updated on January 11, following the announcement that Ecuador had granted Assange citizenship.