Last Northern White Rhino Male in Grave Condition, Pushing Species Closer to Extinction
The health of the last surviving male northern white rhino in the world is deteriorating, raising fears the subspecies will soon be completely extinct.
Sudan, one of only three northern white rhinos alive, is gravely ill following an infection in his right hind leg. According to the Ol Pejeta Conservancy in Kenya, where he lives with the remaining two female northern white rhinos, the 45-year-old is "starting to show signs of ailing [and] his future is not looking bright."
The aging rhino made headlines last year when he was declared "The Most Eligible Bachelor in the World" by Tinder as part of a joint fundraising campaign by the dating app and the conservancy in a bid the protect the animal from extinction.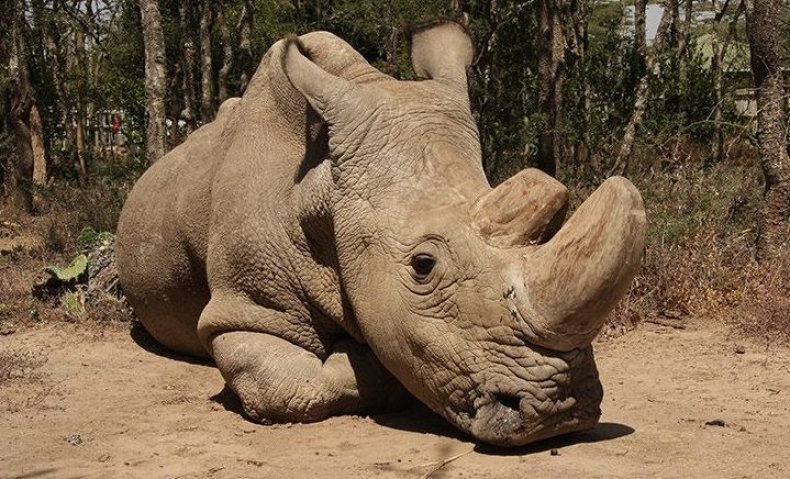 In a statement, the Ol Pejeta Conservancy said: "At the end of the 2017, Sudan developed an uncomfortable age-related infection on his back right leg. It was immediately assessed by a team of vets from around the world, and responded well to treatment, healing quickly.
"He resumed normal movement and foraging habits over January up to mid-February, with his demeanour and general activity improving significantly.
"Recently, a secondary and much deeper infection was discovered beneath the initial one. This has been treated, but worryingly, the infection is taking longer to recover, despite the best efforts of his team of vets who are giving him 24-hour care, with everything possible being done to help him regain his health.
"We are very concerned about him—he's extremely old for a rhino and we do not want him to suffer unnecessarily."
Even before Sudan became gravely ill, his chances of fathering offspring with the two females—Fatu and Najin—were virtually impossible. In March 2015, he was found to have a very low sperm count, making natural conception extremely difficult, reports Live Science.
Conservationists are hoping that other techniques including vitro fertilization (IVF) may still give some hope.
The three surviving white northern rhinos, along with another male who has since died, arrived at the conservation site in Kenya from a Czech zoo in 2009.
According to Save the Rhino, the subspecies once roamed freely across large parts of Central Africa including Uganda, Chad and the Democratic Republic of Congo (DRC). Numbers for all species of rhino went into decline due to colonial-era mass hunting and changes to their natural habitat due to urban development across the continent.
Poaching also helped their rapid decline in the 1970s and '80s, with northern white rhinos soon becoming extinct in large parts of Central Africa. Civil wars in countries such as the DRC and Sudan also contributed to the decline in population as a result of increased poaching and other fallouts from the conflicts.