'Endangered' 425-Pound Shark Caught by New York Fisherman
Just a week after a dead bear cub was mysteriously found in a New York strip mall, local fishermen pulled in a massive 425-pound "endangered" shark off of the nearby harbor.
According to the Staten Island Advance, two New York fishermen managed to snag the enormous thresher shark on Thursday. Staten Island residents Frank Gunther, who captained the Tuna Kahuna boat, and Thomas Fisher worked together to reel in the impressive catch.
"Fun day on the water," Fisher shared on his Instagram page after the catch. "425 Pound Thresher Killed ... Tuna Kahuna strikes again."
Fisher spoke with Newsweek and explained that it had been a long, productive day of fishing prior to the massive shark catch.
"We went out Thursday and left the docks around 7:30 a.m., about 20 miles from Great Kills Harbor," he said. "We got one fish, a smaller fish that we released at about 9:30 a.m. Then at 10:30 a.m., we caught a brown shark and about an hour after that we hooked the big one.
"It took two hours to get it to the boat, and then another hour and a half to get it into the boat using a block and tackle," he added.
According to a report from Wild for Life, thresher sharks are known for their long tails, which can grow to be up to 20 feet — the same length as their bodies. They typically weigh anywhere between 200 and 350 pounds, and any threshers above 400 pounds are considered larger catches.
However, due to their slow reproductive cycles and preference for highly fished species, thresher sharks are considered a "highly vulnerable" population, often hunted for their meat, skin and fins. The Convention on International Trade in Endangered Species of Wild Fauna and Flora has listed the vulnerable thresher sharks under Appendix II, which strongly discourages trading the species.
Fisher's follow-up post on the thresher shark catch noted that he did harvest the catch for its meat, but claimed that no part of the fish was wasted.
"From butchered to the plate, The shark has fed well over 2-3 dozen people and man does it taste really good. My favorite is marinated in chili tai," Fisher posted on Instagram. "None of this fish went to waste and no fish in the future ever will."
"With these sharks, they're governed by the NOAA HMS [National Oceanic and Atmospheric Administration's Highly Migratory Species] ... we have all the permits and we have shark endorsements, we're allowed to take one shark 54 inches and above every single day," Fisher explained to Newsweek.
"On a fish like that, you're able to get about 400 pounds of meat. So I had my cooler up, and what I do is I give all my fish away to friends and family. I probably ... went up to about 20 or 30 houses and dropped off fish."
Fisher was met with pushback online after the Staten Island Advance posted about his catch on their public Instagram. Several felt it was cruel to catch a vulnerable species.
"Maybe leave it in the water? Sharks are crucial to ecosystems," one critic said. "Did they have to kill it? It's endangered," another concerned viewer shared.
Several also encouraged followers to watch the Netflix documentary Seaspiracy, which focuses on the environmental impact of fishing.
Some did come to Fisher's defense in the comments section. "Not you guys really trying to cancel fishermen.... What will we be offended with tomorrow?" one asked. "People are now bashing fisherman for fishing. What's next? If you drink water? If you inhale too much air? Come on already. You people forget that it's a fish and people eat fish," another wrote.
Fisher explained to Newsweek his frustration with the comments section. "These are non-educated people that don't understand the fishery," he said. "In my opinion ... it's people that aren't educated on the topic that just assume stuff. All these people, they just think that we killed a shark. The main reason why we took this fish was because ... some of these fish have a high mortality rate after they're released."
Fisher pointed to a 2018 research study published in the Reviews in Fish Biology and Fisheries that found that blue sharks have an 87 percent mortality rate within two days of release into the body of water it was fished out of. He also noted that, as explained in a research study from the University of Miami on the eco-physiology of sharks, large fish and some species of sharks are vulnerable to capture stress that may be correlated to post-release death.
"So if we were to release that fish, it was just gonna die," Fisher explained to Newsweek. "Instead of doing that, we took the fish so we could feed people and honor the fish and do it ethically.
Fisher also expressed how the work that he and other fishermen do is important for the preservation of their respective ecosystems.
"Fishermen are the front lines of conservation," he said. "Without us, there is no conservation. When the Hudson River was being polluted, you know who [were] the first ones to stop it? Fishermen. We're the ones on the front lines advocating ... we know the rules, we know the impacts of what we're doing.
"Instead of wasting the fish, we did what was right and we used it," he added. "Usually after an hour, you're in that area where it's really hard to release. That fish was caught in two hours with 30 pounds of drag. So 30 pounds of drag, that's a lot of force to be put on that fish. When it came up to the boat, it was barely swimming.
"A lot of bigger fish, because they're being put under the strain, they sometimes die while being caught. So yes, while we were shark fishing and we wanted to take a fish that day, we took a fish that we knew wasn't going to survive. It's not like we killed a fish and took a picture with it. These people say, 'Oh, you should have released it,' they don't understand that if we were to release that fish, it was gonna die anyway," Fisher concluded.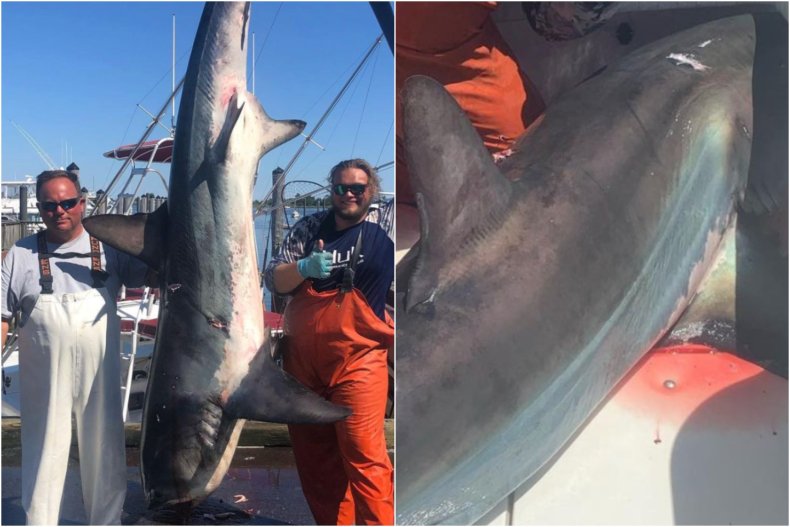 Earlier this month, another fish controversy hit TikTok after a man uploaded a video "tickling" a stingray, a move many deemed to be a form of animal abuse. In South Carolina, a "formerly extinct" Goliath Grouper was reeled in, weighing a whopping 400 pounds.
Updated at 2:30 p.m. to include statements from Fisher.