Video Shows Elephant Flip Vehicle Over in Front of Stunned Drivers
A wild elephant has been filmed casually tipping over a truck on a road in Thailand, to the shock of onlookers.
The strange event occurred on March 4 in Khao Ang Rue Nai Wildlife Sanctuary, in the Tha Takiap district around 45 miles east of Bangkok, and was caught on camera by surprised nearby drivers.
"I could not believe that a wild elephant was using its trunk to push the truck over on the roadside," one witness named Mr. Tao, who was driving past the incident, told Thai news outlet The Nation. A video showing the elephant flipping the vehicle was captured by his wife, and has gained nearly 60,000 likes on TikTok.
The elephant is thought to have been looking for food, and may have smelled food aboard the truck. Elephants have been filmed doing similar things before, with one attempting to tip over a truck in search of sugar cane last month, and others stopping trucks to steal crops.
Asian elephants, which are found across India and Southeast Asia, are classified as an "endangered" species on the International Union for Conservation of Nature (IUCN) Red List of Threatened Species. When fully grown, males can reach heights of up to 9 feet, and weigh as much as 4 tons.
This incident is yet another example of human-wildlife conflict with elephants, an issue across elephant habitats. This conflict occurs when animals are forced to enter populated areas, often by climate change or human development, leading to damage to property and theft of crops as the elephants search for food. Sometimes, people are killed by the marauding elephants.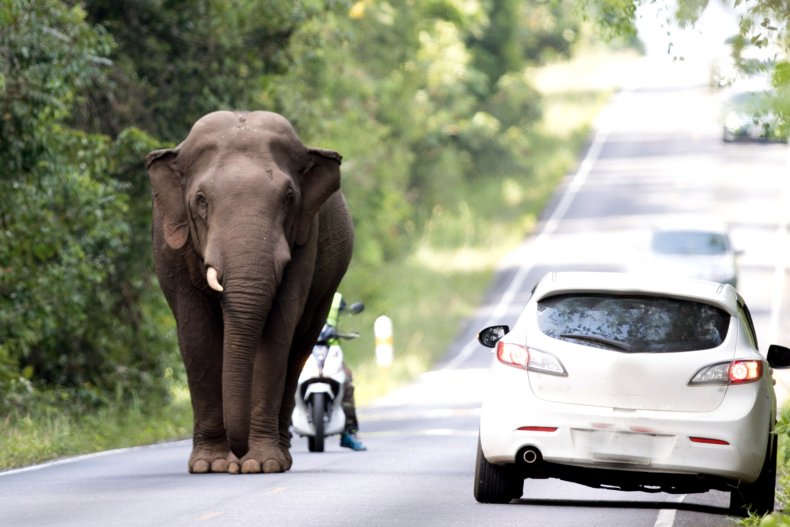 This is a major driver of elephant population decline, as the presence of elephants and their effects on crops and property can often lead to retaliatory killings of the giants. One IUCN report showed that 70 percent of Thai plantation owners believed that elephants should be completely eradicated.
According to the WWF, Asian elephant populations have dropped from 100,000 to between 35,000 and 50,000 over the past century. African elephants have also seen huge declines, from between 3 and 5 million to between 470,000 and 700,000.
"Human-wildlife conflict is also a key contributor to the global biodiversity crisis, and we know that having healthy, biodiverse ecosystems benefits people in numerous ways," wildlife biologist and assistant professor at the University of Washington, Briana Abrahms, previously told Newsweek. "Large carnivores, for example, contribute to a multi-billion dollar global ecotourism industry, reduce significant agricultural losses from crop-raiding animals, and reduce fatal vehicle collisions and the transmission of Lyme disease by suppressing herbivore populations. However, human-carnivore conflict and retaliatory killing of carnivores has led to the global decline of many carnivore species."
The elephant was ushered away from the scene by wildlife officials, who arrived after Tao called a nearby wildlife sanctuary. The driver was helped out of the truck, and was unharmed in the incident.
"I urge officials to keep a close watch on the area, and motorists to avoid driving near this elephant," Tao told the Nation, concerned that the elephant may return and repeat its actions on another vehicle.
Conflict with elephants in both Africa and Asia is expected to intensify with the effects of climate change, as increasingly dry conditions and less food and water being available force the herds to move closer to farms and towns in search of sustenance.
One study published in the journal Nature Climate Change in February found that 80 percent of human–wildlife conflict cases were being amplified by climate change, due to increased temperatures reducing available resources for elephants and a number of other species, including polar bears, snow leopards and tapirs.
Do you have an animal or nature story to share with Newsweek? Do you have a question about Asian elephants? Let us know via science@newsweek.com.