Endangered Salmon Species in California River Expected to Totally Die Out Due to Heat Wave
The young fish among the endangered chinook salmon population that occupies the Sacramento River are at risk of dying out because of heatwaves expected to continue in California this summer, state officials warned this week.
The Sacramento Bee shared an alert from the California Department of Fish and Wildlife (CDFW) earlier this month when officials told the paper "nearly all" of the juvenile chinook salmon in the warming river could die. On Wednesday, CNN published a statement from the CDFW that attributed the "heat dome" California and other Western states have experienced in recent weeks to the threat.
The CDFW's statement added that "it is possible that all in-river juveniles will not survive this season."
"It's an extreme set of cascading climate events pushing us into this crisis situation," CDFW deputy director of communications Jordan Traverso told CNN.
In emailed comments sent to Newsweek, Traverso referenced a recent update on CDFW's efforts to monitor impacts of the drought that was published on Calfish.org, including specific risks juvenile chinook salmon face. Within that update, Traverso said, "a CDFW staff member noted that one of these risks was the possibility of a near-complete loss of in-river juveniles based on potential water and weather predictions."
"Modeling of monthly operations predicts high levels of mortality for Chinook salmon during egg incubation in the Sacramento River due to limited cold-water pool in Lake Shasta and downstream water deliveries," she continued. "Unanticipated depletions downstream have resulted in increased releases from numerous reservoirs in the Central Valley."
While the California State Water Project and the Central Valley Water Project are making efforts to mitigate these impacts, "Chinook salmon mortality during egg incubation could be higher than originally predicted," Traverso said.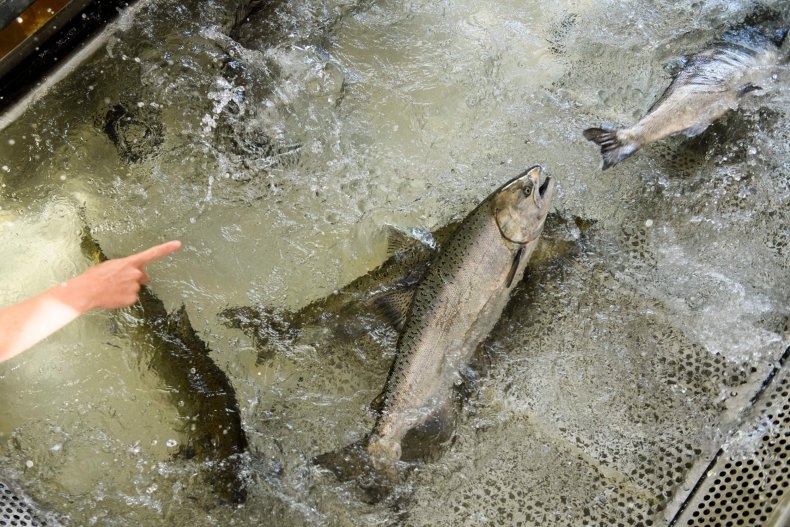 Despite the CDFW's concerns, there is some positive news.
"It is also important to point out that counts of salmon carcasses, which is an annual monitoring effort to observe the natural life-cycle of these fish, continue to indicate a large run of winter-run this year. This is welcomed news overall," Traverso said.
The Sacramento River's winter-run chinook salmon adult fish make an annual voyage from the San Francisco Bay to the river, according to the CDFW. The species was first listed as threatened in 1989 under the Endangered Species Act after what the CDFW described as a "dramatic" decline in the 1970s and 1980s. The species was relisted as endangered in 1994.
The juvenile chinook salmon are not the only species of concern among wildlife officials. Earlier this week, the CDFW announced it had relocated more than 1 million fall-run salmon, also because of warming water conditions.
Mark Clifford, a hatchery environmental scientist for the CDFW's Northern Region, said in a Tuesday news release that California's drought conditions make it "extremely challenging" to support young fish. "The reality is most of these fish would have died if we released them into the river," Clifford said in the release.
For those relocated salmon, the CDFW said it intended on releasing them into the Klamath River, where that species of fish typically resides, when conditions were better suited for the fish to survive.
California is one of several Western states affected by drought conditions and heatwaves this summer. On Monday, the state issued its fifth request of the year for residents to conserve energy as temperatures breached 100 degrees in several regions.
California Governor Gavin Newsom recently asked residents to voluntarily cut their water use by 15 percent because of worsening drought conditions. Fifty of the state's 58 counties were under a drought state of emergency by July 8.
Traverso said that Newsom's call to cut back on water use is important to maintaining water reserves, as well as to the survival of the fish and other wildlife that depend on the state's water.
"Every drop counts," Traverso said.
Updated 7/14 at 5:07 p.m. ET: This article has been updated to include comments from Jordan Traverso, the deputy director of communications at the California Department of Fish and Wildlife.