Endangered Sea Turtle Shot With Spear in Florida Upper Keys
A boater in the Florida Keys last weekend found a 150-pound endangered green sea turtle that had been shot in the neck by a 3-foot spear and appeared to be in distress. This was the second reported turtle pelted with a spear this summer in Florida.
The turtle found Saturday off the Key Largo coast has been given the name "Splinter," and she was found wrapped in a black rope that was tied to a buoy. The boater called local authorities to alert them.
Officers from the Florida Fish and Wildlife Conservation Commission rescued Splinter and transported her south to The Turtle Hospital in Marathon, according to WTSP News 10 in Tampa.
Doctors at The Turtle Hospital performed emergency surgery to remove the spear, which went well beyond the turtle's neck and through half its body, which X-ray pictures determined.
Splinter remains in stable condition, and the spear was saved as evidence for law enforcement.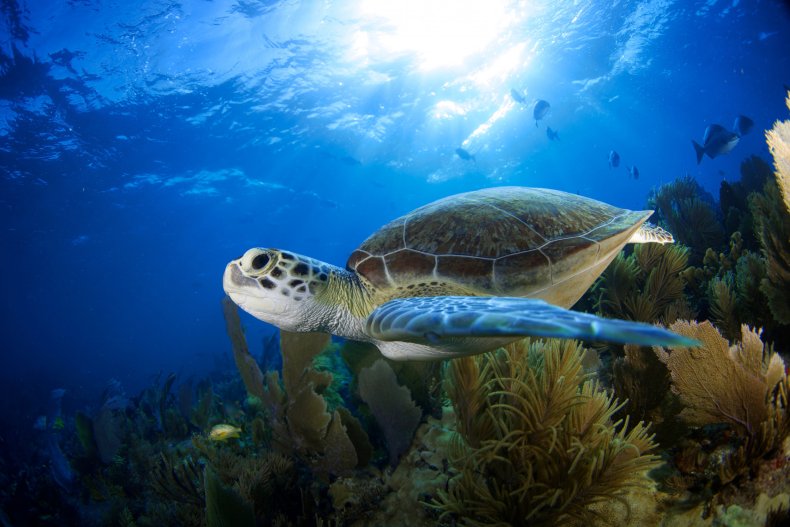 Bette Zirkelbach, a spokesperson for The Turtle Hospital, said they doubt the spear shot into Splinter was an accident.
"It's highly unlikely this was an accident, as the turtle has an injury on its plastron that looks like someone tried to spear her on her underside," Zirkelbach said. "The amazing team at The Turtle Hospital worked their magic to give this turtle a second chance. Now it is just a matter of healing before she can be released."
The hospital said Splinter will be released back into the wild once she fully recovers, and that she is responding well in water therapy.
"No words for this horrific act. All species of sea turtles in and around the United States are protected by federal and state laws," the hospital said, according to Fox 35 in Orlando. "It is a felony to touch or harm a sea turtle in the United States."
A first sea turtle was found dead this summer during June in Biscayne National Park. In that instance, the sea turtle was seen floating at the park in Homestead after also being shot with a spear, according to News 7 in Miami. The spear was removed by Biscayne Law Enforcement officers in an unsuccessful attempt to find a serial number on the shaft.
If the person responsible is convicted, they could face up to a year in prison and $100,000 fine.
A $5,000 reward is being offered by Richie Moretti, chairman of The Turtle Hospital, for information that leads to the arrest and conviction of those who shot the turtle near Key Largo last week.