Endangered Sea Turtle Trapped in a Beach Chair Dies After Washing up on Alabama Shore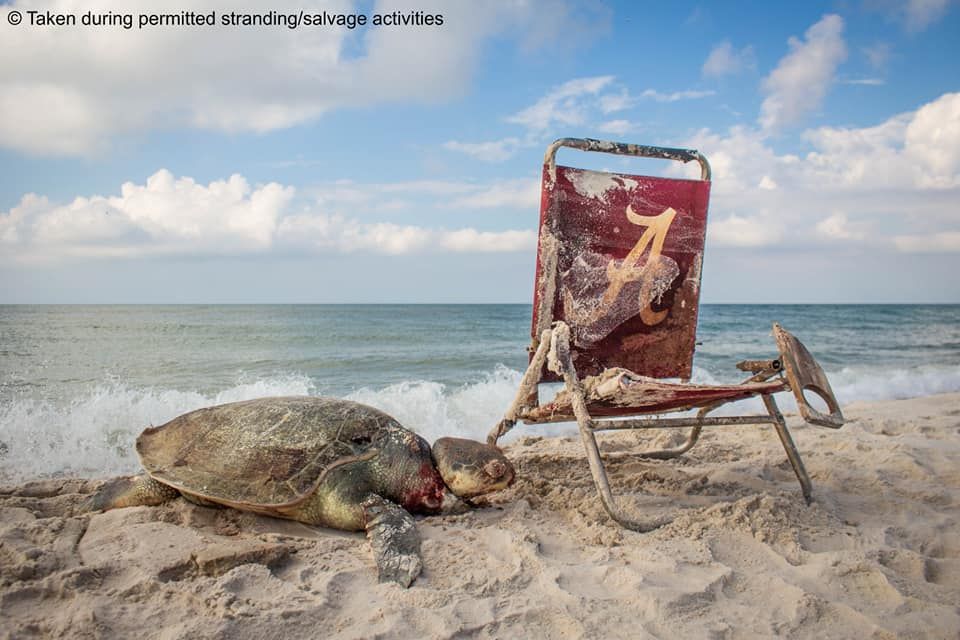 An endangered sea turtle has died after being found washed up on an Alabama beach with a beach chair tied around its neck.
The animal was an adult female Kemp's ridley, the rarest species of sea turtle in the world, Fox10TV.com reported.
On Saturday, the Fort Morgan "Share the Beach" conservation group shared an image of the turtle with the chair around its neck at the Bon Secour National Wildlife Refuge, according to WKRG.com
"This Kemp's ridley which in on the endangered list was found this morning with this chair around it's neck [sic]," wrote the page administrator.
"This makes me so mad. How many hundreds of times do we have to ask people to pick their stuff up? It should just be common decency. I think I am going to print this out and carry it with me next time I have to ask."
Debbie Harbin of Share the Beach Fort Morgan told WKRG.com: "The chair had barnacles on it so had been in the water for a while. So much stuff left on the beach washes into the gulf. [This is] why we need something like 'Leave Only Footprints.'"
Richard Brewer, a volunteer with sea turtle advocacy group Share the Beach Dauphin Island, told Fox10TV.com the preventable death was "truly heartbreaking."
"We did it, turtles will not encounter chairs if it were not for us," he said.
The death came after what is believed to be the first ever sighting of a Kemp's ridley nest on Dauphin Island, according to Brewer.
Read more: Groups of up to 1,400 Sharks Gather off North American Coast, Puzzling Scientists
He urged beach-goers to follow the simple rule: leave the beach cleaner than when you showed up.
This year, Brewer has discovered objects ranging from ropes to refrigerant tanks on the beach.
Kemp's ridley turtles only nest on a stretch of the Gulf of Mexico coast, according to the wildlife preservation organization WWF.
Between 1940 to 1980, the number of Kemp's ridley turtles which came ashore to nest dropped to a few hundred. But thanks to conservation efforts, the population of breeding females has risen to between 100 to 10,000.
As well as the loss of their habitats, climate change and pollution are among the biggest threats to Kemp's ridley turtles, warned the WWF.