Endangered Sumatran Tiger Cubs Born at Oregon Zoo for First Time in 38 Years
Two Sumatran tiger cubs, one male and one female, were born at Wildlife Safari for the first time in nearly 40 years, the Winston, Oregon zoo announced in a Thursday Facebook post.
In the past century, three of the eight original tiger subspecies have been wiped off the face of the earth, and the remaining five face a myriad of obstacles to their continued survival, including hunting and poaching. Today, around 400 Sumatran tigers, also known as Sunda tigers, are thought to remain in the wild, though a further 200 to 250 reside in zoos, the BBC reported in 2015.
To bolster Sumatran tiger numbers, a number of zoos and other conservation organizations around the world have instated breeding programs that are designed to produce healthy cubs. In the United States, the Association of Zoos and Aquariums (AZA) has developed a Tiger Species Survival Plan (Tiger SSP) to mobilize AZA-accredited institutions to take action on tiger conservation.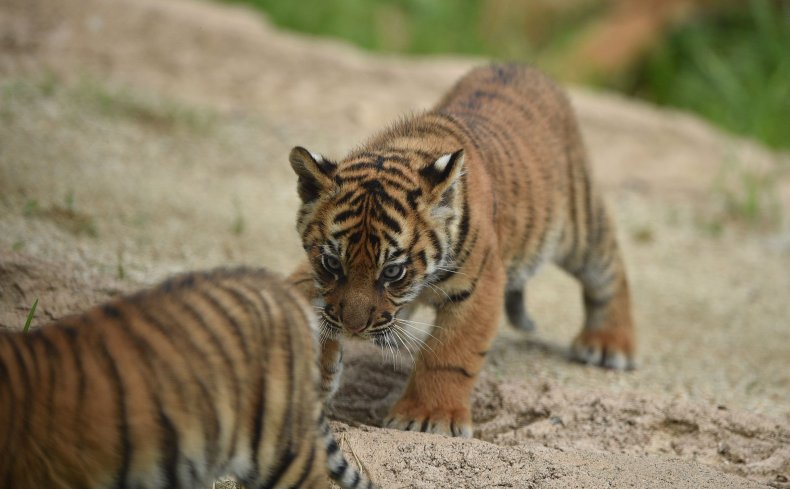 The Wildlife Safari cubs are only the second set of Tiger SSP cubs to come into the world since 2018, Sarah Huse, Wildlife Safari's carnivore supervisor, told local news outlet KPIC. They were born to nine-year-old Wildlife Safari resident Riya on July 11. The first, the female, emerged around 10:15 a.m.; the male emerged around 6:30 p.m. "Mom cleaned the cubs off immediately and they have both been nursing away," Huse told KPIC of their first hours, adding that the birth represented "not only a huge accomplishment for Wildlife Safari but also for the entire zoo community and the international tiger population."
The female cub was named Phoebe and the male Luhahn by the children of major donors Toby and Christina Luther.
"Toby and Christina Luther supported our Lion Lookout project last year. For their sizable contribution, they received naming rights for two future carnivore cubs," Tracy Moser, Wildlife Safari's development coordinator, told KPIC.
While still dependent on their mother's milk for sustenance, the cubs are beginning to open their eyes, though it will likely be some months before they are old enough to be exhibited, according to a Facebook post by Wildlife Safari.
In addition to the Tiger Species Survival Plan, the AZA oversees conservation efforts for several other species, including the red wolf. On April 22, eight red wolf pups were born at Ohio's Akron Zoo in a satisfying conclusion to a collaboration between the zoo and several other organizations and initiatives, including the AZA's American Red Wolf Species Survival Plan. In May, four of the pups were shipped to North Carolina to be cross-fostered—in essence, adopted—by a wild adult female, a move intended to promote genetic diversification.