Ending the Breeding Ground of Violence | Opinion
A few weeks ago, I received a text no parent ever wants to receive: "Mom, there is an active shooter at school. I love you. I think I'm going to be OK, I'm hiding."
It was 3:28 p.m. on Friday, April 22, on what should have been an ordinary spring afternoon. Instead of rolling out of classes and into a relaxed weekend, kids leaving school saw more than 239 rounds of gunfire rain down upon their campus. You might not have read about this specific school shooting because to us parents it felt like divine intervention that no one died. As a mother, the prospect of your child's sacred life fading due to an act of sheer madness was beyond terrifying.
I grew up in Venezuela and had my children while working in the U.S. I had been set to return to Venezuela to raise them near my family. But just as I was planning my relocation, three children were killed near Venezuela's capital Caracas. This slaughtering of defenseless children shattered my dreams of safely raising my kids in my home country.
Gun violence has long been an issue in Venezuela, and for many years Caracas ranked as the most violent capital of the world. But children had been considered off-limits. After the three Faddoul brothers' bullet-ridden bodies were found in Venezuela, I decided to stay in the U.S., where I thought my family would be safer. It now seems that I was wrong. Devastatingly, I am not alone.
Other Venezuelans have fled violence only to live through heartbreak in the U.S. The Oliver family in Miami lost a son, Joaquin, in the Parkland school shooting. They have since started a campaign on gun safety. Before his death, Joaquin had been moved by the Orlando shooting at the Pulse nightclub to become an advocate of reforming laws concerning guns.
Like the Orlando shooting and other mass murders, the Robb Elementary School shooting has prompted a national debate about gun control. I certainly agree that common sense policies are warranted. But I also think that it is time that we decisively and comprehensively address a common feature of fatal mass shootings: domestic violence.
Most mass shootings are related to domestic violence. A history of hating women, assaulting female family members, girlfriends and wives, or sharing misogynistic views online connects many men who commit such shootings. As the Educational Fund to Stop Gun Violence pointed out, "more than two-thirds of mass shootings are domestic violence incidents or are perpetrated by shooters with a history of domestic violence."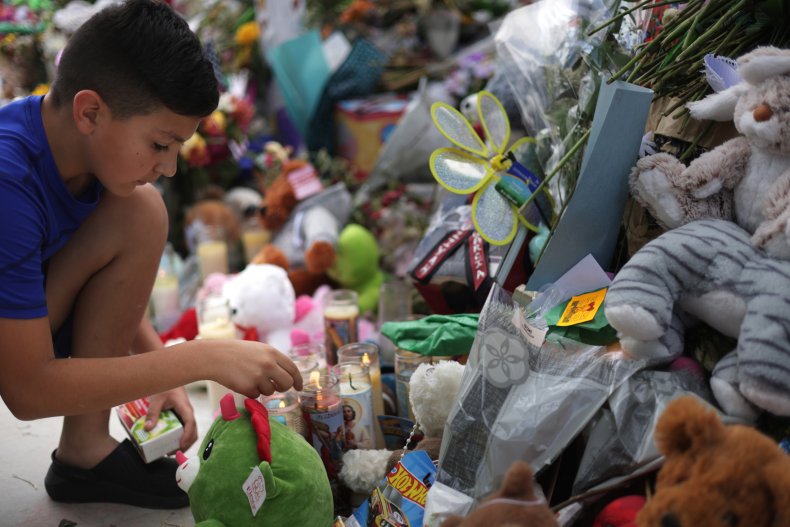 In Uvalde, Texas, the gunman shot his grandmother in the face before driving to Robb Elementary. Texas has a history of mass murder linked to domestic violence that dates back to Austin, in 1966, when Charles Whitman murdered his wife and mother before carrying out the very first school shooting. Man Haron Monis, who in 2014 holed up with hostages in a Lindt cafe in Sydney, Australia, had been charged by police for organizing the murder of his ex-wife a year earlier. He had also been charged with 43 counts of sexual assault.
Situations like this reflect profound problems, including the socialization of young men and boys who too often are comfortable with violence toward women and girls. Measures to instill respect for women and girls in men and boys must be part of a set of policies that prioritizes prevention and services for those who have witnessed domestic violence.
In the United States, nearly 20 people per minute are physically abused by an intimate partner. And violence against women and girls is a widespread human rights violation that knows no borders. The World Health Organization calls it "devastatingly pervasive." Globally, 1 in 3 women will experience violence in her lifetime. This violence has intensified since the outbreak of COVID-19, when lockdowns trapped women at home with their abusers. Despite this, at the U.N. level, there remains no specific, legally binding treaty on violence against women. This is why I work with a coalition of 1,700 women's rights activists from 128 countries on a comprehensive solution to address this worldwide: a global treaty for a new global normative framework to end violence against women and girls.
We need to change the paradigm when it comes to violence and to work across borders to break the vicious cycle of violence begetting violence. A global problem requires a global solution. It starts with decisively addressing violence against women and girls.
When I received that unforgettable text message seven weeks ago, I raced to pick up my child at the school's designated emergency meeting spot. It took what felt like an eternity to get there. I hugged my kid tighter than ever. Since this latest mass shooting, I have been consumed with thoughts about the many families who will never again squeeze their kids after school. Today, I am determined to ensure that other parents do not join their ranks.
Yael Marciano is chief of diplomacy at the Every Woman Coalition for a global treaty to end violence against women and girls.
The views expressed in this article are the writer's own.