For years, truck drivers have helped ensure that we get the goods we need in time for the holidays, but current supply chain pressures have revealed inefficiencies in an unaccountable trucking system where employers violate drivers' rights with impunity. In recent weeks, you might have noticed how empty store shelves caused by supply chain inefficiencies have dominated the news. The trucking industry claims that these issues stem from a driver shortage; however, industry lobbyists have long pushed this message to get what they want—cheaper labor.
Here's the truth—there is no shortage of experienced truck drivers. In an industry with a turnover rate north of 90 percent, the real shortage is one of decent jobs. For years, the trucking industry has gotten away with stealing from workers and defrauding the public through a deliberate scheme of worker misclassification.
By labeling their drivers as "independent contractors"—while treating them as employees—these unscrupulous employers deny drivers fundamental rights like the minimum wage, health and safety protections and the right to form a union with their coworkers to bargain a contract and gain a voice on the job. At the same time, employers unlawfully force truck costs onto drivers' backs, and because misclassified drivers are paid by the load, they spend long stretches at crowded ports waiting for cargo away from their families, shouldering the costs of port congestion from unpaid hours to fuel bills. USA Today recognized this system as "modern-day indentured servitude."
But drivers are not the only ones paying the price. Taxpayers shoulder a heavier burden thanks to corporations evading payroll taxes, weakening our Social Security and state unemployment funds. Our nation's economy struggles as the shipment of goods nationwide is hindered. Our environment suffers as idling trucks spew diesel emissions while they're stuck waiting. Amid all of these problems, trucking firms and their retail customers are raking in huge profits and, therefore, have little incentive to fix this broken system.
At the epicenter of this crisis are the Ports of Los Angeles and Long Beach in California, the largest port complex in the Western Hemisphere. These ports handle almost half of the goods that flow into the United States, owned by every retailer and household brands like Walmart, Target and Amazon. These corporations contract with more than 1,000 mostly fly-by-night port trucking companies to move their cargo. This proliferation of low-road operators drives down wages and prevents responsible employers from entering the market.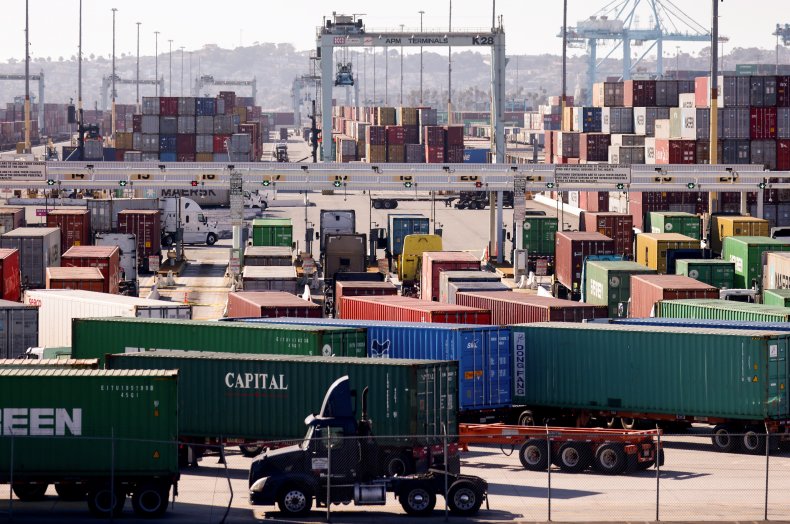 Most of the 75,000-plus port drivers critical to our nation's supply chain are misclassified by their trucking companies. In California, the judicial system recognizes this issue. More than 500 decisions from the Labor Commissioner's Office and the courts have found that trucking firms broke the law by misclassifying port drivers and denying them legally mandated protections. In addition, every other government agency that has investigated port trucking firms—including the National Labor Relations Board and the Department of Labor—has reached the same conclusion. Yet this corrupt system remains in place, even during a pandemic and a colossal breakdown of our supply chain.
But drivers aren't just lying down—they are demanding justice. In October, drivers dealt a colossal blow to misclassification when a federal judge granted preliminary approval of two settlements against subsidiaries of global giant XPO Logistics totaling $30 million. The settlement covers almost 800 port and rail drivers who allege that XPO willfully misclassified them, failed to reimburse them for truck costs and paid them less than minimum wage.
Instead of fixing the problem of misclassification, the American Trucking Association and others are urging Congress to open up the industry to inexperienced teenage drivers, which would allow companies to take advantage of these young drivers while also making traveling more unsafe. As it stands, truck driving is one of the most dangerous occupations in the U.S. According to a report from Advocates for Highway and Auto Safety, more than 5,000 people were killed in crashes involving a large truck in 2019.
As legislators and experts debate the best path forward, here is a simple fix that would bring significant relief to our supply chain woes: improve jobs in the trucking sector by ending driver exploitation. Our elected officials and government agencies have the power to immediately hold trucking companies accountable, to make sure they are following our laws and operating efficiently. Retailers and brands must require their trucking contractors to end the exploitation; otherwise, in California, brands like Walmart, Target and Amazon will soon be held liable for violations in their supply chain.
All along the way, the Teamsters union has stood with drivers who have risked everything to fight this system, even going on strike repeatedly to win back their employee rights and form their union. We know that at the root of supply chain problems is the poor quality of jobs and the exploitation that truck drivers experience every day.
James P. Hoffa is general president of the International Brotherhood of Teamsters.
The views expressed in this article are the writer's own.