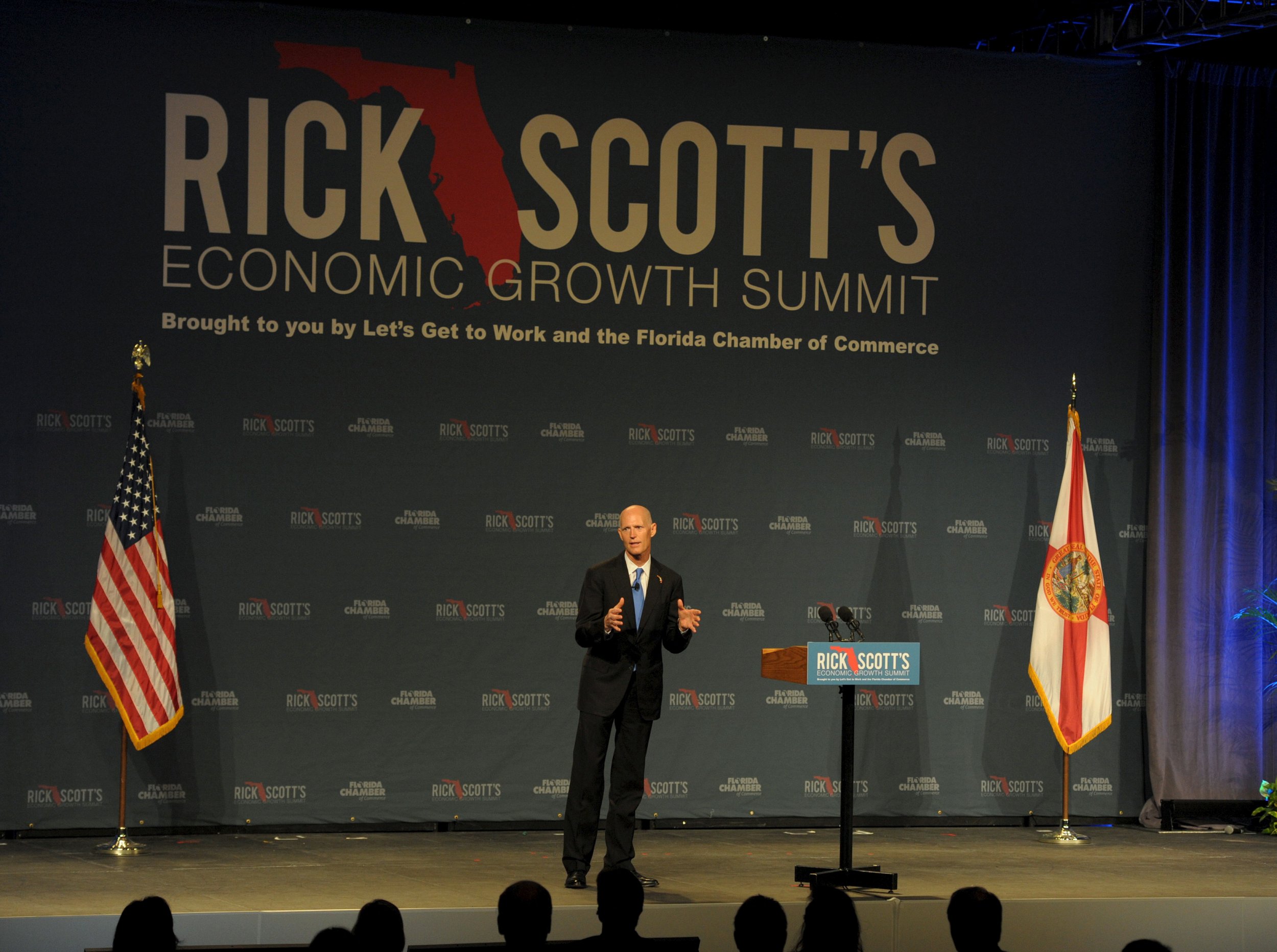 Republican presidential aspirants flocked to Disney World earlier this week to woo Florida voters—one special voter, in particular.
Florida Governor Rick Scott was once considered a possible GOP 2016 contender. Instead, he hosted the Florida Economic Growth Summit in Orlando on Tuesday and basked in the adulation of six declared or near-declared candidates. Scott said at a conference in February he would likely endorse a candidate before the Sunshine State's March 15 primary, a big get that could boost the lucky recipient in a crowded Republican field.
Presidential endorsements tend to be mostly sound and fury, with little significant voting impact. But given how little may separate the Republican winner and losers, a key endorsement could be the difference in the early primaries. For the Democrats, meanwhile, anyone who doesn't endorse the heavily favored Hillary Clinton is making a statement. Even non-endorsements, like New York City Mayor Bill de Blasio's refusal to line up behind Clinton, at least not just yet, can serve as a thermometer for her appeal to the party base. In other words, endorsements are worth watching in the 2016 election much more than previous ones.
And while establishment candidates such as Clinton and former Florida Governor Jeb Bush have already compiled long lists of backers and prominent advisers, the scramble for endorsements in most cases is just picking up steam. Here's a look at some of the officials, past and present, who are among the most coveted endorsements of 2016 in the early primary states.
Iowa
The state's two popular Republican senators are remaining neutral in the caucuses, and six-term Governor Terry Branstad is almost certain to stay out as well, which leaves other local GOP leaders with more sway. Craig Robinson, the editor-in-chief of the website The Iowa Republican, suggests watching "a number of influential and politically involved pastors in the state." In particular, he points to Terry Amann of the Walnut Creek Church in Windsor Heights and Carrie Gordon of Cornerstone World Outreach in Sioux City, who he says are among the Hawkeye Republicans with "a proven history of building support for a candidate," even if they don't attract the headlines of a leading politician.
Another gateway to the religious conservative vote is Bob Vander Plaats, a three-time GOP candidate for governor who's now head of The Family Leader, a pro-life, pro-traditional marriage organization based in the Des Moines suburbs. He backed the winners of the Republican caucuses, former Arkansas Governor Mike Huckabee and former Pennsylvania Senator Rick Santorum, in the last two presidential contests.
On the Democratic side, Tom Harkin has laid low since retiring from the Senate last year. But after nearly four decades in Congress, he remains a beloved figure among Democrats in Iowa and beyond. If Harkin opted to endorse one of Clinton's challengers, former Maryland Governor Martin O'Malley, Vermont Senator Bernie Sanders and, as of Wednesday, former Rhode Island Governor Lincoln Chafee, it would be a coup. Backing Clinton would likely just seal the inevitable. But there's no saying whether he actually plans to weigh in. His spokeswoman at Drake University's Harkin Institute for Public Policy and Citizen Engagement did not reply to a query.
New Hampshire
New Hampshire Senator Kelly Ayotte has partnered so regularly with her hawkish colleagues John McCain and Lindsey Graham, she's been dubbed the "third amiga" (replacing Independent Senator Joe Lieberman, who was known as one of the "three amigos," along with McCain and Graham, until the Connecticut Democrat retired in 2011). But while McCain has made clear he's backing Graham's presidential bid, launched Monday, Ayotte has been silent. A rising Republican voice on national security, Ayotte remains popular at home. But the freshman senator faces what could be a tough reelection battle in 2016, which may make her wary of getting too involved in the presidential primary.
Ayotte's possible Senate challenger, Democratic Governor Maggie Hassan, faces a similar conundrum. While Clinton stumped for Hassan in her race last November, the governor declined to return to the favor in April. She told reporters then that she wouldn't make a decision about the 2016 race until after the state's budget process is completed.
South Carolina
Republican Governor Nikki Haley has said she doesn't plan to make an early endorsement; GOP Senator Tim Scott hasn't been nearly so reticent. Scott has been clear he wants to weigh in, and it won't necessarily be for home state Senate colleague Lindsey Graham. As one of just three African-American Republicans, his nod would be good optics for a GOP candidate, even if it's not likely to bring many African-American votes in South Carolina, where blacks are an overwhelmingly Democratic constituency. Scott is, however, a rising national figure, and is particularly popular with the fiscal conservative set.
Longtime Representative Jim Clyburn, the only Democrat in the Palmetto State's congressional delegation, is the sort of politician whose non-endorsement in the primary would say something. A well-respected member of the House Democratic leadership and the Congressional Black Caucus, he remained officially neutral during the 2008 Democratic primary, though he revealed in a 2014 memoir that he voted for Barack Obama. He also recounted how he received an angry call from former President Bill Clinton, who blamed him for Hillary's drubbing in the state. While a long list of Democrats in Congress lined up early for Clinton's 2016 campaign, Clyburn was not among them.