Prosecutors in Turkey have issued an international arrest warrant for New York Knicks player Enes Kanter, accusing him of having links to a group blamed by Ankara for a failed 2016 coup attempt against President Recep Tayyip Erdogan.
Istanbul's Chief Public Prosecutor's Office prepared the Interpol paperwork and has also requested the 26-year-old athlete's extradition, Turkey's English-language newspaper Hurriyet Daily News reported on Wednesday. Kanter was indicted in Turkish court last year for alleged membership in "an armed terrorist group."
Born to Turkish parents in Switzerland, the 6-foot-11-inch center has played for the Knicks since 2017. Prior to joining the Knicks, he played for the Utah Jazz from 2011 to 2015 and for the Oklahoma City Thunder from 2015 to 2017.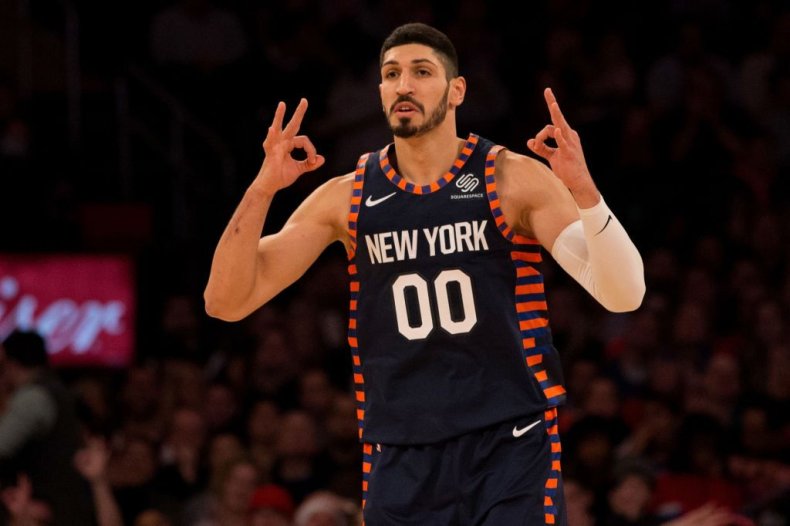 A staunch critic of the ruling Turkish government, Kanter has referred to Erdogan as a "dictator." He also supports Fethullah Gülen, who lives in political exile in the U.S. and has been accused by Ankara of being behind the 2016 coup attempt. Gülen has consistently denied the allegations.
In early January, Kanter announced he would not travel with the team for a game in the United Kingdom, saying he feared for his life. "There's a chance that I can get killed out there," he said, according to the BBC.
Hedo Turkoglu, a former NBA player who now advises Erdogan, has strongly criticized Kanter for his political comments. He has accused the center of running a "political smear campaign" against Turkey's leaders, according to ESPN. Turkoglu also argued that Kanter isn't traveling to the United Kingdom due to more mundane visa issues, as his passport was canceled by Ankara in 2017. Kanter now holds a U.S. green card, according to the BBC.
"Such remarks constitute another example of the political smear campaign Kanter has been conducting against Turkey as well as his efforts to attribute importance to himself by covering up the contradictions in his sports career," the Erdogan adviser said. "It is obvious that this person's remarks are irrational and distort the truth."
Posting to social media about the arrest warrant on Wednesday, Kanter pointed out he doesn't "even have a parking ticket in the U.S." and has "always been a law abiding citizen."
"Turkish Government can NOT present any single piece of evidence of my wrongdoing," he wrote.
The U.S. is a member of Interpol, but it is unlikely Washington would comply with the extradition request, as it has consistently refused Ankara's demands to turn over Gülen. Kanter also shared a video on Twitter of himself sitting side by side with Republican Senator Marco Rubio, who defended him against the Turkish accusations.
"What [Kanter] is accused of is ridiculous," Rubio said in the clip.
Since the coup attempt against Erdogan, about 77,000 people have been detained and are awaiting trial, according to Reuters. Additionally, 150,000 Turkish government employees—including judges, teachers and soldiers—have been suspended or fired in what many analysts have classified as a purge of any political opposition.