Who Is Pippa Middleton's Fiancé James Matthews?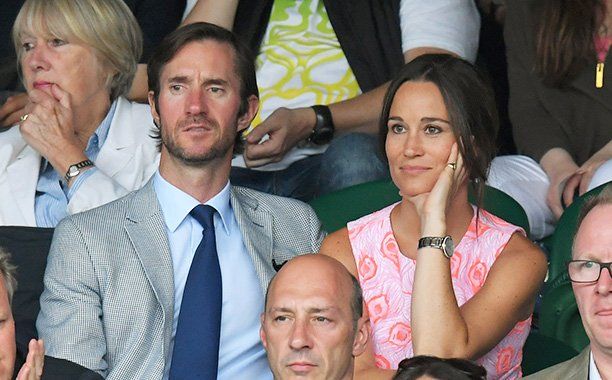 The Duchess of Cambridge's sister, Pippa Middleton, is engaged to businessman James Matthews, a little over a year after the pair started officially dating.
Matthews, a 40-year-old hedge fund manager, first met Middleton, 32, in 2012 and asked her to marry him in the Lake District in northwest England last weekend. He is the brother of Spencer Matthews, the promiscuous star of U.K. reality TV show Made in Chelsea.
A co-founder of Eden Rock Capital Management Group, an investment advisory firm he set up in 2001, Matthews lives in a £17 million ($22 million) home in London's affluent Chelsea district. He also owns a £3 million ($4 million) private plane that he used to take Middleton to the Mediterranean island of Corsica for a weekend trip in May.
Never too far away from the British royal family, Mathews attended Eton College, an English boys' independent boarding school in Windsor where Prince Harry and Prince William were also educated.
He is athletic and shares his fiancée's love of sport. In 2008, before he met his future wife, he ran the 156-mile Marathon des Sables through the Sahara desert.
In June 2015, the couple completed the London to Brighton bike ride together, in aid of the British Heart Foundation, of which Middleton is an ambassador. And in September, they took part in a 47-mile swim-run in Sweden, raising money for the Michael Matthews Foundation, which was set up in honor of Matthew's brother Michael who died climbing Mount Everest aged 22. The charity helps build schools in poverty-stricken areas around the world.
Matthews and Middleton also went to Norway together in March to compete in the Birkebeiner ski race a 54-kilometer cross-country course from Rena to Lillehammer, two small towns in the east of the country.
The couple attended Wimbledon together a couple of weeks ago, and have holidayed together many times, spending New Year's in St Barts, the Caribbean island where Matthew's parents own the luxury Eden Rock, hotel.
Michael Middleton, Pippa's father, said he and his wife Carole were "absolutely thrilled" that Matthews will be their future son-in-law. "They make a wonderful couple and we wish them every happiness together."
The wedding is expected to take place next year.