England to Ban Animal Exports for Slaughter in European First
Britain will become the first European country to ban the export of live animals for fattening and slaughter, British Environment Secretary George Eustice will announce.
The Department for Environment, Food and Rural Affairs (DEFRA) said this announcement was part of a wider strategy to improve Britain's position on animal welfare and to cement it as a world leader. Around 6,400 animals were exported to Europe for slaughter in 2018, the most recent data on record.
Globally, around two billion live animals are exported around the world, according to data from The UN's Food and Agricultural Organization, with live pigs from Poland to Denmark, chickens from the Netherlands to Thailand and sheep from Australia to Qatar some of the largest volume exports.
In 2018, the United States exported about $872 million worth of live animals of all species, according to the Farm Journal, primarily to Mexico and Canada but Brazil, South Korea and China were all in the top five. This includes animals for slaughter, breeding and any other purpose.
The European Union (EU) has a number of animal health requirements but, a European Commission statement says: "live animals are traded or imported every day in the European Union." Now the U.K. has left the EU and is coming to the end of a transition agreement, officials are looking to differentiate policy between them. The ban, if and when it came into force, would be considered a Brexit success by animal rights campaigners.
"Live animals commonly have to endure excessively long journeys during exports, causing distress and injury," DEFRA said. "Previously, EU rules prevented any changes to these journeys, but leaving the EU has enabled the UK government to pursue these plans."
This announcement begins an eight-week consultation in England and Wales and, according to Eustice, marks "a major step forward in delivering on our manifesto commitment to end live exports for slaughter. Now that we have left the EU, we have an opportunity to end this unnecessary practice. We want to ensure that animals are spared stress prior to slaughter."
It is expected that this process will then lead to discussions in Scotland.
"The [Scottish] government is committed to the highest possible welfare standards for animals and to ensuring that, where it is necessary, livestock in Scotland are transported humanely and with respect and dignity," Scottish First Minister Nicola Sturgeon said in 2019. "We recognize that there are complexities, and we certainly recognize the concerns around transportation; our position is that, ideally, the process of quality meat production should take place close to where animals are born and reared. We are also working with the farming sector to explore ways of rearing more male dairy calves productively and profitably instead of exporting them."
In Northern Ireland, it is likely that it will follow EU laws on live animals because of the well-documented difficulties with the border on the island of Ireland.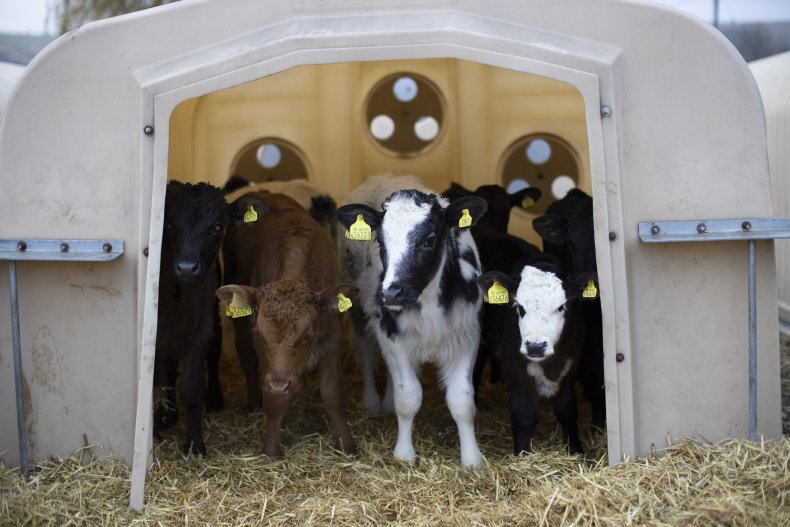 The export of poultry in England and Wales will also continue, DEFRA says, with tens of millions of chicks exported a year for breeding purposes. It was worth £139m to the U.K. economy in 2018.
Chris Sherwood, CEO for the Royal Society for the Prevention of Cruelty to Animals (RSPCA), said: "We welcome plans to end live exports and look forward to seeing this happen as the RSPCA has campaigned on this issue for more than 50 years.
"There is absolutely no reasonable justification to subject an animal to an unnecessarily stressful journey abroad simply for them to be fattened for slaughter. Ending live exports for slaughter and further fattening would be a landmark achievement for animal welfare."
There are signs that other countries might follow if Britain's policy is successful. There have been cases in Germany, where breeding heifers were not allowed to be exported to Morocco and officials in the Netherlands have asked the Agriculture and Fishery Council to look at animal welfare regulations.