Only Englishman to Beat Gianluigi Buffon, Darren Eadie, Remembers 'Controversial' Goal 21 Years Later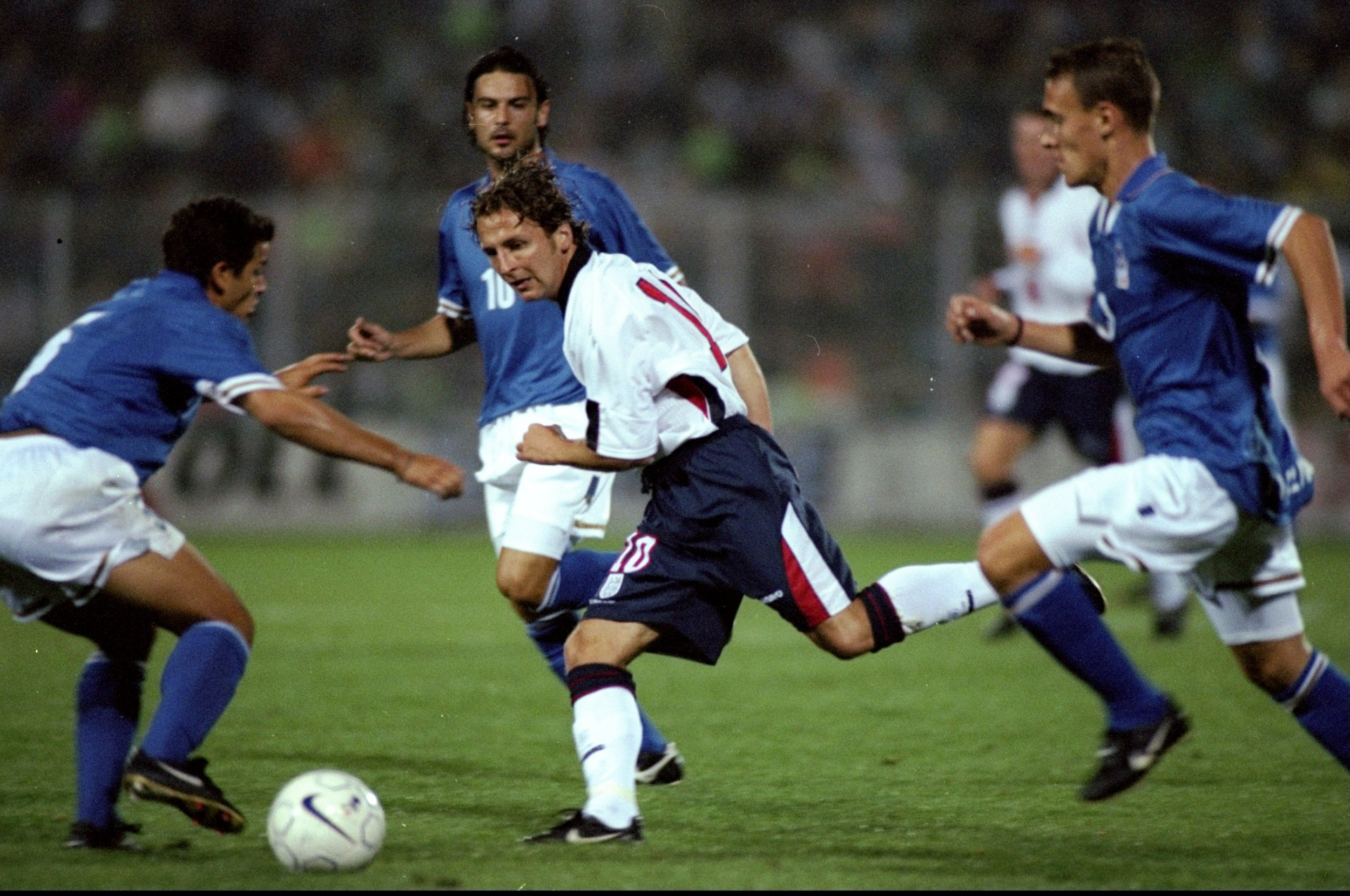 The build up to England's friendly against Italy on Tuesday night (March 27) gives Darren Eadie the opportunity to rummage through his cupboards to find a jersey that tells one of his favorite stories.
Eadie is long retired from football, his career cruelly cut short by a knee injury in 2003 at the age of 27. The memories from his playing days are still strong, though. He has kept the jerseys from Norwich City's UEFA Cup run of 1993-94 against the likes of Bayern Munich and Inter Milan. He kept the jerseys of childhood hero Ryan Giggs, too, which he collected during his days with Leicester City. But to tell this particular story, he requires one from 21 years ago, from an evening at Ashton Gate on February 12, 1997.
Eadie, a quick-footed winger, was then a regular in Peter Taylor's England U-21 team, deployed upfront alongside Emile Heskey. They were preparing to face Italy at the home of Bristol City in a qualification match for the 1998 European Under-21 Championship. Italy was yet to concede so far in the tournament, thanks largely to their goalkeeper, a 19-year-old making a name for himself in Serie A with Parma. His name was Gianluigi Buffon. More than two decades on, with a World Cup winners' medal and eight scudetti to his name, Buffon will gain his 177th cap for Italy if he features on Tuesday at Wembley Stadium.
Buffon, now 40, will be facing England's first team for the fifth and, almost certainly, final time. He came out of international retirement last week, having never been on the losing side against England—he played a key role in knocking Roy Hodgson's team out of Euro 2012 in a penalty shoot-out at the quarter-final stage. But that record only includes the first team. On that winter's evening in 1997, in the heart of Britain's cider capital, Buffon's team was beaten by England's under-21 outfit—and Eadie was the match-winner.
"We were all in our youth then trying to establish ourselves in first teams and, years later, you come to realize you've come up against a man who is probably the best goalkeeper ever," Eadie tells Newsweek.
A report in The Independent described Eadie's goal as "controversial" and accuses the 21-year-old of "a push" on Buffon. Footage on YouTube also captures the moment. Eadie remembers the strike well.
"It was a long ball over the top," he says, transported back to that night. "I chased it down because it was going to run out of play and Buffon has tried to keep it in. He slid and hooked the ball backwards and, as he's gone to do that, I've lent on him and given him a bit of a nudge. Because the surface was so slippery and muddy he's gone straight off the pitch and left the ball in play. For me, it was just about touching it back another yard or so and whipping it in while Buffon was sliding on his arse down onto the gravel behind the goal."
So, on reflection, was it illegal? Eadie remains in two minds. "To say I fouled Buffon is probably a fair explanation of the goal," the 42-year-old says, before pausing and changing his mind: "I wouldn't say I fouled him, I would say I used my body wisely."
Buffon clearly had a different viewpoint. Grainy footage of the match shows a fresh-faced and furious Buffon chasing after the referee. "I think he was still pretty angry at the end of the game as well," Eadie remembers. "He goes mad at the ref. The professional that Buffon is, he doesn't like to concede goals and especially when he thinks it's a little bit unfair. I can understand his frustrations but, for me, it was a case of: I don't care."
What Eadie does care about, though, is his place in a small group of Englishmen who have scored against the great Italian while wearing the Three Lions jersey. Andros Townsend achieved it in 2015 to earn a draw in a friendly in Turin, while Robbie Fowler scored in a 2-1 defeat at Elland Road 13 years before that. Eadie remains the only Englishman to score a winning goal at international level against Buffon.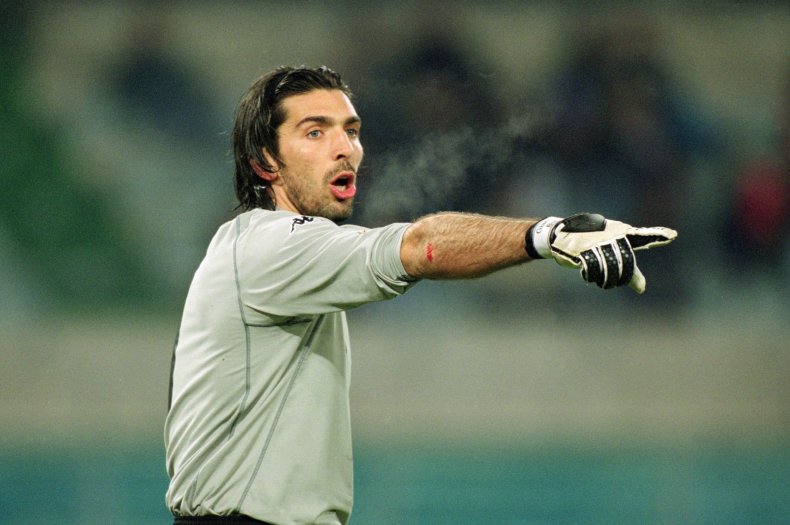 "Whatever level it's at, to be able to say you're the one who beat Italy is great," he says. But that may change this week. Buffon decided to reverse his decision to retire following Italy's disastrous defeat to Sweden in November, which saw the nation miss out on a place at the World Cup in Russia this summer. The tournament, Eadie says, will not be the same without them.
"The fact they're not going to the World Cup is a massive blow for the World Cup because they're such a fantastic footballing nation that, without the likes of Buffon and people there, it seems weird," he explains.
"The fact he can come back and play a bit of a swansong, I guess, for Italy and pay his respects to [Davide Astori] who lost his life [earlier this month aged 31], he would appreciate that more than anything."
The prospect of seeing Buffon at Wembley excites Eadie. "Everybody would love to see him, he's still a fantastic goalkeeper and can clearly play. He would get in the England team at the moment, without a doubt."
Eadie has seen Buffon play recently. An avid Tottenham Hotspur supporter, he saw Buffon's Juventus knock Spurs out of the Champions League at the last-16 stage at Wembley earlier this month.
"Every time I've seen him play I would remind the kids, or whoever I was with, that I scored past him. Everybody knows Buffon, he's a worldwide name and hugely fantastic goalkeeper, an absolute legend, so to be able to drop that line in every now and again when you're with family and watching a game he's playing in is quite something. I've still got the shirt from the game."
It used to be framed in his house, along with the Norwich jerseys, but now they're tucked away in a cupboard. "It's something I've got to move on from," Eadie says. "Because my career finished early through injury it's always a reminder of how far it could of gone. But I don't want to dwell on things too much now: put them in the cupboard and get them out if the kids want to see them." He may well be seeking it out again on Tuesday night, then.