The mandatory face mask rule will be lifted beginning on Thursday in England, Prime Minister Boris Johnson announced on Wednesday.
Johnson said that, along with the face mask mandate, COVID-19 passports will no longer be required for large events and gatherings, such as at nightclubs and other venues, the BBC reported. Masks in schools are no longer required and people may return to offices for work.
"We will trust the judgment of the British people and no longer criminalize anyone who chooses not to wear one," he said.
The release of the restrictions comes as the infections in large parts of the country begin to level off. Despite the decrease, hospitals in northern England are still seeing high caseloads. Official figures show that COVID-19 infections have dropped in most areas of the U.K., but 94,432 new cases were recorded in England on Tuesday.
Johnson told lawmakers that the ease of restrictions was due to government scientists believing the surge of infections was likely prompted by Omicron and the variant's cases "have now peaked nationally," according to the Associated Press.
The restrictions were originally placed into effect in December to slow the spread of Omicron. The restrictions were also used as a way to buy time for the population to receive the booster vaccine, according to Johnson. He said Wednesday that more than 90 percent of those over 60 in the U.K. have had the booster shot.
Britain has the second-highest number of COVID-19 deaths in Europe, behind only Russia, with more than 153,000.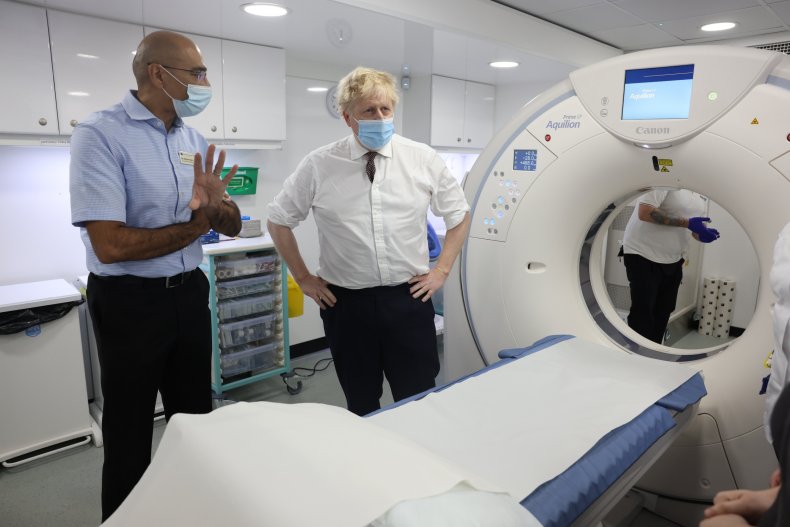 While the mandates and restrictions have eased, the measure for those infected is still in effect until March 24, according to the BBC. After that time, Johnson announced he is looking to end that as well. According to the Associated Press, he will "seek to scrap it earlier if the virus data continues to improve."
The requirements for those infected is to self-isolate for five days. While the COVID-19 passports are not required, Johnson did say it is up to organizations if they wish to see or use it.
Health Secretary Sajid Javid is also planning to ease restrictions on visits to care homes, which he is looking to release "in the coming days," according to Johnson.
Scotland and Wales in the U.K. have also announced similar easing of restrictions. Both set their own public health rules.