Raheem Sterling Earns England Love in Promising World Cup Warm-Up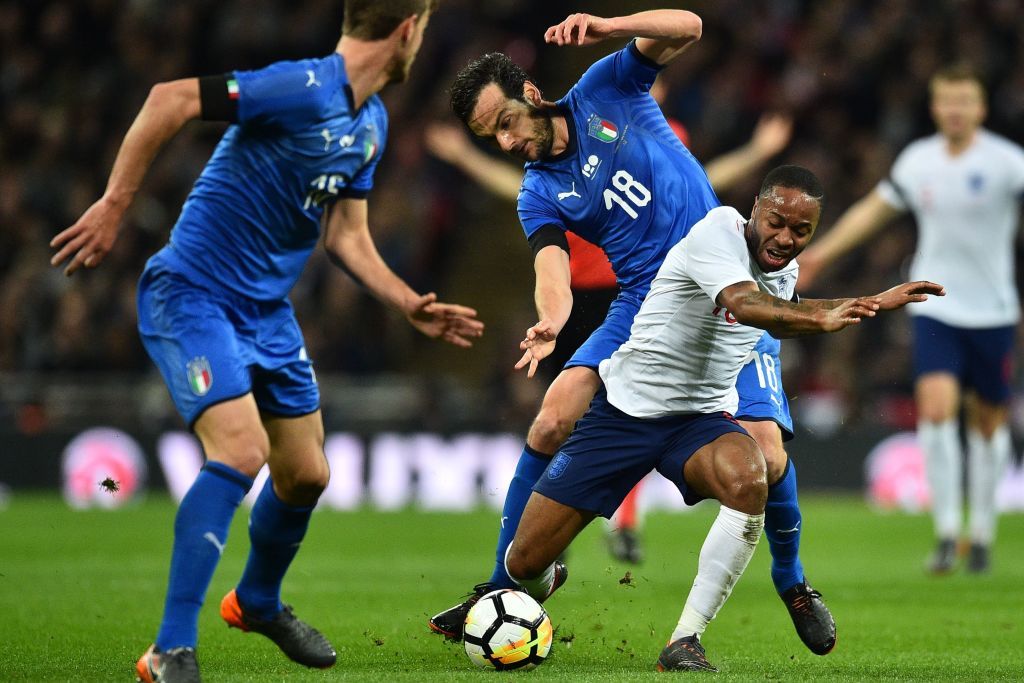 Fans across London's Wembley Stadium were turning to their mobile phones, turning on the torches and lighting up the arena like stars twinkling in the night sky. The game was just 18 minutes old and the 80,000 home fans were already losing interest in England's performance.
But then Raheem Sterling got on the ball, the Raheem Sterling moulded and improved at Manchester City this season by coach Pep Guardiola; the Raheem Sterling filled with confidence and swagger and swift becoming the star of this England team. As he would go on to do many times during the evening, Sterling picked up the ball and drove at the Italian defense, injecting panic into a usually calm and assured back line.
Previous criticism aimed at Sterling is that he lacks the finish, that killer pass. He doesn't anymore. A diagonal through ball found Jamie Vardy's run and the Leicester City striker fired straight at Gianluigi Donnarumma in the Italy goal. Soon, the duo would have more luck.
It isn't often that we hear from Sterling but this week, following the 1-0 win in Amsterdam, he decided to do a handful of media appearances. His message was a simple plea. Show us some love, he asked the fans. Give us that and we'll perform, he said. But he needn't have asked because he earned it on Tuesday night.
Sterling was superb, the key player in manager Gareth Southgate's team, and that was clear from kick-off as the 3-5-2 formation gave him the freedom to roam behind Vardy. Southgate recognizes the lack of creativity in the center of England's midfield. It will likely be a problem should they reach the knockout stages at the World Cup in Russia this summer, but here it didn't matter. Here, there was space for Sterling to operate.
He drifted right and left, linking up with Kieran Trippier and Ashley Young in the wing-back positions. The two men would leave the pitch with paint on their boots they were deployed so wide. Young, making his first start for England in five years, came second only to Sterling for his performance. Reinvented as a left-back by manager Jose Mourinho at Manchester United, he brought that fine form into an England shirt.
But it was the quick thinking of one of his club teammates and the man keeping Dele Alli out of Southgate's starting line-up who played a crucial part in the goal. Yes, it was Sterling's marauding run at the Italian defense that drew Mattia De Sciglio and Daniele Rugani to win the foul halfway through the first half, but it was Jesse Lingard's speed of thought that earned the goal.
He picked up the ball and quickly played in Vardy, who drove the ball into the top corner of the net to score his seventh goal for England. De Sciglio and Rugani were still looking to the North London sky wondering how they could deal with Sterling any longer by the time the ball was in the back of the net.
It was almost the perfect preparation for Southgate's side. Two games, two wins and two clean sheets against two teams considered giants of international football. But then that pesky VAR got involved. German referee Deniz Aytekin had missed debutant James Tarkowski's foot landing on Federico Chiesa's in the penalty area, but the cameras didn't.
Aytekin checked the footage and reversed the decision. The technology worked as smoothly as Lorenzo Insigne's penalty. Jack Butland, brought in for Jordan Pickford who impressed in Amsterdam, was just three minutes from earning a clean sheet. This was Butland's chance to make a claim for the number one shirt and he had been given quite a few scares early on thanks to Stones's sloppy play.
Starting up front for Italy was the man behind only Lionel Messi and Mohamed Salah for league goals in Europe this season. Ciro Immobile has 25 goals in Serie A for Lazio so far, but you wouldn't have known it.
Immobile caught Stones twice in possession, through on goal and failed to make England pay. Italy's best chance came late in the game when Jorge Luiz Jorginho played a delightful dink over the packed England back line for Insigne to run onto. His first time shot scuffed just wide of Butland's post.
But the best play of the night came from Sterling. He asked for love but he earned it and Southgate will be relying on Sterling to take this form to Russia.