England Soccer Fan Fired After Being Caught Live on TV Skipping Work at Euro 2020
An England fan who called in sick and was subsequently fired after being spotted live on TV watching the Euro 2020 semifinal said she would "do it all over again."
Approximately 66,000 fans packed Wembley Stadium in London on Wednesday hoping to watch England beat Denmark and reach the final of a major tournament for the first time since it defeated West Germany to win the 1966 World Cup.
Among them was Nina Farooqi, a 37-year-old digital content producer invited to the game by a lucky friend who had secured tickets in a last-minute ballot.
Knowing she wouldn't be granted a day off as her employer was short-staffed, Farooqi resorted to the oldest trick in the book and told her boss she was unwell. Her plans to go unnoticed, however, were dealt a major blow as the tickets happened to be right behind one of the goals.
Any residual hope of disguising her presence at Wembley evaporated as quickly as Denmark's first-half lead, when TV cameras zoomed into the crowd showing Farooqi draped in a St. George's flag celebrating her team's equalizer among other jubilant England fans.
A peak audience of 26.3 million watched the semifinal on ITV, a figure that reached 27.6 million when the broadcaster's streaming services were included, making it the biggest peak football audience ever for a single channel in the U.K.
Call to Say She'd Been Spotted
Farooqi's cover was blown on the spot and she received a phone call the following morning telling her she'd been spotted and that she'd been fired. That was despite the fact she had jumped on an early morning train from London back to Bradford, in the north of England, where she was working.
Farooqi, however, said she has almost no regrets.
"They said they'd seen I'd been at the game, and I was honest about why I did it," she told The Telegraph.
"But I didn't get any sympathy at all and they said that's it. That's their call and the consequence of what I did.
"There is a bit of regret, no one wants to get fired, but then also I would have hated the regret of missing out. I'd do it all over again."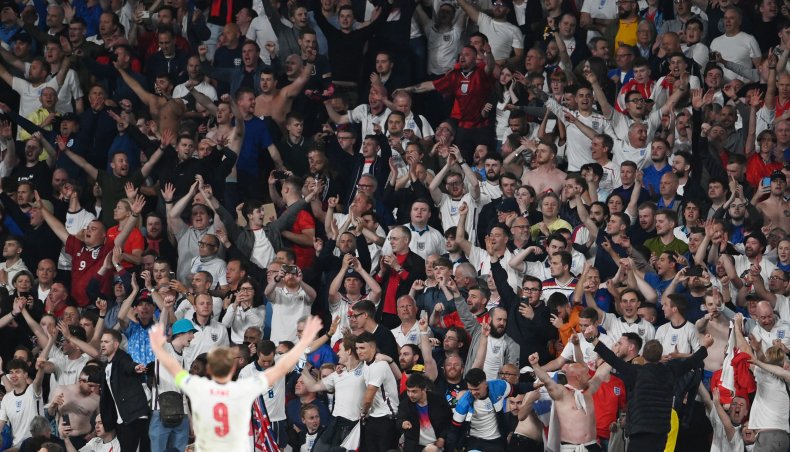 England takes on Italy at Wembley on Sunday at 8 p.m. local time (3 p.m. ET) looking to end a 55-year wait for a major trophy and to become European champion for the first time in its history.
Such is the anticipation surrounding the final that Britain's Prime Minister Boris Johnson looks poised to call an additional bank holiday—Britain's version of a federal holiday—should England win Euro 2020.
"I think that would be tempting fate; let's see what happens," Johnson, who attended the semifinal against Denmark, was quoted as saying by The Guardian when asked whether his government could give British citizens an extra day off.
"I don't want to pre-empt the outcome of Sunday's match," a spokesperson for the prime minister added.
"Clearly we want England to go all the way and win the final, and then we will set out our plans in due course."
Asked whether businesses should consider giving employees a day off to celebrate what could be a historic occasion, Johnson's spokesperson replied: "We would want businesses who feel able to consider it if they can, but we recognize it will vary depending on the business and company."
At the time of writing, a petition calling for an extra bank holiday to be granted should England win Euro 2020 had gathered more than 300,000 signatures.