For the vast majority of England football fans, our lives have been a triumph of hope over experience, laced with the romance of what could have been. Every fan has his/her own montage of blood, sweat and tears, with mine starting in 1996, when we lost to Germany in the European Championship semifinals. Losing to Italy in this year's Euro final, our first major tournament final in 55 years—and yet again on penalty kicks—adds to the catalogue.
Bukayo Saka, Jadon Sancho and Marcus Rashford, three Black and mixed-race England football stars, aged 19 to 23, conjured unfathomable strength to take penalty kicks at the death. Thirty million viewers in the U.K., and many more like myself here in the U.S., could barely muster the courage to watch. That they each missed reflects the madness of penalties. That they were then subjected to hateful, racist abuse is a sadly familiar tale in the ugly underbelly of the beautiful game.
In my younger days, football stadiums were no-go zones for Brown families like mine. A Brown boy playing football must have gotten lost on his way to the cricket pitch—or else the curry house. And in the rougher parts of town, racism and flying tackles went hand-in-hand. On TV, Black players were making strides in the English Premier and European Leagues, but "monkey" chants remained, bananas were tossed onto the pitch and, just 10 years ago, the England team itself was torn apart by accusations of racism among players.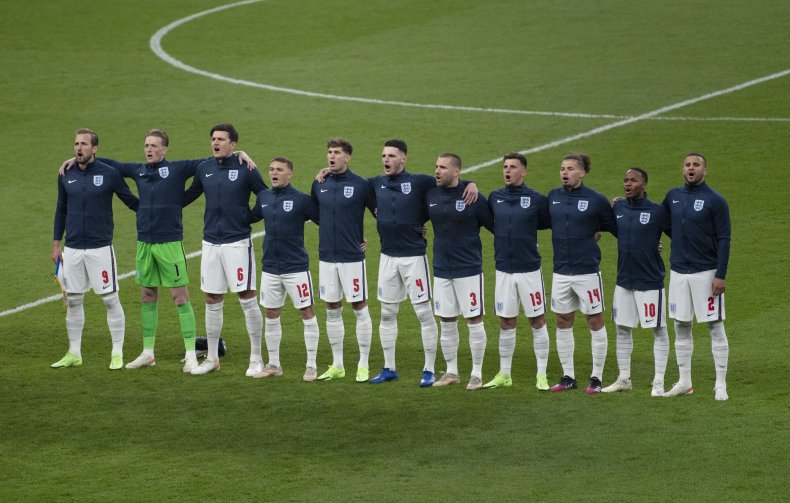 But this time, it's different. Whether it's players like Raheem Sterling taking on racist corners of the press, or Jordan Henderson standing up for LGBTQ+ fans, this is a team that has led its enormous fan base to confront hate and prejudice. Just as the U.S. reckons with racial and societal injustices, white, Black and mixed-race England players all took the knee together before every game.
"This is England" was once the calling card for skinheads and football hooligans, but England manager Gareth Southgate's open letter to England (he too missed a penalty kick back in 1996) has put a stake in the ground for courage, humility, diversity and unity. In the aftermath of the final, a mural of Rashford in his (and my) hometown of Manchester, defaced by racists, is now adorned with messages of love and support.
We can only fight racism if we stand together. As we emerge from the shadow of the pandemic, a glorious run in the Euro competition has brought joy, relief and togetherness when we needed it most. Nothing shivers the spine like singing a club or national anthem alongside thousands of fans, or the celebratory bear-hug of a total stranger. Injustice and inequity remain, and we all across government, media and football have more to do to tackle it. But as my mixed-race children grow up and watch England play, they'll see a team and crowd that looks and acts more like themselves than ever before. They too can start their long road of suffering—though maybe, just maybe, we'll win next year's World Cup.
Kunal Khatri is Acting Her Majesty's Trade Commissioner, U.S.A.
The views expressed in this article are the writer's own.