England's Contact-Tracing App Hinders Boris Johnson's Plan to Fully Reopen Amid Delta Surge
The British government's official health app is reportedly hindering Prime Minister Boris Johnson's plan to fully reopen the country amid a surge in the Delta variant.
In what has been dubbed by local media as a "pingdemic," the contact-tracing app alerted 618,903 people in England and Wales this week alone to self isolate for 10 days after coming into suspected contact with someone who has tested positive for COVID-19.
But the hundreds of thousands of alerts from the National Health Service's app are now resulting in massive staff shortages, just as Johnson tries to lift virtually all coronavirus restrictions.
On July 19, the prime minister removed all legal limits on social contact, reopened nightclubs and restrictions on large events, citing a successful vaccine rollout and relatively lower hospitalizations.
"Cases will continue to rise as set out from the start of the Roadmap, but the vaccination programme has substantially weakened the link between infection and serious illness or death," Johnson's office said in a press release.
"Hospitalizations and deaths will continue to rise over the coming weeks and months, but both are far lower than the previous wave," the statement continued. "The current data does not suggest that unsustainable pressure will be put on the NHS but all data will be kept under constant review."
But while nearly 70 percent of the population is fully vaccinated and 88 percent have received at least one dose of a COVID vaccine, the U.K. is reporting more than 50,000 new daily cases as the highly transmissible Delta variant continues to ravage the country.
And now, supermarkets and supply chains are being further hindered by the new wave of cases.
Social media platforms have been flooded of photos of empty grocery shelves as supermarkets urge customers not to panic buy and the government expresses fear of imminent shortages.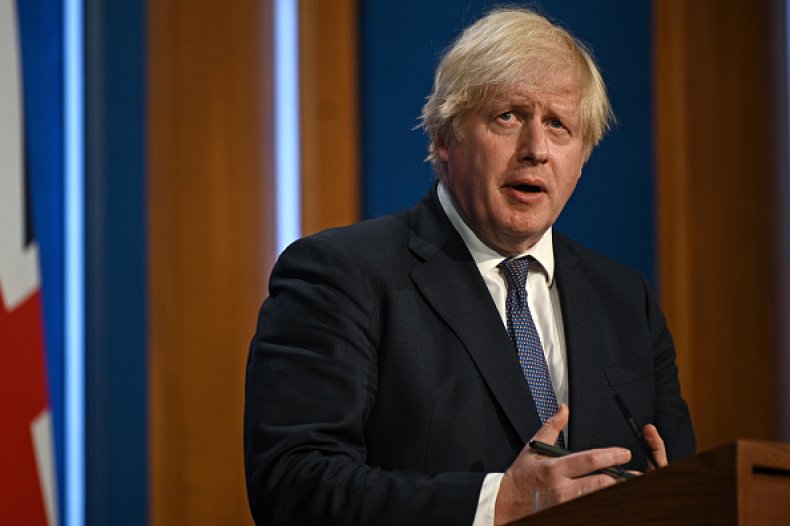 When asked about the empty shelves, Business Secretary Kwasi Kwarteng remarked: "We're very concerned about the situation."
"I don't want people to get the impression that every shelf in every supermarket is bare," he said on Thursday. "That is not the case, but we are certainly concerned about instances of shortages, we are looking at the supply chains of critical industries, and we are reviewing that situation."
In England and Wales, the vast majority of COVID-19 contact tracing has been carried out through the app, which anyone can voluntarily download on their phone. If a user tests positive for the virus, the app alerts any other users who came close to that person leading up to their diagnosis.
Those close-contact users are advised to isolate for 10 days from initial exposure, but the quarantine is not legally enforceable.
The app has received public backlash for the high number of alerts that have been sent to users, with some reports that neighbors who share a wall have received alerts despite not coming into physical contact with an infected person.
As a result, many users have begun deleting the contact-tracing app from their phones to avoid the disruption.
British ministers have said that the app plays an important role in countering the spread of the virus, and especially the Delta variant.
But former Health Secretary Jeremy Hunt has warned that the government "risks losing social consent" for its contact-tracing program, which he says has been crucial for the country to track and chase the virus, if it does not immediately allow vaccinated people to avoid isolation.
In England and Wales, vaccinated people are not exempt from self-isolation if they're exposed to an infected person. The rules are set to change on August 16.
Newsweek reached out to Johnson's office for comment, but did not hear back before publication.