England's World Cup Boom: Early Rush Hour and Party Vibe as Country Basks in Soccer Fever
World Cup fever has reached unprecedented levels in England, with the country grinding to a standstill as the Three Lions prepare to play their first World Cup semifinal in 28 years.
Only Croatia stands between England and its first World Cup final since 1966. Fans are expected to leave work early to arrive home or to a pub or bar in time for the kickoff, which is scheduled for 7 p.m. local time.
Britain's Automobile Association expects the country's roads will see heavier traffic earlier, and will be almost completely deserted during the game. "We are likely to see an earlier than normal rush hour from work, as despite a 7 p.m. kickoff, many venues screening the match get filled up hours before the game," said AA president Edmund King.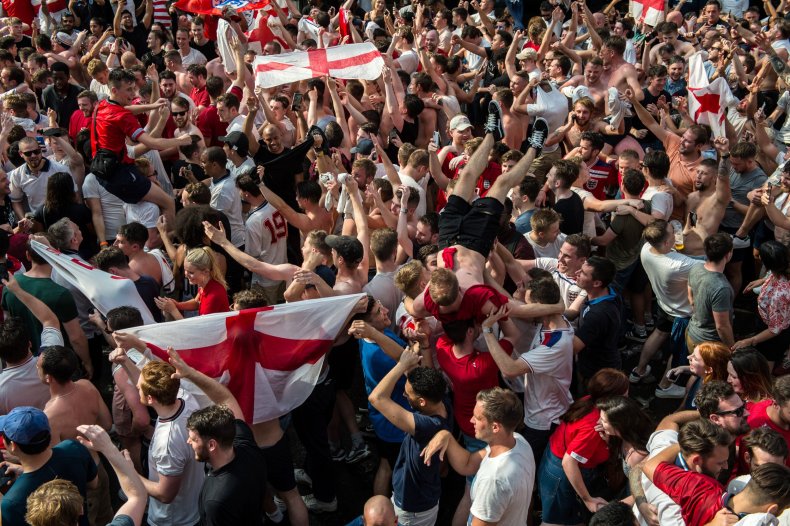 "Rail commuters may also take earlier trains, perhaps worried about delays or staff shortages due to the match," he continued. "AA Roadwatch predicts that on Wednesday night the roads will be deserted from 7pm and much quieter than on Christmas Day."
In London, thousands of people are expected to flock to Hyde Park to watch the game on a big screen. Registration for the event opened at 4 p.m. local time on Monday when London Mayor Sadiq Khan announced 30,000 free tickets would be available for the screening, but the event proved so popular that the ballot system crashed.
Hyde Park's is not London's only public screening. Similar events are scheduled to take place in other parts of the city, and elsewhere in the country, including Manchester, Newcastle and Leeds.
Londoners will also have to contend with serious travel disruption, with a strike on the Piccadilly Line—one of the busiest metro lines in the British capital—set to begin at 10 p.m. local time, potentially shortly after the final whistle if the game goes to extra time.
If England's unexpected success has caused nationwide euphoria, the British economy is also set to benefit. According to research from the Centre for Retail Research, some $200 million will be spent on food during the semifinal, while $254 million will be spent on drinks. The overall consumer spending on the World Cup could reach $3.6 billion if England reaches the final.
England's fans have already splurged on soccer apparel—England's training top sold out on the official England Store and Nike websites. Retro soccer shirts have also registered booming demand.
Meanwhile, those unlucky enough to travel during the game can watch it for free on any flight that offers Sport 24—which is available on Emirates, American Airlines, Etihad and Lufthansa—and Brittany Ferries.
Airlines have profited from England's run to the semifinals, with Skyscanner reporting a 486 percent increase in flight searches from Britain to Moscow this week.
To match customer demand, British Airways has been adding larger aircraft on its three-daily flights to Moscow and will have a Boeing 777—which can seat around 300 passengers—operating the first return flight, from Moscow to London, after the match.