English Band Pale Waves Cancels Tour Dates With Halsey After Bus Accident
Pop-punk band Pale Waves was forced to cancel upcoming tour dates with singer Halsey after a bus crash. No one from the British group was seriously injured in the Thursday night accident, according to a statement posted on the group's social media accounts.
"Last night we were involved in a serious bus accident on our way to the Berlin show," Pale Waves' Twitter and Instagram accounts said. "We were really lucky and no-one has been seriously hurt, but we are not able to play the next few shows. We have loved playing these shows with Halsey and hope to be back on the tour really soon."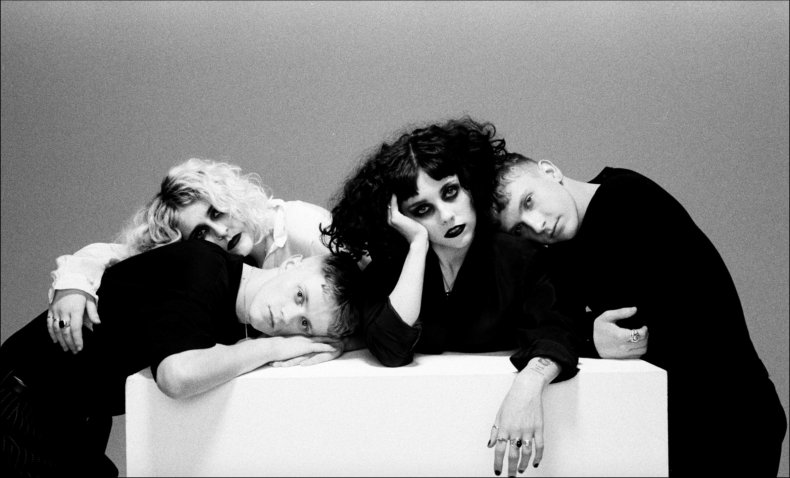 The band was scheduled to open for Halsey's European leg on Friday night in Berlin. They have a series of scheduled tour dates with the American pop star through March 12, which is a show scheduled in their hometown of Manchester. It's unclear if Pale Waves will return to finish the tour with Halsey, or cancel the remaining dates.
Halsey has not publicly commented on Pale Waves' accident.
Fans immediately reacted by sending love and well-wishes to the band. Twitter responses to the group's tweet, as well as stand-alone concerns for the group's well-being, were easy to find.
Pale Waves is best known for the songs "There's a Honey" and "Television Romance." Both are featured on their 2018 album, My Mind Makes Noises. They're signed to the Dirty Hit label, which is known for popularizing British pop/rock band The 1975.
Last September, the band debuted a currently unreleased track titled "Tomorrow." It could be a step toward releasing a new album. When Newsweek spoke with Pale Waves during their 2019 tour with The 1975, drummer Ciara Doran talked about the sound of their upcoming work.
"It's quite pop-punky, actually. We're going deep into our influences, you know Paramore, Blink-182. But maybe too much," she said. "It's scaring me a bit. I want to go back into Pale Waves."
Lead singer Heather Baron-Gracie responded: "It is Pale Waves. If it's coming out of us, it's Pale Waves."
The band has not made any formal announcements about an upcoming album, but it said it will release an EP of five of six songs before a full record.
English Band Pale Waves Cancels Tour Dates With Halsey After Bus Accident | Culture