'The English Game' Season 2: Will There Be Another Season of Julian Fellowes' Netflix Drama?
Netflix has now released the first season of its historical soccer drama The English Game, which is a relatively brief six episodes long. The show's short season order has left some fans already eagerly anticipating another a Season 2 that would continue to tell the story of the rise of soccer from a game for the rich to the national sport of the U.K.
The English Game Season 2 has not been confirmed yet, as Netflix often likes waiting for a month's worth of data back about how popular a show has been with its subscribers before deciding whether to renew a series.
However, Netflix is not the only one who has to agree on renewing a show. Its creator also has to want to return to make more, or be willing to hand show-running status to another person. This can mean that hugely popular shows like Mindhunter can be put on hiatus because their creators want to focus on other projects.
Although The English Game creator Julian Fellowes has not said much about whether he would be open to returning to write more of the series, his previous comments about another project could mean if we do get another season of his Netflix show it could be a long wait in between seasons.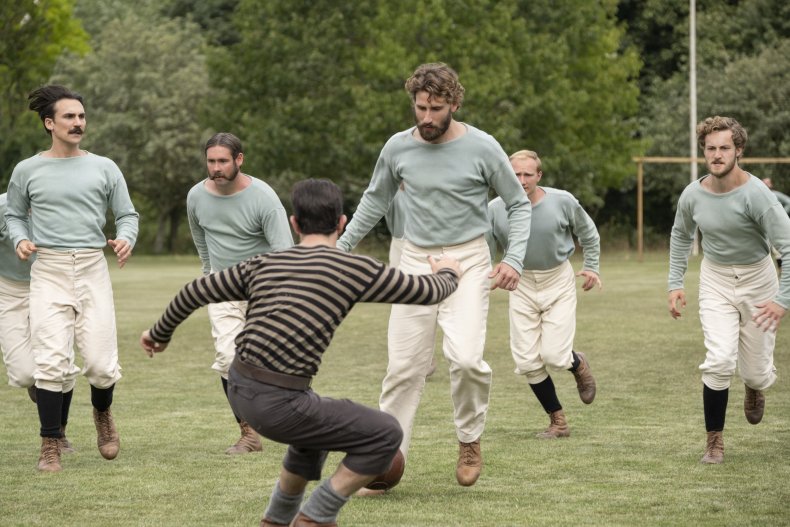 For the last few years, Fellowes has been working on The Gilded Age, a show that was originally designed as a prequel to Downton Abbey that is now a standalone series set in New York in the 1880s. In 2016, he said of that show to The Los Angeles Times, "I'm clearing the decks, so that when I start Gilded Age, I'm only doing Gilded Age."
As that series was due to start filming in March 2020 (though this may be delayed due to the coronavirus), this could mean that, for now, Fellowes intends to focus on his new show and either put The Gilded Age on the back-burner or simply not return to it.
Not only does The English Game have to compete with The Gilded Age, but it has also been hinted Fellowes may soon be busy with a script for a sequel to the Downton Abbey movie.
Producer Gareth Neame said at the Content London conference (according to Variety), "We won't start shooting [The Gilded Age] until March, and there are huge sets going up and we are casting in New York at the moment. Julian is doing a lot of rewrites, and he said: 'It may delay me thinking further about this Downton endeavor.' I said: 'I like to think you have two shifts going on, a day shift and night shift, and the TV work can happen during the day and the writing on the Downton script at night.'"
With two big projects on his roster, fans of The English Game may have a while to wait until the next season, unless Fellowes decides to hand the reins of the show to a new showrunner for Season 2. We will know more when Netflix makes an announcement about the future of the show, expected in the coming weeks.
The English Game is streaming now on Netflix.