Ennio Morricone, Legendary Film Composer, Dead at 91 After a Fall
Italian composer Ennio Morricone has passed away in Rome. He was 91.
The Oscar-winning musician is reported to have died due to complications from a fall.
Italian publication Corriere Della Sera reports that Morricone's family confirmed his death on July 6 and said the funeral will be private "in respect of the feeling of humility that has always inspired the acts of his existence."
A statement from the family, translated per Corriere Della Sera continues: Morricone "has preserved to the last full lucidity and great dignity.
"He greeted his beloved wife Maria who accompanied him with dedication in every moment of his human and professional life and was close to him until the last breath thanked his children and grandchildren for the love and care they gave him. He dedicated a moving memory to his audience from whose affectionate support he has always drawn the strength of his creativity."
Considered one of the world's most influential composers, Morricone, also known as "The Maestro," composed more than 400 scores for cinema and television, as well as over 100 classical works.
Some of his most recognizable and iconic works include the score to The Good, the Bad and the Ugly and the soundtrack to Giuseppe Tornatore's classic Cinema Paradiso.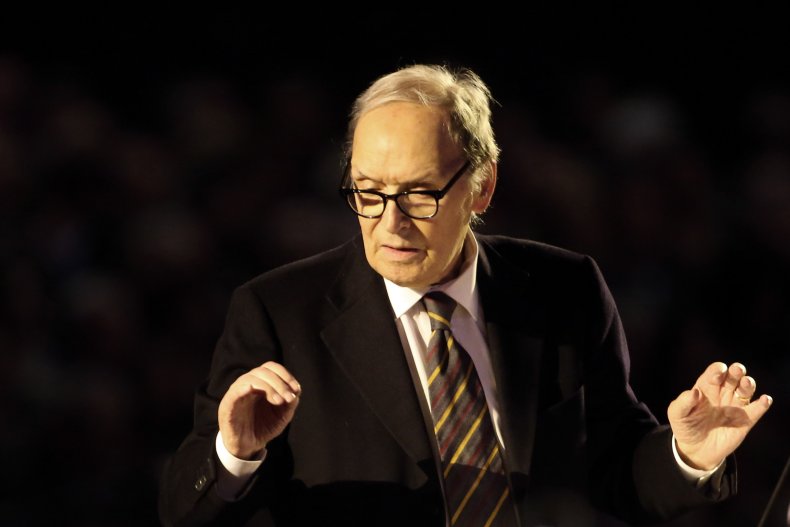 Renowned for elevating the 60s spaghetti westerns of Sergio Leone, Morricone's, prolific career marks him as one of the greatest composers of our time.
Morricone's scores accentuated and heightened Leone's low budget westerns, A Fistful of Dollars (1964), For a Few Dollars More (1965), The Good, the Bad and the Ugly (1966) which all starred Clint Eastwood, as well as Once Upon a Time in the West (1968) and Duck, You Sucker (1971).
Hi long-time collaborator Leone, who died in 1989, once said of him: "The music is indispensable, because my films could practically be silent movies, the dialogue counts for relatively little, and so the music underlines actions and feelings more than the dialogue.
"I've had him write the music before shooting, really as a part of the screenplay itself."
Morricone won his Oscar for his work on Quentin Tarantino's The Hateful Eight in 2015. His other Academy Award nominations were for Terrence Malick's Days of Heaven (1978), Roland Joffe's The Mission (1986), Brian De Palma's The Untouchables (1987), Barry Levinson's Bugsy (1991) and Giuseppe Tornatore's Malena (2000).
In 2007, the Roman was presented with an honorary Oscar, presented by Eastwood himself who praised his "magnificent and multifaceted contributions to the art of film music."
Other noteworthy and unforgettable scores penned by Morricone include the likes of John Carpenter's The Thing in 1982, Pedro Almodovar's Tie Me Up! Tie Me Down! (1898), Franco Zeffirelli's Hamlet (1990) and Wolfgang Petersen's In the Line of Fire (1993).
Born in Rome in 1928, Morricone's father Mario, was a trumpet player. The first instrument Morricone learned as a child was the trumpet and he wrote his first piece of music aged six.
Morricone is remembered by his wife Maria Travia and their children Marco, Alessandra, Andrea, and Giovanni.