Ennio Morricone Never Admitted to Allegedly Calling Quentin Tarantino a "Cretin"
Prolific Italian movie composer Ennio Morricone died Monday at the age of 91.
But while Morricone composed music for around 500 films, ranging from the critically acclaimed like The Battle of Algiers and The Good, the Bad and the Ugly to exploitation schlock like A Lizard in a Woman's Skin and Black Belly of the Tarantula, some of his most famous criticisms were reserved for late-in-life collaborator Quentin Tarantino, for whom he composed his first Western score in more than three decades with The Hateful Eight.
The critically praised soundtrack, which combined new, original music with unused Morricone songs from the soundtrack to 1982's The Thing, won Morricone his first Academy Award for Best Original Score. But interviews subsequent to the movie's 2015 release suggested Morricone wasn't happy with the collaboration.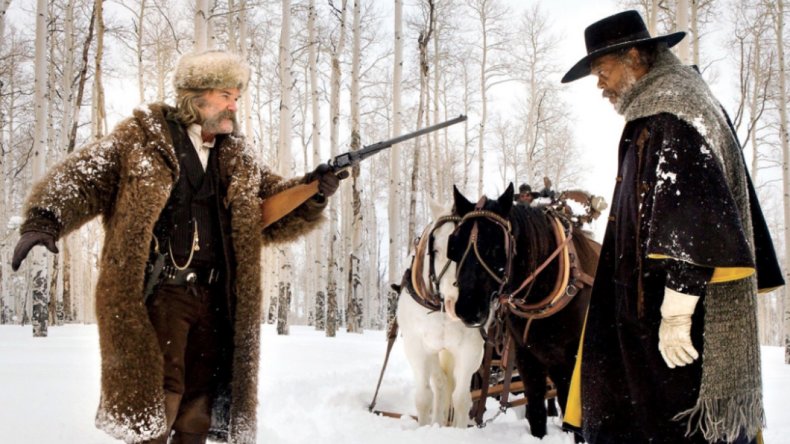 "The man is a cretin," Morricone reportedly told German Playboy,in Italian in 2018. "He just steals from others and puts it together again. There is nothing original about that. And he is not a director either. So not comparable to real Hollywood greats like John Huston, Alfred Hitchcock or Billy Wilder. They were great. Tarantino is just cooking up old stuff."
In the same interview, Morricone also decried the short notice he was given to compose the score. "He calls out of nowhere and then wants to have a finished film score within days, which is impossible," Morricone reportedly said. "Which makes me crazy!"
But Morricone soon denied ever voicing the denunciation of Tarantino's character and work attributed to him. In a statement released to the press, he called the interview "totally false" and said Tarantino was "one of the greatest directors of this time."
More than claiming he had been misquoted, Morricone said he had not "given an interview to Playboy Germany" at all, further threatening legal action from his lawyers.
Hubert Burda Media, owner of Playboy in Germany, issued a statement to Variety denying the denial, describing the interview as having taken place on June 30, 2018 at Morricone's estate in Rome. But a day later, Playboy also disclaimed the interview.
"Up to now, we have considered the freelancer who conducted the Ennio Morricone interview on our behalf to be a renowned print and radio journalist," editor Florian Boitin told The Hollywood Reporter. "In the past, we have had no reason to doubt his journalistic integrity and skills. Based on the information now at our disposal, we must unfortunately assume that the words spoken in the interview have, in part, been reproduced incorrectly. We would like to express our regret should Mr. Morricone have been portrayed in a false light. We are working to clarify this matter and are exploring legal measures."
The interview was subsequently taken down. The two accounts remain conflicting, with Morricone insisting the interview never took place and Playboy claiming only that the interview had been misquoted.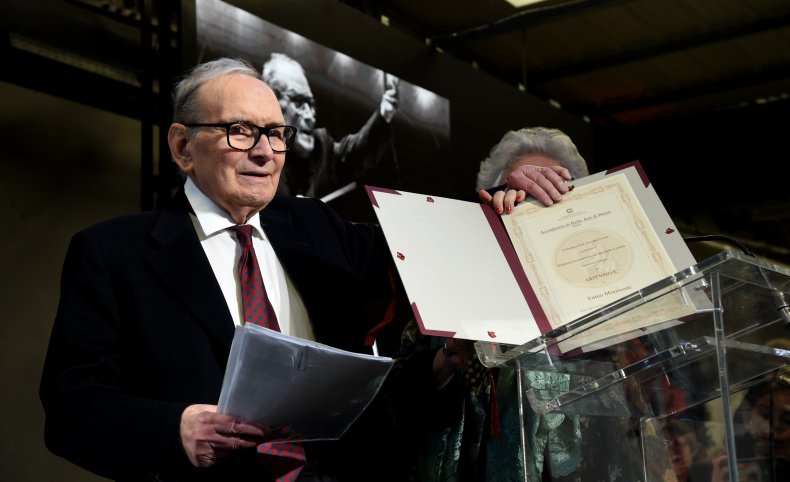 In 2013, before their collaboration on The Hateful Eight, Morricone voiced similar criticism of Tarantino's directorial style—which relies heavily on referencing the directorial and aesthetic choices made in older movies—in light of the director using existing Morricone compositions in his movies.
According to Morricone, Tarantino "places music in his films without coherence," adding that he didn't care for Django Unchained, in part because it had "too much blood."
But while the criticisms of Tarantino made in 2018 may have sounded much like something Morricone had said previously, his description of Tarantino as a "cretin" can no longer be asserted or verified.
Early on Monday, Morricone died while in a hospital for treatment related to a fractured femur after a fall.