'Enola Holmes': How Netflix Character Relates to the Sherlock Holmes Books
Enola Holmes (played by Millie Bobby Brown) is the hero of a new Netflix movie, in which we follow the younger sister of master detective Sherlock Holmes (Henry Cavill) as she trues to find their missing mother Eudoria (Helena Bonham Carter). The movie is streaming now on the service.
Sherlock Holmes originally appeared in a series of stories by Arthur Conan Doyle, debuting in 1887's A Study in Scarlet. However, those original stories and novels say very little about any family that Sherlock may have.
As Holmes' associate Dr. John Watson says in another story, The Adventure of the Greek Interpreter, "I had never heard him refer to his relations, and hardly ever to his early life."
Though in that same story Conan Doyle introduced Holmes' brother Mycroft (played in Enola Holmes by Sam Claflin), the writer left most of Sherlock's family life blank, meaning that other writers who have written Sherlock stories in the years since Conan Doyle's death had seen fit to invent all sorts of siblings and relatives for the master sleuth. The BBC/Netflix adaptation of Sherlock, for example, gave the detective another sister whose name began with "E", Eurus (Sian Brooke).
Enola Holmes, the 14-year-old sister of Sherlock Holmes who is 20 years his junior is not from the Conan Doyle books and stories. In fact, the character was not created until 2006, when American author Nancy Springer released The Case of the Missing Marquess, the first book in her The Enola Holmes Mysteries series.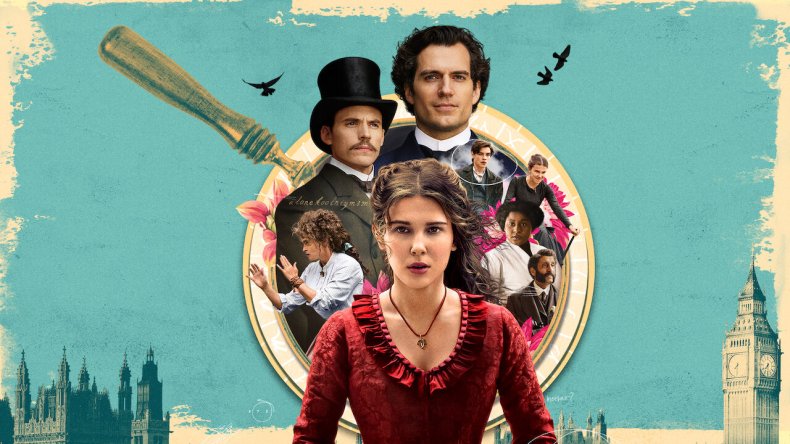 In this first book, Sherlock and Mycroft try to send Enola to a finishing school after their mother goes missing. However, Enola runs away to London where she tries to find their mother, set up a private detective business and try to avoid the two brothers who want to send her away.
Speaking to Book Yurt in 2010, Springer revealed that one of the reasons that she had wanted to give Sherlock a sister was to counter one of her main problems with the Conan Doyle stories. She said, "while Doyle was a very good writer, he was also quite a misogynist.
"Occasionally and with difficulty he represents women positively, but much more often he has Holmes dismiss them as hopelessly vapid, hysterical and illogical. I exploited with glee Sherlock's complete ignorance of the feminine sphere of Victorian society."
The Netflix take on the character, however, has drawn the anger of the Conan Doyle estate for making the detective too emotional and respectful of women. Though the character of Sherlock Holmes is in the public domain (explaining why so many people have seen fit to invent new family for him), 10 stories are still in copyright. These stories were after the author's son and brother died, and feature a notably more emotional Holmes. As such, the estate has sued Netflix for a number of scenes in which we see an emotional Holmes.
For example, the suit alleges that in showing Sherlock react positively to a woman, this breaks the copyright of these later stories. "In the Copyrighted Story 'The Lion's Mane,'" the suit alleges, "Conan Doyle creates new character attributes for Holmes, placing a woman at the center of the story and having Holmes react with warmth and emotion to her—quite unlike Holmes's famous indifference, or even actual aversion to women in public domain stories."
Enola Holmes is streaming now on Netflix.