Enormous 3,000-Foot Spider Web Shrouds Greek Lake—and It Looks Set to Grow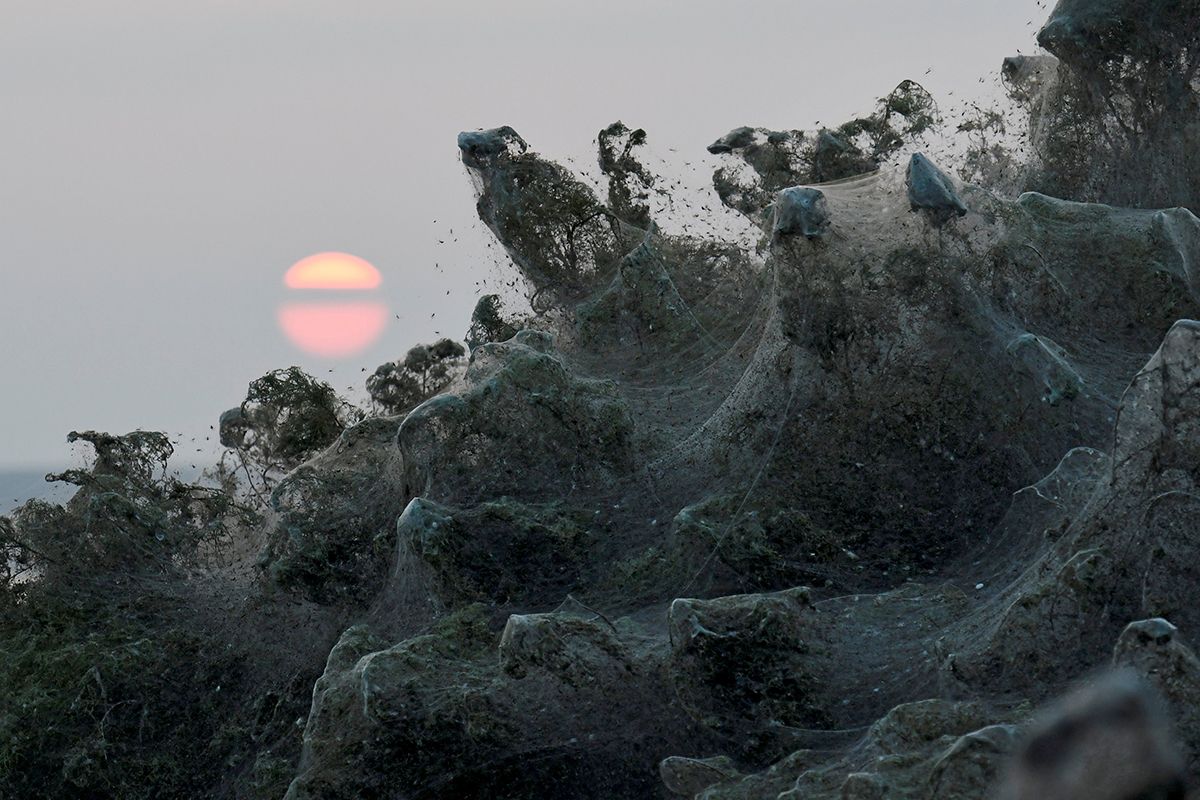 Hundreds of thousands of spiders have blanketed a Greek lake in an enormous web stretching some 3,300 feet—just in time for Halloween. Local biologists have said that the spooky shroud could grow even larger as "ideal" spider-breeding weather conditions persist.
Unseasonably warm weather sent the numbers of stretch spiders—also known as Tetragnatha—soaring in Lake Vistonida in northeastern Greece, according to The Independent. Warmer temperatures and rising humidity provide excellent conditions for the creepy critters, the publication noted.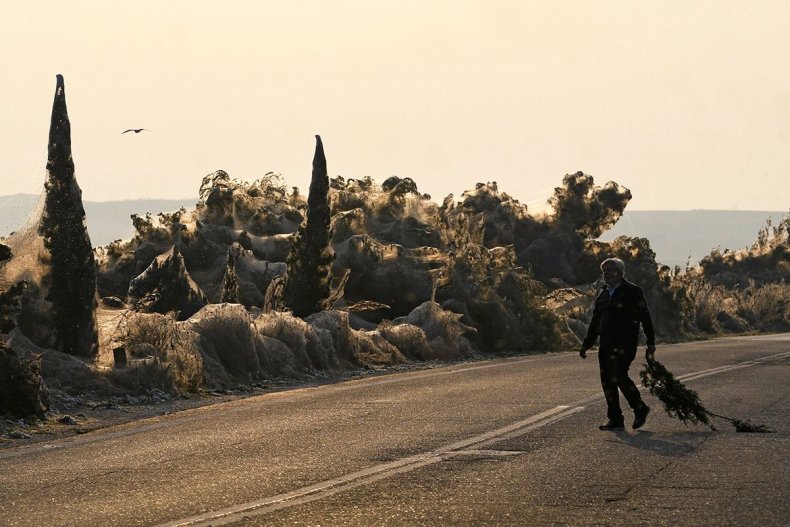 Photographs show bushes, trees and even religious shrines coated in swaths of spider silk.
An "abundance" of mosquitoes—a food source for the swarming spiders—contributed to the Tetragnatha boom, local environmental park biologist Euterpe Patetsini told Greek station Alpha TV. "Weather conditions are ideal for them to multiply," she said.
Certain stretch spiders—named for their long bodies—are known to weave webs near bodies of water, The Independent stated. Although this extreme level of web-building is unusual, it's certainly not unheard of.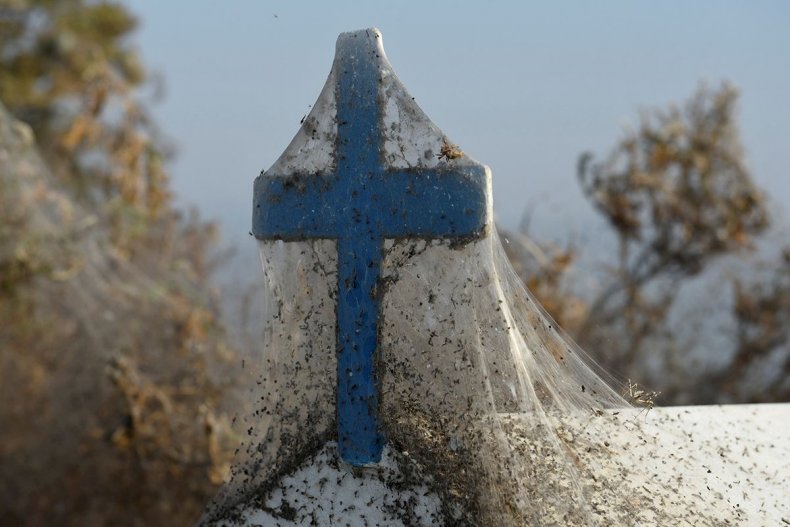 In September, reports emerged that spiders had coated another Greek town in cobwebs. Arachnids spun a 1,000-foot web of silk over Aitoliko in the west of the country, coating street signs, palm trees and bushes in a wispy veil.
"The spiders are taking advantage of [weather] conditions, and are having a kind of a party. They mate, they reproduce and provide a whole new generation," molecular biologist Maria Chatzaki told Greek news website Newsit.gr at the time.
But giant, town-engulfing spiderwebs aren't isolated to Greece. In 2015, millions of spiders "ballooned" over the southern Tableland region of Australia, blanketing huge stretches of land in silk.
The creepy crawlies soared through the sky in a kind of "reverse-parachute" effect, entomologist Rob Bennett from the Royal British Columbia Museum in Victoria, previously told National Geographic. "They're going from the ground into the air," he added. "It's awe-inspiring."
"They fly through the sky and then we see these falls of spiderwebs that look almost as if it's snowing," local resident Keith Basterfield told The Goulburn Post.
Such aerial journeys prove deadly for the majority of spiders, the outlet reported, and only a tiny proportion actually live in their new homes.
Although it's a terrifying prospect for even the bravest arachnophobes, Bennett said the spiders don't pose a risk to people. The 2015 event, he said, is "a spectacular natural history occurrence."