Enormous Cow Named 'Knickers' Who Towers Over Thousands of Cattle Deemed Too Big to Eat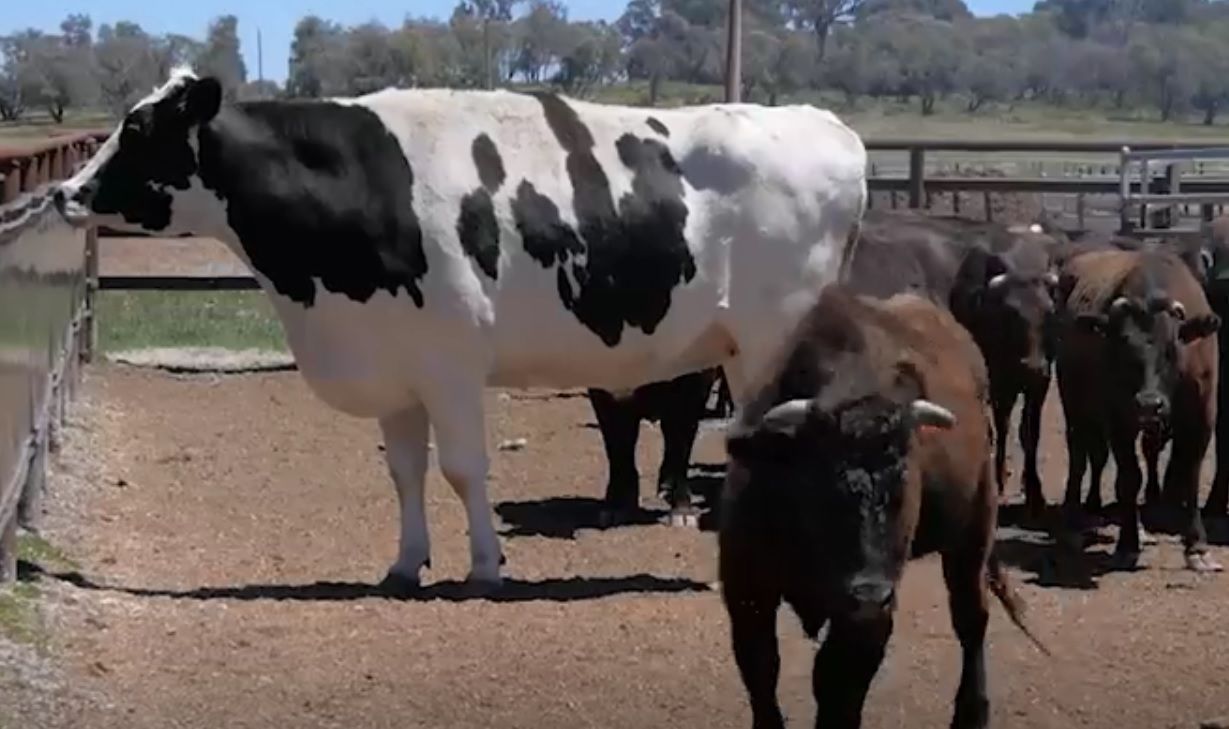 A cow who stands at 6 feet 4 inches and weighs more than 3,000 pounds has been saved from the slaughterhouse because of his size.
The 7-year-old Holstein Friesian steer, named Knickers, managed to avoid a trip to the abattoir after it was found that he was too big to pass through a processing facility when his owner tried to put him up for auction last month.
"He was too big to go into the export plant's chain," Geoff Pearson, who owns the Lake Preston cattle farm in Myalup, Australia, where Knckers lives, told ABC News.
"We have a high turnover of cattle and he was lucky enough to stay behind."
Read more: Knickers is getting agitated at all this worldwide attention
Knickers, who is more than double the weight of an average Holstein Friesian cattle breed, was originally bought by Pearson as a "coach"—a steer, or castrated male cow, that leads other cattle—around six years ago.
"He was always a standout steer from the others, a bit bigger than the rest," Pearson told the BBC. Despite other members of Knickers's herd being sent to the slaughterhouse, Pearson said he decided to let Knickers stay on the feedlot as "he's not hurting anyone."
However, after a while with the steer continuing to grow, Pearson has now discovered Knickers is just too big to sell.
Pearson, who reportedly owns around 20,000 cattle, said the huge bovine is still popular with the rest of the cows despite his enormous size.
"You'll put him in a paddock and all the other cattle seem to get attracted to him," Pearson told ABC News.
"Whenever he wants to get up and start walking, there's a trail of hundreds of cattle following him. We all know when Knickers is on the move."
When asked about the unusual name, Pearson explained to the BBC: "When he was young, when we first got him, we had a Brahman steer [a breed of cattle] which was a friend of his.
"So, his name was Bra...so we [had] Bra and Knickers."
According to the Guinness World Records, the biggest living steer in the world is a chianina ox named Bellino, who was more than 6 feet 7 inches tall when he was measured in Rome, Italy in 2010.