Giant "Baby Trump" Blimp Will Greet President When He Visits London
President Donald Trump could be in for a big reception when he visits the United Kingdom for the first time next month as thousands are backing the launch a giant blimp in his image.
Far from a tribute to the president, the so-called "Trump Baby" inflatable immortalizes him in a diaper, with one of his tiny hands clutchhing a smartphone. Almost $20,000 have been collected to make the idea happen - more than twice the original target of $9.000.
"Moral outrage is water off a duck's back to Trump," a petition for Trump Baby explained. "But he really seems to hate it when people make fun of him. So when Trump visits the UK on Friday the 13th of July this year, we want to make sure he knows that all of Britain is looking down on him and laughing at him."
"Donald Trump is a big, angry baby with a fragile ego," the petition went on. "He's also a racist demagogue who is a danger to women, immigrants and minorities and a mortal threat to world peace and the very future of life on earth."
Read More: Donald Trump depressed Angela Merkel with his latest tweets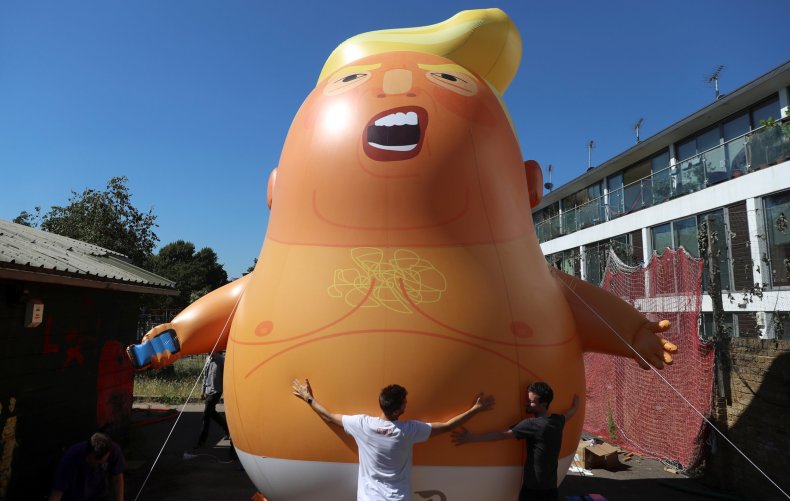 As a politician, Trump has never been popular in Britain, polling worse in the U.K. than in the United States even before the 2016 presidential election. A majority of the U.K. public has opposed him visiting the country at all, according to YouGov. Of those who support his visit, most voice disapproval of Trump but believe that dealing with him is a practical necessity for the U.K.
Many in U.K. took particular exception to Trump's repeated attempts to drum up support for his own anti-migrant platform at the expense of London Mayor Sadiq Khan, and the president did little to redeem himself among Britons when he slammed the U.K. and other allies with trade tariffs.
Having outdone their own fundraising targets for the London protests, the activists behind the blimp are deliberating using the surplus money to fly the giant baby also at Trump's other visits overseas. "This is BIG news that nobody saw happening," the official Trump Baby account announced on Wednesday. "I am going on a World Tour! Wherever little Donald goes, I will be close behind. There is so much good to do, the world needs #TrumpBaby!
It is not yet clear, however, whether London authorities will permit Trump Baby to fly over Parliament Square. The activists have said that so far London city authorities have denied them permission to fly the blimp from Parliament Square, where it would be easily seen by the original Donald.
"I am hearing that Sadiq Khan only wants Peaceful Protests for little Donald's visit," the official Trump Baby Twitter account wrote. "I am peaceful, a lot of people are saying I am probably the greatest most peaceful protest ever. But establishment minions say I am Not a Protest. Very unfair!"
Asked about the protest receiving the backing of London city council, a spokesperson for the mayor told Newsweek that a member of the city operations team had already met with the creators of the blimp to discuss their proposal, but the mayor had made no definitive decision on blocking or allowing the protest.
"The Mayor supports the right to peaceful protests and understands that this can take many different forms," a spokesperson for Mayor Khan said. "His main priority is the safety of all Londoners and visitors to our city, so we are working in very close coordination with the Metropolitan Police and other key agencies to ensure all protests are carried out in a safe and secure way. A decision on whether this proposal can go ahead will be made in due course."
This story has been updated with the latest comment from the Mayor of London's office.