Enormous 18-Foot Burmese Python Captured in Florida, Second-Largest Ever Removed from State
Members of Florida's Python Action Team have bagged the second-largest Burmese python ever caught in the state, as part of their efforts to clear the invasive species that is damaging local wildlife.
Orlando Weekly reported that the 18-foot, 4-inch snake was caught by Python Action Team members Cynthia Downer and Jonathan Lopez on September 22. The female snake was discovered in Big Cypress National Preserve.
The Florida Wildlife Conservation Commission said the huge reptile is the largest ever caught by the Python Action Team and the largest ever taken from the Big Cypress preserve. The Burmese python weighed 98 pounds, 10 ounces.
The snake was only 4 inches short of setting another new record as the largest python to have ever been captured in the wild in Florida.
The FWC also announced it has now captured 900 Burmese pythons. The 900th snake was just 2 feet long and weighed only a quarter of a pound. The commission said that the invasive species has hugely damaged Florida wildlife over the past 25 years.
The capture of such a large female snake is additional cause for celebration for the FWC. A commission press release explained that such captures are "critical" as it "prevents them from potentially adding an average of 30 to 60 hatchlings to the population each time they breed."
"These snakes coupled with the thousands removed by our partners at the National Park Service and the South Florida Water Management District make a significant impact to protect Florida's native wildlife," said FWC Executive Director Eric Sutton.
Orlando Weekly noted that the Florida state government is upping its efforts to clear Burmese python populations. Last month, the South Florida Water Management District Governing Board agreed to double the number of paid snake hunters employed, and also decided to work to open up hunting access to more state and federal lands.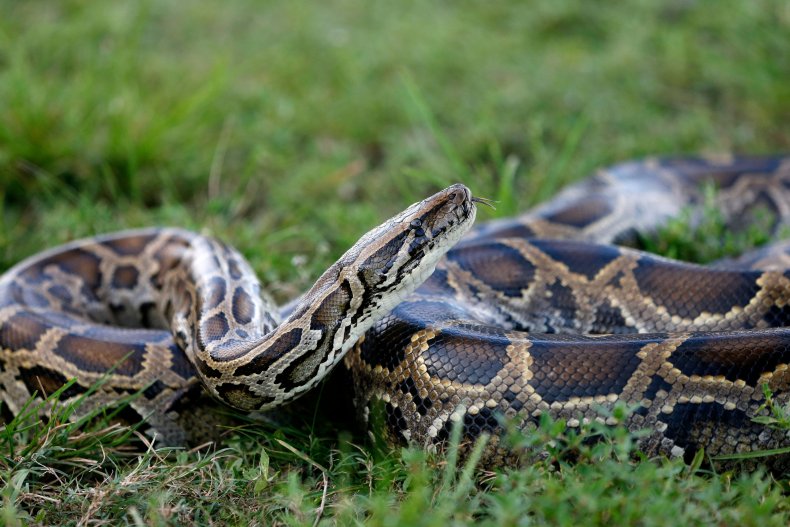 The FWC has been holding python hunting "challenges" every three years in an effort to increase catches. However, Governor Ron DeSantis has now ordered the commission to hold a challenge annually.
"With leadership from Governor Ron DeSantis, we are committed to working with our partners including the South Florida Water Management District and the National Park Service to accomplish our goal of removing pythons from our beautiful state," Sutton said.
Burmese pythons were introduced into Florida as pets, and spread in the wild when they escaped or were released. It is illegal in Florida to release non-native species into the wild, because of the danger posed to native wildlife. There are now thought to be tens of thousands of Burmese pythons in Florida.